Donald Trump, Ivanka, Don Jr.'s Bid to Evade Subpoenas Will Fail, Former Asst. DA Says
Donald Trump and his two eldest children's efforts to evade subpoenas by the New York attorney general's office will fail, a former Manhattan assistant district attorney has predicted.
Attorney General Letitia James' office confirmed in a court filing on Monday that it had issued subpoenas seeking testimony and documents from former President Trump, Donald Trump Jr. and Ivanka Trump as part of a civil investigation into the family's business practices.
Lawyers for the Trumps filed a motion on Monday seeking to quash the subpoenas.
It accused James of attempting to obtain testimony that could then be used against the family in a parallel criminal investigation being overseen by Manhattan District Attorney Alvin Bragg, who was sworn in on Saturday.
But while their argument may cause delay it is unlikely to prevail, Rebecca Roiphe, a former Manhattan prosecutor who is now professor at New York Law School, told MSNBC's Rachel Maddow on Monday.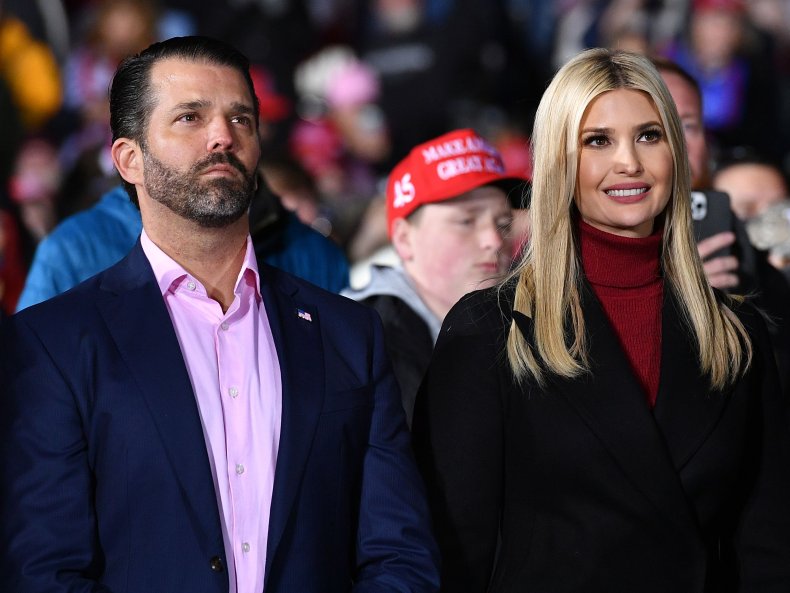 "I don't think in the end, they're going to be able to evade the subpoenas," Roiphe said.
"What they're basically arguing is this is an end run around the protections that you have in the criminal system, that essentially the Attorney General is running a civil investigation that's kind of a sham, that's basically a way of stripping the witnesses and the targets of the protections that you get in a criminal case."
Roiphe added to Newsweek that the parallel investigation are "not unusual."
"While it is true that James is working with prosecutors who are investigating similar facts, that does not mean that the civil case is necessarily a sham.
"In fact, it is not clear that prosecutors would even stand to gain much by getting testimony in the civil and not the criminal one," she said.
Witnesses can claim the Fifth Amendment privilege against self-incrimination in both cases, she added.
"The main protection at issue here is the Fifth Amendment privilege against compelled self-incrimination and that right exists in both settings. In other words, the government would have to give the witnesses immunity to compel their testimony in both the civil and criminal cases.
"The only differences are that the witnesses have to invoke their right in the civil deposition and it would be automatic if they were called to the grand jury and a negative inference could be drawn in the civil case from the invocation of the Fifth and not in the criminal case. Neither of these differences seem significant enough to make it worth it for the District Attorney or the Attorney General to seek to circumvent the criminal process."
Roiphe added that James' previous attacks on Trump, including while she was running for office, have "opened her up to arguments that her investigation is politically motivated."
Such comments have "jeopardized the legitimacy of what should be a neutral investigation," she said.
James, a Democrat, has spent more than two years probing whether the Trump Organization misled banks or tax officials about the value of assets.
Another of Trump's sons, Eric Trump, was deposed by investigators in October 2020, and it was reported last month that James' office had requested Trump sit for a deposition.
Monday's filing was the first time investigators publicly disclosed they were also seeking information from Ivanka Trump and Donald Trump Jr., who have both been executives in the family's business.
The Trump's lawyers wrote in response that James was seeking "to circumvent the entire grand jury process" and nullify the Trumps' rights by forcing them to testify without the immunity guaranteed under state law if they were subpoenaed to testify in front of the grand jury in the criminal probe, The Associated Press reported.
The move to block the subpoenas prompted James to issue a statement that accused the Trumps of "delay tactics."
"Despite their names, they must play by the same rules as everyone else," she said. "These delay tactics will not stop us from following the facts or the law, which is why we will be asking the court to compel Donald Trump, Donald Trump Jr., and Ivanka Trump to testify with our office under oath."
An attorney for the Trumps have been contacted for comment.