Donald Trump Jr., Jared Kushner Will Be Indicted in Russia Investigation, Democrat Claims
A Democratic member of the House Judiciary Committee said Monday that he believes both President Donald Trump's eldest son and his son-in-law will be indicted as part of the special counsel's investigation into Russia interference in the 2016 election.
Representative Steve Cohen, who has been one of Trump's leading critics and has previously introduced articles of impeachment against him, claimed, without supplying evidence, that both Donald Trump Jr. and Jared Kushner were instrumental in directing Russia's efforts.
"I think they're getting closer to knowing that the truth is going to come out that there was activities with the Trump campaign and Russia in releasing those hacks and guiding them to the states and the localities where they came from," the Tennessee congressman told CNN.
"Some of that was Jared Kushner's responsibilities, some of it was Donald Jr. I think you're probably going to see indictments of both of those people," Cohen said.
Taken aback by Cohen's assertion, host Wolf Blitzer asked Cohen to clarify.
"I think that's entirely possible, and I think the president's going to go entirely off his rocker, not that he's on it now, and then issue pardons," Cohen responded, before trying to explain what charges they would face. "I think they were probably the people that were in connection with the Russians in a conspiracy to affect the elections."
But when pressed for evidence to support his theory, Cohen would not elaborate.
"It's a series charge, and time will show whether I'm correct or not," he said. "But I believe I am correct, and if you see it, as we've said before, if it walks like a duck, if it swims like a duck, and if it quacks like a duck, it's a duck. You can see where it's going."
Kushner has been interviewed twice by special counsel Robert Mueller, but Trump Jr. has not yet met with the man leading the investigation. Both have denied any wrongdoing.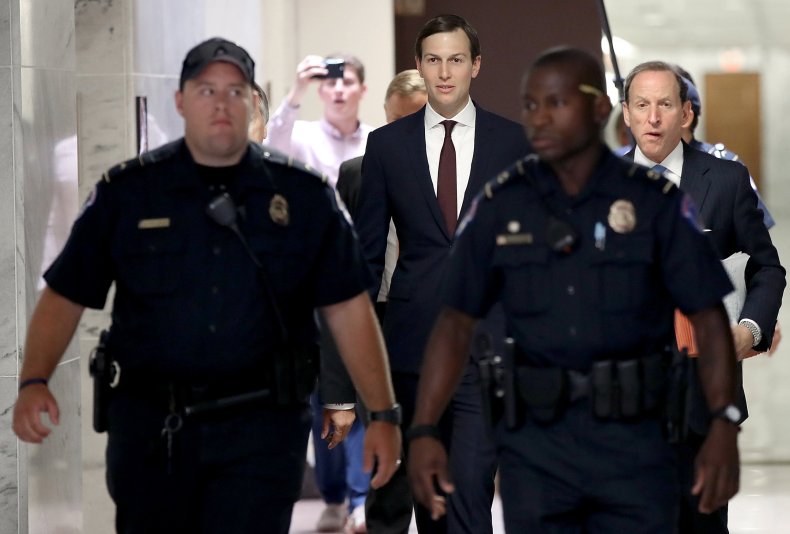 Cohen's claim arrived amid renewed scrutiny of the June 2016 Trump Tower meeting in which Trump Jr. was promised Russian-sourced dirt on then-candidate Donald Trump's opponent, Hillary Clinton. Trump Jr. told the Senate Judiciary Committee that his father did not know about the meeting in advance.
Last week, anonymously sourced reports claimed that Michael Cohen, Trump's former personal lawyer, is willing to tell Mueller that Trump in fact did know about the meeting before it took place.