Donald Trump Jr. Says President 'Isn't Very Good at Being Racist' Because He Let His Son Hang Out With Michael Jackson
In his new book Triggered: How the Left Thrives on Hate and Wants To Silence Us, Donald Trump Jr. asserts that his father couldn't possibly be racist, because the president let his son spend time with Michael Jackson as a child.
"Given all the things my father has been called, particularly a 'racist,' it sure sounds odd that he'd let his son vacation with a black man or hang out with Michael Jackson, doesn't it?" the younger Trump observes. "If he's a racist, he's sure not very good at it."
In Triggered, Trump writes that he would play video games with Jackson when the pop star was a resident of Trump Tower, Bloomberg reported.
Ivana Trump also wrote of the family's relationship with Jackson in her 2017 book, Raising Trump, as The Washington Times pointed out. Addressing allegations of sexual assault against Jackson, the president's ex-wife wrote, "I never believed the accusations that he molested those kids. There's no way he could have hurt anyone."
Jackson was accused of sexually abusing children in 1993 and 2003. The charges were dropped in the first case and Jackson was acquitted in the second, but in 2019 the HBO documentary Leaving Neverland shocked viewers with detailed first-person accounts of sexual misconduct by the singer from two new accusers.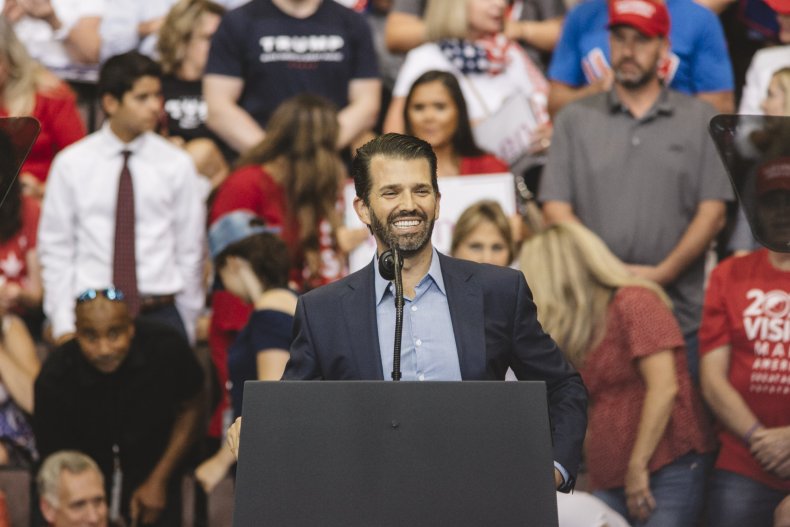 Triggered also features various anecdotes from the Trump siblings' childhoods and how their upbringing has impacted their lives since the election. Besides the Jackson reference, other noteworthy tales include Eric Trump being spat on in a Chicago bar, Donald Jr.'s journey to sobriety, and their mother ordering a glass of chardonnay at a Taco Bell.
Throughout the book, Trump rants about media coverage of his father, accusations against various members of the Trump administration and the Democratic Party. Recounting the Mueller investigation, Trump writes that he "almost felt bad for Robert Mueller," but couldn't quite muster sympathy. "If it weren't for the fact that I was probably number two on the guy's kill list for years, I might have," he quips. In an interview with Breitbart published Tuesday, Trump expanded on his assertions that the Democratic Party is "being run by the craziest crazies, by the lunatic fringe of the party," adding that "There isn't a moderate Democrat anymore."
During a promotional appearance on CBS This Morning Tuesday, Trump said he originally intended to write a book similar to the self-help series Chicken Soup for the Soul, before finally deciding he was "entitled to hit back a little bit" against Trump critics.