Donald Trump Jr. Says He's Not Afraid of Going to Jail: 'I'm Able to Compartmentalize It'
Donald Trump Jr. said he did not fear going to jail if special counsel Robert Mueller's Russia investigation uncovered wrongdoing on his part.
The son of President Donald Trump spoke to ABC's Good Morning America about the consequences of the probe into possible collusion between his father's campaign with the Kremlin during the 2016 election and that he would "deal with it as it comes."
Trump Jr. is reportedly under investigation over whether he agreed to a meeting with a Kremlin-linked lawyer in June 2016 to get "dirt" on rival candidate Hillary Clinton, which would violate federal law.
He claimed that no one else would have refused such a meeting, and that he did not tell his father about it.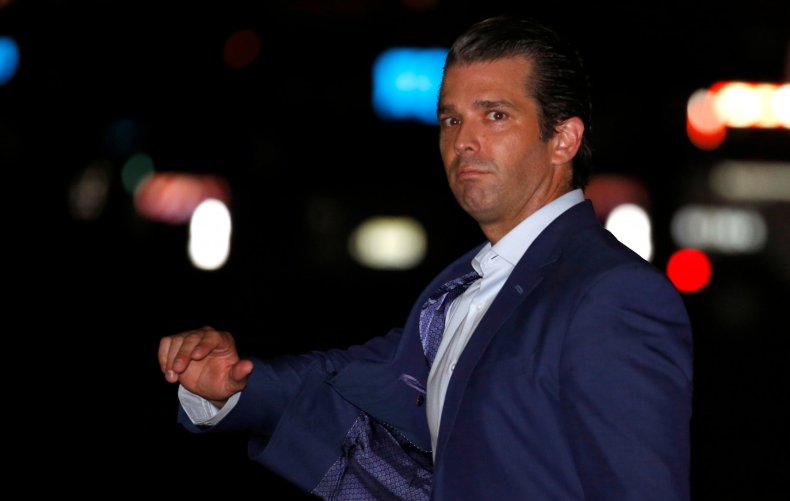 When asked if he was worried about the prospect of jail, Trump Jr. told the network: "I'm not, because I know what I did, and I am not worried about any of that. That doesn't mean they won't try to create something, I mean we have seen that happen with everything but, you know, again, I'm not," he said.
He said of the probe, which is part of a wider investigation into Russian interference in the election, had made it "very rough" for him.
"At the same time, I think I'm able to compartmentalize it. And in the end I know what I've done, and I'm not worried about that at all because, you know, I've done nothing that anyone else wouldn't do in that position, in my opinion," he added.
Trump Jr. also told ABC News's White House correspondent Tara Palmeri that there were now very few people in the White House that the president trusted after last week's anonymous op-ed in The New York Times that said senior staffers were actively working to thwart Trump's "worst inclinations."
"I think that there are people in there he can trust but it is a much smaller group than I would like it to be," said Trump Jr.
Of the claims made in the op-ed, Trump Jr. said: "It's pretty disgusting, it's pretty sad, perhaps it was a disgruntled person who was thrown out because they did not do what they were supposed to do."
He said that the op-ed was "subverting the will of the people" because it was an attempt "to try to control the presidency while not the president—you have millions and millions of Americans who voted for this."
Trump Jr.'s interview raised some eyebrows among commentators, with Chuck Todd asking on MSNBC's Meet the Press why the president's son would agree to an interview in the middle of such a sensitive investigation.
Todd asked: "What's Donald Trump Jr. doing [on] television?" saying that he initially thought that he was only responding to some "shouted questions" by a reporter. "Really? You're in the midst of an investigation by Mueller, you're…really?" Todd said.
He said politically no one would have believed it would be a good idea for Don Jr. to appear on ABC's Good Morning America. "I just am stunned. It's clear that no one communicates in this Trump family," Todd said.