Donald Trump Jr. says that Dr. Anthony Fauci, the longtime director of the National Institute of Allergies and Infectious Diseases (NIAID) and President Joe Biden's chief medical adviser, is "better at pitching baseballs than he is at science."
Trump Jr. made the remarks during the "America UnCancelled" event hosted by the Conservative Political Action Conference (CPAC) in Dallas, Texas on Friday. The son of former President Donald Trump denounced the nation's top doctor while speaking about the "propagandists" working in what he called the formerly "honorable institution" of journalism. Trump Jr. insisted that Fauci is merely a "bureaucrat" and that members of the press who suggest otherwise are being deceptive.
"[The press said] Fauci is something other than a bureaucrat in a lab coat. Yeah," Trump Jr. said. "Fauci is better at pitching baseballs than he is at science, okay? Also true. I want to see them fact check that one, they have no chance."
Trump Jr.'s opinion about 80-year-old Fauci's baseball skills, or lack thereof, come after the doctor was widely mocked after badly fumbling the ceremonial first pitch for the Washington Nationals last summer—a moment that Fauci himself called "quite embarrassing."
Fauci played both baseball and basketball as a child and young adult, captaining his high school basketball team. He focused on his medical education and career after that and whatever athletic prowess he may have had is likely significantly diminished as an octogenarian.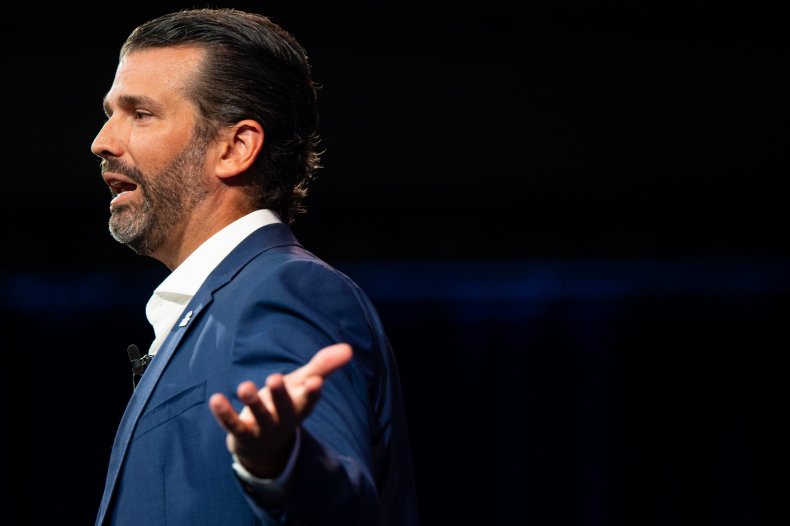 While Fauci has recently become a figure of disdain among some conservatives for his public health work amid the COVID-19 pandemic, his scientific credentials are not a matter of opinion. In 1966, he graduated first in his class from medical college at Cornell University.
Fauci joined NIAID two years later, becoming its director in 1984. He advised former President Ronald Reagan on medical matters in the 1980s and has continued to advise every U.S. president since then. He was awarded the Presidential Medal of Freedom, the country's highest civilian honor, by former President George W. Bush in 2008.
Fauci was in the top 10 out of around 2.5 million immunology researchers from around the world in terms of total citations between 1980 and January 2021, according to Web of Science. He has authored, co-authored or edited over 1,300 scientific publications. Fauci has also been given at least 50 honorary doctorates from universities around the word and was awarded the National Medal of Science, the George M. Kober Medal of the Association of American Physicians and the John Dirks Canada Gairdner Global Health Award, among others.
Trump Jr. made very similar remarks about Fauci during an interview on the podcast The Truth with Lisa Boothe last month, calling the "incompetent" doctor nothing more than a "bureaucrat in a lab coat" who was working for the government because "he probably couldn't have made it in the private sector."
Newsweek reached out to NIAID for comment.