Donald Trump Jr., son of Republican former President Donald Trump, has called national infectious diseases expert Dr. Anthony Fauci "incompetent" and "not a scientist."
Trump Jr. made his comments during an interview on the podcast The Truth with Lisa Boothe.
"This guy's not a scientist, he's a bureaucrat in a lab coat—nothing more, nothing less," Trump Jr. said. "He's incompetent. He was in government because he probably couldn't have made it in the private sector."
Fauci has an extensive research portfolio on infectious diseases. He has advised seven U.S. presidents and has worked on over 1,300 scientific publications, according to the website for the National Institutes of Allergy and Infectious Diseases (NIAID). Fauci oversees the NIAID.
He is ranked as the 32nd most-cited living researcher, according to a 2020 analysis of Google Scholar citations. Between 1980 and January 2021, Fauci was the 9th most-cited researcher out of 2.5 million immunology authors, according to Web of Science.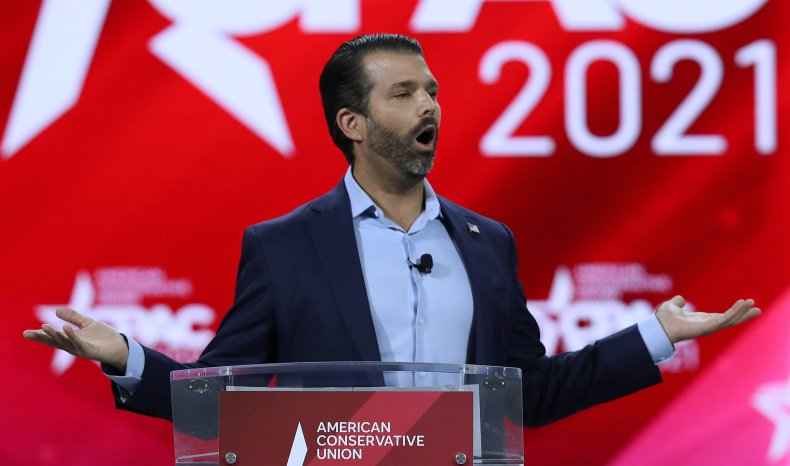 During their interview, Boothe asked Trump Jr. about the media's treatment of his father during the start of the ongoing COVID-19 pandemic. In particular, Boothe claimed the media unfairly discredited President Trump's promotion of the malaria drug hydroxychloroquine as a possible treatment for COVID-19 symptoms. Boothe also said that the media unfairly dismissed Trump's theory that the coronavirus may have originated in a Chinese lab.
Trump Jr. told Boothe that the media is a form of "political entertainment" that "has blood on [its] hands." He then claimed that Fauci's recently-released emails showed that Fauci had ignored scientists to go and "talk nonsense" with CNN anchor Chris Cuomo.
"[Fauci] wasn't good enough or smart enough, in my opinion, to do these things. But we gave him unfettered credibility, not based on anything, but based on the fact that he loved TV, he loved cameras, never met a camera he didn't like, and he'd give them everything they wanted each and every time," Trump Jr. said. "I think he cost lives, and the media certainly is complicit in helping him do that."
Republicans and right-wing media figures have called for Fauci to be questioned or fired over his emails. Other Republican legislators and media figures have demanded Fauci's firing because the NIAID funded research at the Wuhan Institute of Virology (WIV). The WIV has been increasingly accused of possibly causing the pandemic through an accidental leak.
Democratic President Joe Biden has said that he remains "very confident" in Fauci's leadership. Both Biden and the Senate have directed intelligence agencies to reveal more about the WIV's possible role in the pandemic's origins.
Boothe mentioned a few recent studies that have shown hydroxychloroquine to have positive effects on certain types of coronavirus patients. Other studies have found the drug to be ineffective or even dangerous for some COVID-19 patients.
The most recent study, conducted by Saint Barnabas Medical Center in New Jersey, found that the drug and azithromycin improved the survival rates of severely affected patients by nearly 200 percent. However, the study was published on medRxiv, a preprint server of research whose findings have not been published in medical journals and aren't peer-reviewed by other scientists.
Two other recent studies, one released in December 2020 and another released in January 2021, showed that hydroxychloroquine may have contributed to fewer hospitalizations and reduced symptoms related to COVID-19, respectively. The second study's lead researcher still advised against prescribing the drug outside of clinical trial settings.
In mid-June 2020, the Food and Drug Administration revoked its emergency use authorization for hydroxychloroquine, stating that its "potential benefits... do not outweigh the known and potential risks." The World Health Organization and the National Institutes of Health have also issued similar warnings against the drug. Fauci also advised against the drug's use as a COVID-19 treatment.
In summer 2020, Twitter restricted Trump Jr.'s account after he posted a video of doctors touting hydroxychloroquine's effectiveness. Twitter said he was "spreading misleading and potentially harmful misinformation."
Newsweek contacted the Trump Organization for comment.