Republican Florida Representative Matt Gaetz has said that, regarding the global COVID-19 pandemic, national infectious diseases expert Dr. Anthony Fauci "has blood on his hands, and now the entire country knows it."
Gaetz made his comments during a Friday evening interview with Sean Spicer, the former White House press secretary under President Donald Trump. Spicer now hosts the Newsmax show Spicer & Company.
Spicer asked Gaetz about Fauci's changing public statements about the pandemic's origins as well as the funding that Fauci authorized for research at the Wuhan Institute of Virology (WIV). The WIV is increasingly suspected by federal officials of possibly causing the pandemic through an accidental leak.
"Fauci, has blood on his hands and now, the entire country knows it," Gaetz told Spicer. "We know that the very type of research that erupted this virus onto the world was research that the US taxpayer was funding in part and that Dr. Fauci, and his friends were directly involved in."
Gaetz was referring to the fact that the National Institutes of Allergy and Infectious Diseases (NIAID), which Fauci oversees, funded research at the WIV. Fauci said the NIAID's grant to the WIV was $600,000 over five years, a fraction of the lab's operating cost which runs "hundreds of millions, if not billions of dollars."
Among its research, the WIV lab studied gain-of-function experiments. Such experiments examine how viruses jump from animals to humans.
Fauci has said that such experiments are necessary to prevent future pandemics. However, has vehemently denied that the WIV used NIAID money to fund those experiments. Nevertheless, he admitted under Senate questioning that he cannot be absolutely certain how the Chinese lab used the funds.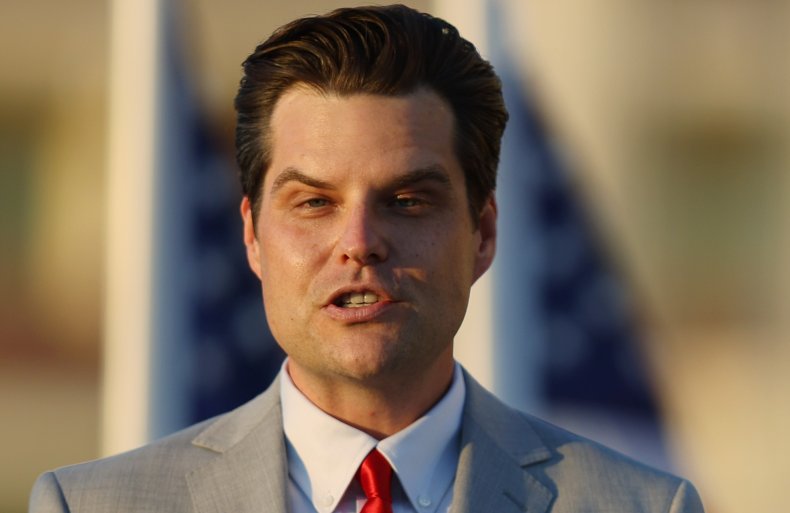 Spicer then asked Gaetz about redactions on a recently released trove of emails that Fauci sent during the pandemic.
Specifically, Spicer referenced emails regarding Facebook CEO Mark Zuckerberg. In one March 17, 2020 email, Zuckerberg offered his social platform's assistance to help spread COVID-19 information. In a second email, an NIAID aide mentioned Zuckerberg's "even bigger offer," but the explanation of the offer was redacted. Fauci replied that he was "interested" in Zuckerberg's ideas.
Spicer mentioned that on the Thursday installment of his program, he spoke with Thomas J. Fitton, president of the conservative activist group Judicial Watch. Fitton told Spicer that Fauci had "reviewed and personally redacted" all 4,060 pages of emails. The emails were released to journalists through a Freedom of Information Act (FOIA) request.
Federal rules state that any agency that receives an FOIA request must redact certain information in their documents. Such redactions include identifying information that could endanger specific individuals and information that threatens U.S. security.
In the case of the Facebook emails, the details were redacted as "trade secrets," privileged or confidential information about a private business. While it's true that the NIAID was responsible for redacting Fauci's emails, it's uncertain whether Fauci himself was personally involved in making the redactions.
Gaetz told Spicer that Zuckerberg wanted to help Fauci "craft" false messages about the pandemic. Gaetz's claim feeds into a larger right-wing narrative that health officials and "Big Tech" media companies both exaggerated the coronavirus' risks in order to ruin Trump's reelection chances.
"Facebook will not be able to hide behind trade secrets exemptions," Gaetz told Spicer. "Dr. Fauci will not be able to hide behind his own redactions." Gaetz added that Americans may never know what Fauci and Zuckerberg discussed unless Republicans retake control of Congress in the 2022 midterm elections.
"It will give us the oversight authority necessary to lay this bare before the American people," Gaetz said.
Republicans and right-wing media figures have called for Fauci to be questioned or fired over his emails. But Democratic President Joe Biden has said that he remains "very confident" in Fauci's leadership.
Fauci has said that his emails were "ripe to be taken out of context." A recent poll showed that citizen trust in Fauci has declined over the past year.
Regardless, both Biden and the Senate have directed intelligence agencies to reveal more about the WIV's possible role in the pandemic's origins.
Newsweek contacted NIAID and Facebook for comment.