Donald Trump Jr. Says George Conway 'Publicly Embarrasses' Wife Kellyanne in Twitter Spat
Donald Trump Jr. and George Conway exploded in a fiery Twitter fight on Friday during a public impeachment hearing in the proceedings against President Donald Trump.
Conway is a conservative attorney and the husband of Kellyanne Conway, who has been a key member of Trump's team and continues to work in the White House as a counsellor to the president. In recent times, he has become a very vocal critic of the elder Trump despite that the president is his wife's employer.
In Friday's rumble on Twitter, which began during the testimony of former U.S. Ambassador to Ukraine Marie Yovanovitch, the lawyer appeared to throw the first blow by replying to a Trump Jr. tweet slamming the first three witnesses against the president.
"America hired @realDonaldTrump to fire people like the first three witnesses we've seen. Career government bureaucrats and nothing more," tweeted Trump Jr.
Conway took issue with the tweet and defended the witnesses by favorably comparing them to Trump Jr. and his father.
"Each of Taylor, Kent, and Yovanovitch has more intelligence, talent, integrity, decency, honor, and patriotism in each of their fingers than you and your father will ever have," replied Conway.
The exchange heated up after the younger Trump noticed Conway's reply and responded with a personal attack on the attorney, focusing on the apparent differences of opinion between him and his wife.
"A guy who routinely & publicly embarrasses his wife by attacking her boss for the purpose of getting retweets and building his own brand is giving lectures on honor, integrity & decency," tweeted Trump Jr., adding an eyeroll emoji.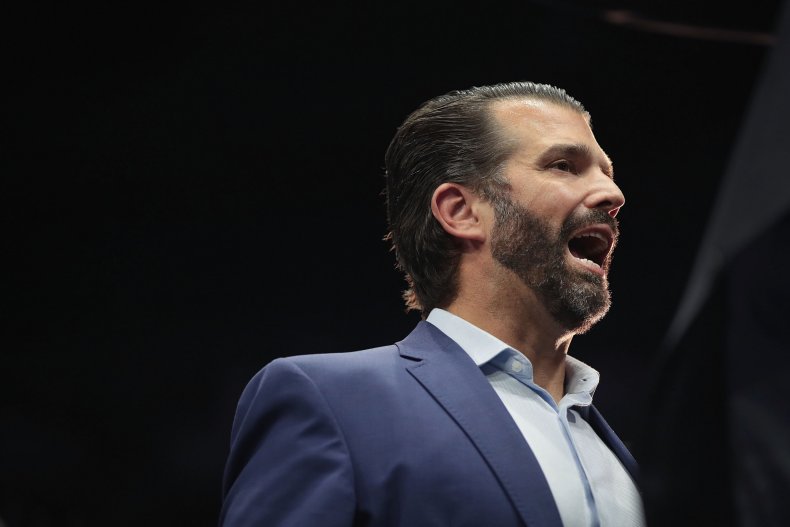 Conway responded to that jibe with a pair of tweets that slammed the younger Trump in return, while denying the accusation that his attacks on Trump were an attempt to increase his popularity on Twitter or "build his brand."
"Disgrace? I don't think so. You're projecting, I'm afraid," tweeted Conway. "I'm not the one shilling for your criminal father. And if there's anyone embarrassing anyone, it's he who does it, shaming the nation before the world each and every day."
"By the way, I'm not building a brand because I'm not selling anything," he added. "And I'm not selling anything because I've worked for three decades at a job that my father didn't get me."
Trump Jr. followed up by tweeting that an alleged quote from an "anonymous campaign staffer" claiming Conway had been "prancing around" looking for work in the White House was "100% true."
Before his views soured, Conway actively supported the Trump campaign, but he denied Trump Jr.'s implication that he was desperate for work in the administration by answering "Wow, you lie just as much as your dad."
It appears to have been a busy day on Twitter for Trump Jr.'s father as well. In contrast to the relative lack of activity on his account during the first hearing on Wednesday, Friday's proceedings spurred an eruption of responses from the president. During the Yovanovitch testimony, the president tweeted disparaging remarks about the former ambassador, and the potentially intimidating tweet was then read out in real time during the hearing.