Trump Jr. Calls on Montanans to Destroy the Chinese Spy Balloon Themselves
Donald Trump Jr. proposed Montana residents take matters into their own hands in regard to a suspected Chinese spy balloon first seen in the sky above the state on Wednesday.
The U.S. has tracked the balloon over its airspace for several days. The balloon was spotted on Wednesday over Billings, Montana. The Pentagon decided against shooting the balloon down, citing worries that falling debris could harm Americans on the ground.
The balloon will likely travel eastward and down across the central U.S. toward Missouri later today due to current weather predictions.
According to Insider, China claimed ownership of the balloon but denied that it was used to spy on the United States. Instead, Chinese officials said the balloon was used to conduct meteorological research.
Trump Jr., the son of former President Donald Trump, felt the decision against shooting down the balloon was "too weak" and suggested the people of Montana "do their thing" and take care of the balloon themselves.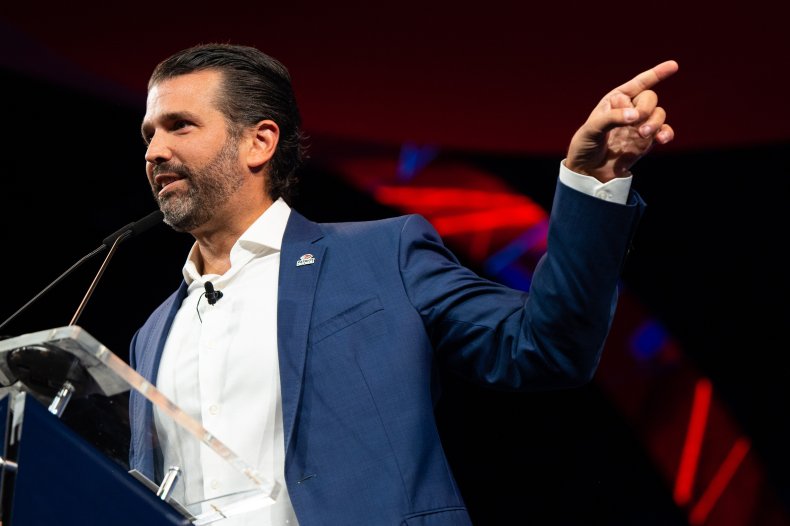 "If Joe Biden and his administration are too weak to do the obvious and shoot down an enemy surveillance balloon perhaps we just let the good people of Montana do their thing... I imagine they have the capability and the resolve to do it all themselves," Trump Jr. tweeted late Friday morning.
Trump Jr., an avid hunter, is familiar with different types of guns. In 2016, the New Yorker reported that he owned "dozens" of guns. However, people are teasing him on Twitter for his suggestion that Montana residents shoot the suspected spy balloon down themselves.
Most guns, including handguns and rifles, don't shoot accurately past approximately 500 yards, or 1,500 feet. The balloon is 60,000 feet high, making it relatively impossible for a civilian to target it.
One Twitter user responded to Trump Jr. by explaining that the balloon was far too high to shoot with civilian weapons. Even if it were only at 2 miles in altitude, the likelihood of hitting it is still poor.
"If it is at airliner altitude then it is over 7 miles up, well above the effective ceiling of civilian weapons," Twitter user Spooky Joe tweeted at Trump. Jr. "It would have to be under 2 miles in altitude and even then hitting it would require you had your Wheaties and God's ear during morning prayers."
Others were more concise in their response.
"It's 11 miles up, you blithering simpleton," one Twitter user responded to Trump Jr.'s suggestion.
"Anyone have a load that reaches 60,000 ft? If so, I want one of those!" another said.
Shooting a gun with live ammunition into the air is a common celebratory occurrence that can turn deadly. It is impossible to determine where the bullets will land when falling, and people standing in the bullet's downward path could be killed or injured.
Newsweek previously reported that even if the balloon were to be shot and struck, it would likely be able to stay in the air for a long time due to containing inert helium and a low internal pressure.
Newsweek reached out to the Trump Organization for comment.