Donald Trump Jr. Shares Russia Theory About U.S. Train Derailments
Donald Trump Jr., the eldest son of former President Donald Trump, has suggested that Russia could be responsible for recent train derailments in the U.S. and linked the incidents to the destruction of the Nord Stream gas pipelines.
"We've had train wrecks day in and day out for the past week, coincidentally, right after a report about our possibly taking out Russia's Nordstrom [sic] 2 pipeline and yet not a single reporter has asked if perhaps it's a retaliation against our critical infrastructure. I hope that's not the case but does anyone believe in this much coincidence?" Trump Jr. tweeted on Thursday.
He was referring to a blog post by journalist Seymour Hersh, which alleged U.S. navy divers were responsible for destroying the pipelines in September on the orders of President Joe Biden, citing an unidentified source.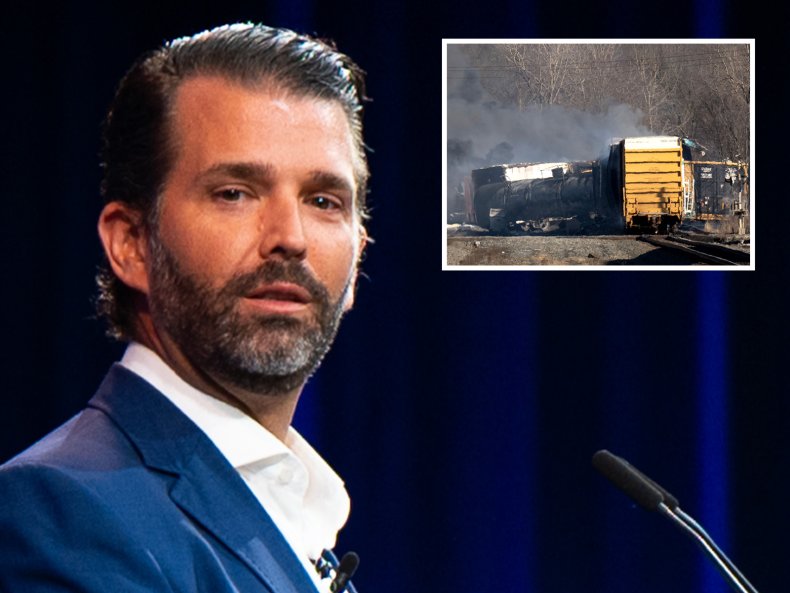 White House National Security Council spokesperson Adrienne Watson called that allegation "utterly false and complete fiction" on February 8.
Trump Jr. continued in his tweet on Thursday: "Has the last few years not taught us to ask these basic questions? Is media that's stupid and or bought and paid for that they wouldn't even be questioning it? WTF?"
However, Trump Jr. didn't offer any evidence to support his suggestion that the recent derailments were a form of Russian retaliation. He later retweeted his own post.
A major train derailment in East Palestine, Ohio on February 3 released highly toxic chemicals into the air, water and ground and has led to significant concern about the long-term effects on the local community.
The National Transportation Safety Board (NTSB) has said that the malfunction of an axle was the cause of the derailment. An axle connects two train wheels.
On Thursday, a train was derailed in Van Buren Township near Detroit, Michigan, and the train was reportedly carrying hazardous materials, but there was no evidence that those chemicals had been exposed or the carriages carrying them had been compromised. The matter is being investigated.
Also on Thursday, the Russian embassy in the U.S. called on the U.S. government to prove it wasn't responsible for the damage to the pipelines, citing Hersh's blog post.
U.S. officials have strenuously denied that the U.S. was responsible for the destruction of the Nord Stream 1 and Nord Stream 2 natural gas pipelines, which were designed to transfer gas from Russia to Western Europe.
On Wednesday, State Department spokesperson Ned Price said at a briefing: "It is pure disinformation that the United States was behind what transpired with Nord Stream 2 – the Nord Stream blasts."
"This is the message that we have conveyed consistently in the face of these lies that have been parroted by Russian officials, and we'll convey them again if we need to in any forum," Price added.
Both Nord Stream pipelines were damaged in September in explosions that caused leaks into the Baltic Sea. Neither of the pipelines was operational at the time.
Nord Stream 2 has never been brought into operation because the German government agreed to halt the project on February 22 last year, two days before the invasion of Ukraine and following weeks of speculation that Russia would attack its neighbor.
Newsweek has asked the State Department for further comment.