Why the East Palestine Train Disaster Isn't the Same As Chernobyl
On February 3, a Norfolk Southern freight train carrying toxic chemicals—including vinyl chloride, butyl acrylate, ethylhexyl acrylate and ethylene glycol monobutyl—derailed in East Palestine, Ohio. The toxic chemicals spilled over into the crash site, and could potentially be spreading for miles.
It became clear that many of these chemicals could cause an explosion, due to their volatile nature. To avoid this, authorities from the Environmental Protection Agency conducted a controlled burn of the chemicals. Officials then coned off and evacuated a 1-mile radius around the spill, which was then extended to 2 miles a few days later.
When burned, vinyl chloride reacts to form phosphene gas. This was used as a chemical weapon in World War I.
Some online have dubbed the incident a "Chernobyl-like" crisis—referring to the worst nuclear disaster in history, which took place at the Chernobyl Nuclear Power Plant in 1986. At Chernobyl, two devastating explosions led to radioactive debris and fuel pouring out into the surrounding area. The area is still highly radioactive today and off-limits to the public.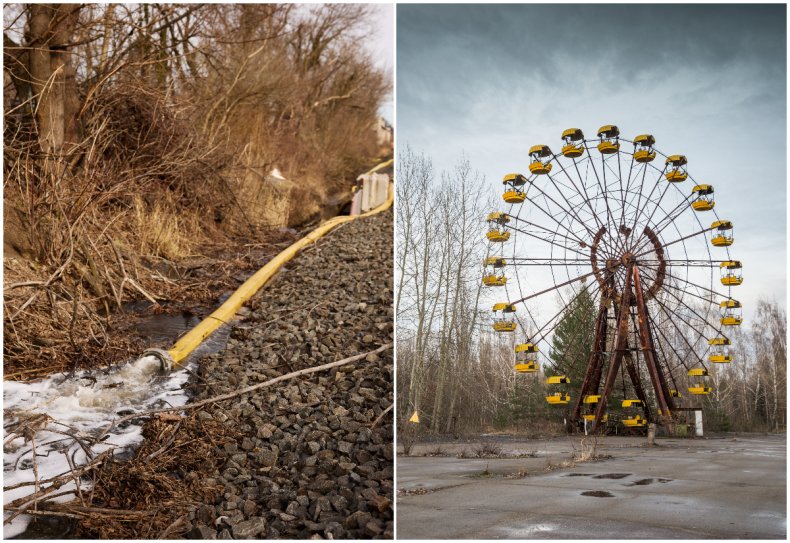 Some people are taking to Twitter, using the hashtag "OhioChernobyl" to talk about the incident.
Michael Seifert said on Twitter: "The government is covering up a Chernobyl-like disaster in Ohio and the only journalists brave enough to ask questions about it are being arrested."
Seifert is referring to NewsNation reporter Evan Lambert, who was arrested at a press conference on February 8, while covering the derailment.
There have been widespread rumors that he has been arrested for "reporting the truth." Marjorie Taylor Greene also fed these rumors on February 12, when she tweeted that journalists covering the disaster had been arrested for "trying to tell the story." This led to several claims that officials were trying to cover up the incident. However, while Lambert was arrested, there were many other journalists at the same press conference, covering details of the derailment.
"They want you to think they shot down a UFO so you ignore the Chernobyl-like disaster they just caused in Ohio, one of the most fertile regions of the country," another Twitter user said, using the hashtag.
So is this incident really on the same scale as the Chernobyl disaster? The short answer is no—the scale of the Chernobyl disaster was much larger, and more destructive.
Cristián Bonacic, a professor at the school of agriculture and forestry at The Pontifical Catholic University of Chile, told Newsweek: "The main difference between Chernobyl and this incident in Ohio is that the Chernobyl accident produced a massive leak of radiation. Radiation is a physical phenomenon that affects living cells in any kind of organism, killing them directly or causing mutations in a patient that can cause problems in the long run. In this case, we don't have radiation as a main factor. What we have in Ohio is industrial chemical products."
The explosion at Chernobyl was ginormous and released radioactive chemicals like plutonium, iodine, strontium, and cesium, into the environment—there was nothing anybody could do to control the release.
In Ohio, however, the chemicals were burned in a controlled area. While this resulted in a black cloud over the city, the chemicals burned were not nearly as potent as those that exploded in Chernobyl.
Two people died as a direct result of the Chernobyl explosion, and then 30 more people died in the month following, due to radiation sickness. It is estimated that many more have died as a result.
No deaths have been reported in the Ohio incident.
Although people were evacuated after the Ohio chemical spill, they were allowed to return to their homes a few days afterwards.
It is not known whether anybody will ever be able to return to Chernobyl. Some experts believe the area could be habitable again in 3,000 years, but many think this is too optimistic. The reactor site will not become habitable again for at least 20,000 years.
While the Ohio incident is not on the same scale at the Chernobyl disaster, that does not mean it is not serious.
"The chemicals released can cause intoxication if inhalation or consumption is too high. Also, the chemical products can also produce mutations on cells of tissues in people, animals and plants, and cause problems in the long run, years afterwards," Bonacic said.
There may have already been some direct effects reported in East Palestine. Some residents have reported headaches and sore threads. Thousands of fish in nearby waters have died, according to the Ohio Department of Natural Resources.
It is not clear how far the toxic chemicals will spread. But depending on weather conditions, it could spread over a 100-mile radius, Veronica Edmonds-Brown, an expert in urban river pollution and lecturer in aquatic ecology at the University of Hertfordshire in the U.K., previously told Newsweek.
There is no doubt that the chemicals spilled in the derailment have been associated with severe health effects in the past. Long exposure to these chemicals can lead to serious conditions such as cancer over time.
"So the effect of a chemical accident like this one, can also in the long run, be like radiation. But they are causing different types of problems. We are not talking about radiation here, we are talking about chemicals that are entering the soil, the water. The effect accumulated in the long run should be monitored," Bonacic said.
While the Ohio train derailment and the Chernobyl disaster are incomparable, Ronald Schumann, an associate professor in Emergency Management & Disaster Science at the University of North Texas, told Newsweek that lessons can be learned from the latter disaster.
"I can say that as a field, emergency management relies heavily on the all-hazards approach. Simply put, because so many of our preparedness, response, and recovery strategies are common regardless of the hazard event itself, many lessons are transferable from one incident to another," Schumann said. "We can also apply lessons learned from larger scale catastrophes, like Chernobyl, to the management smaller scale disasters, like the recent train derailment in Ohio."
Do you have a tip on a science story that Newsweek should be covering? Do you have a question about the Ohio train derailment? Let us know via science@newsweek.com.