Moment Reporter Arrested During Ohio Train Derailment Segment Goes Viral
A video showing the moment a NewsNation reporter was arrested by Ohio police on Wednesday while live broadcasting during a press conference about last Friday's train derailment in East Palestine has gone viral on social media, with many asking for an explanation.
The reporter, Evan Lambert, was charged with criminal trespass and disorderly conduct, Lt. Seth Fraser of the Columbiana County Jail in Ohio said. According to several reports, the correspondent was arrested for being too loud after all reporters present were asked to remain quiet while Ohio Governor Mark DeWine, a Republican, was speaking.
In a video of the incident shared on social media, the NewsNation reporter can be seen face to the ground as two officials restrain him. He's then accompanied out by the same two officials while handcuffed.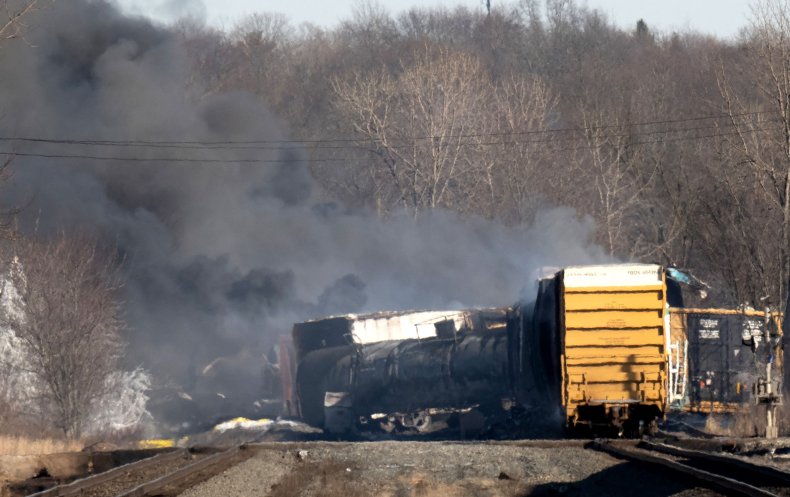 "Doing a live shot gets you arrested in America in 2023," Lambert said. "I got arrested because I was trying to do a live report about what people need to know," he added.
NewsNation's Washington Bureau Chief Mike Viqueira told the channel's "On Balance" host Leland Vittert on Wednesday that Lambert behaved professionally while being "manhandled." He added that Lambert was talking very quietly to the camera and reporting on a "very critical story" of interest to the public.
"We know from the tape that he did nothing wrong," said Vittert, who said Lambert's arrest was "stunning" to him.
Commenting on Lambert's arrest, NewsNation host Nichole Berlie—with whom Lambert was talking during the live shot—said she was struggling to understand how the correspondent was found to be trespassing when he was "a journalist doing his job in a room full of other journalists doing their job."
Former Detroit Police Chief Ralph Godbee told NewsNation that Lambert's arrest was "completely baffling" and "makes absolutely no sense." He added that disorderly conduct is usually a catchall for contempt of cops, but even not knowing what happened off camera, the arrest of the journalist didn't make any sense.
Governor DeWine said that Lambert's arrest is nothing he authorized and added that he's fine with people doing a live broadcast while he's talking during a press conference. "I'm certainly very, very sorry that that happened," he said. I don't know all the facts but he or she—whoever was arrested—had every right to be reporting and do what they do every single day."
Lambert was held in custody at the Columbiana County Jail but was released late on Wednesday night, according to reports from WTAE-TV Pittsburgh. According to NewsNation, the reporter will be arraigned on Thursday.
"I'm doing fine right now," Lambert said in a video released by NewsNation. "And it's been an extremely long day. I have to be careful about what I say, but as you can see I'm out. [...] I was just trying to do my job, as I am continuing to do now."
The East Palestine Police Department and the Columbiana County Sheriff's Office didn't immediately respond to Newsweek's calls seeking comment.
The derailment of the tanker train last Friday caused toxic fumes to be released in the air surrounding the scene of the incident in East Palestine, some 50 miles away from Pittsburgh. Evacuated residents were allowed to return to their homes on Wednesday.