Fact Check: Was Journalist Arrested in Ohio for Covering Train Derailment?
Footage of a huge fire following a train derailment in northeastern Ohio on February 3, which forced residents of the area near the Pennsylvania border to evacuate, has spread across social media.
Hundreds of East Palestine residents within a one-mile radius of the incident that led to a toxic chemical leak were told to leave their homes after authorities warned of a potential catastrophic explosion. Following the evacuation order, they carried out a controlled burn of chemicals that created a large ball of fire as well as a plume of black smoke.
Clips shared online subsequently showed not only the impact caused by the crash but of other related footage, including what was described as a reporter being arrested for covering the situation.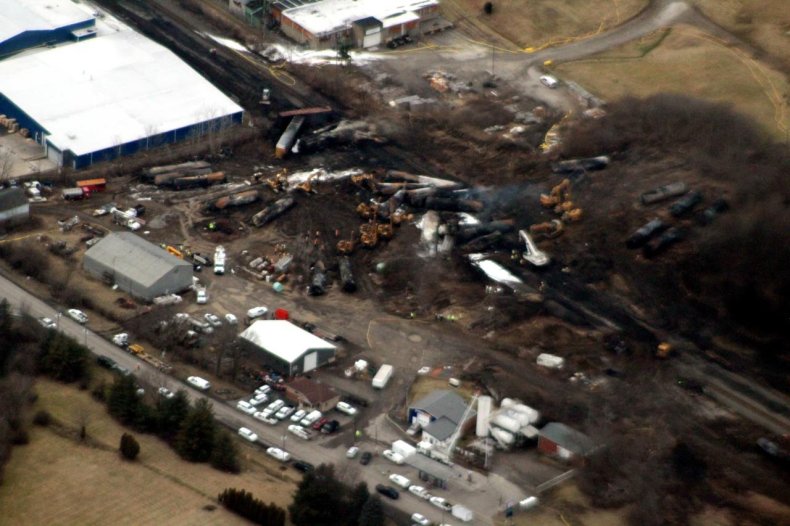 The Claim
A tweet posted by Marjorie Taylor Greene, on February 12, 2023, claimed that journalists covering the Ohio derailment disaster had been arrested for "trying to tell the story."
The tweet, which has been viewed more than 3.8 million times, stated: "East Palestine, Ohio is undergoing an ecological disaster bc authorities blew up the train derailment cars carrying hazardous chemicals and press are being arrested for trying to tell the story.
"Oh but UFO's!
"What is going on?"
A video underneath included a clip of a person being held down and then moved along a street with hands held behind their back. A title above this clip states: "Ohio cops arrest a national news reporter for reporting the truth."
The Facts
The video posted on Greene's Twitter speaks to the claim that the Ohio train derailment story has received less attention than other news stories, in particular the recent interception of flying objects in Michigan and Alaska.
However, the claim in the video that someone is being led away for "reporting the truth" does not include context about what happened.
Newsweek covered the initial reports about how NewsNation reporter Evan Lambert was arrested at a press conference on Wednesday February 8 regarding the derailment in Ohio on Wednesday.
Footage of Lambert's arrest went viral on social media, with one tweet by NewsNation attracting more than 7.9 million views. Further video released by the Ohio State Highway Patrol showed Lambert involved in an argument before he was taken out of the East Palestine school gymnasium where the conference was being held. He was then taken to the ground and moved out of the building.
County Municipal Court records show Lambert was arrested on two counts, resisting arrest and criminal trespass, and later released on bond.
The claim that he was arrested for reporting the truth, viewed on its own, is misleading. While Lambert was removed from the venue and arrested, the clip shared by Greene, viewed alone, does not provide all the facts.
As noted by NewsNation, Lambert was in a room "full of other journalists doing their job" so there is little likelihood that police or officials were trying to prevent "the truth" from being reported.
Regardless of one's views of the incident, the footage shared by Greene editorializes the facts. Fitted in among other claims about underreporting of the Ohio derailment story, it may create the impression of a more conspiratorial plot.
NewsNation has defended its reporter, with its Washington bureau chief Mike Viqueira telling the channel's On Balance host Leland Vittert on Wednesday that Lambert behaved professionally while being "manhandled." He added that Lambert was talking very quietly to the camera and reporting on a "very critical story" of interest to the public.
Ohio Governor Mike DeWine, who had been speaking to reporters, said that Lambert's arrest was nothing he authorized and added that he's fine with people doing a live broadcast while he's talking during a press conference. "I'm certainly very, very sorry that that happened," he said.
"I don't know all the facts but he or she—whoever was arrested—had every right to be reporting and do what they do every single day."
Newsweek has contacted Ohio State Highway Patrol, NewsNation and Marjorie Taylor Greene for comment.
The Ruling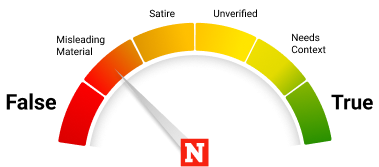 Misleading Material.
As acknowledged by NewsNation, there were many other journalists at the same press conference where Lambert was arrested, so the notion that a reporter was arrested for "reporting the truth" (as the clip posted by Taylor Greene states) does not accurately reflect all of the circumstances surrounding the incident.
FACT CHECK BY Newsweek's Fact Check team