Lake Huron UFO Shot Down Marking Third Over North America in Three Days
Another unidentified flying object (UFO) was shot down over Lake Huron on Sunday, marking the third such action to be taken by the U.S. military over the past three days.
Representative Elissa Slotkin, a Michigan Democrat, confirmed that the U.S. Air Force had downed the UFO, similarly to one over Alaska on Friday and another over Canadian air space on Saturday. Last week, a Chinese spy balloon was also shot down off the coast of South Carolina over the Atlantic Ocean.
"The object has been downed by pilots from the US Air Force and National Guard. Great work by all who carried out this mission both in the air and back at headquarters. We're all interested in exactly what this object was and it's purpose," Slotkin wrote on Twitter just before 4 p.m. ET.
"As long as these things keep traversing the US and Canada, I'll continue to ask for Congress to get a full briefing based on our exploitation of the wreckage," the congresswoman added. Lake Huron's shoreline is shared by Michigan and the Canadian province of Ontario.
Less than 45 minutes before that, Slotkin had posted to the social media platform to confirm that the Pentagon was monitoring the flying object.
"Just got a call from @DeptofDefense—our military has an extremely close eye on the object above Lake Huron. We'll know more about what this was in the coming days, but for now, be assured that all parties have been laser-focused on it from the moment it traversed our waters," she wrote.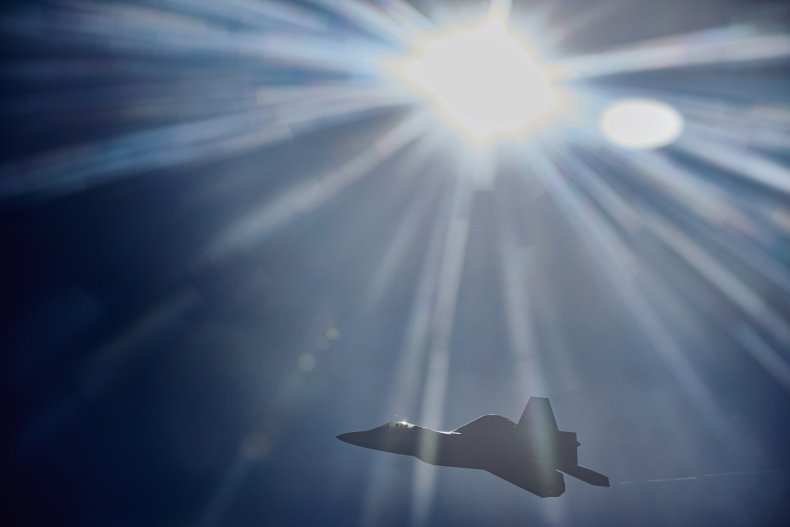 Michigan's Governor Gretchen Whitmer wrote on Twitter that she had been in touch with federal authorities as they monitored the UFO.
"Our national security and safety is always a top priority. I've been in contact with the federal government and our partners who were tracking an object near our airspace. I'm glad to report it has been swiftly, safely, and securely taken down," the governor wrote, adding that the state's National Guard "stands ready" to assist.
Representative Jack Bergman, a Michigan Republican, told Fox News later on Sunday that he was informed an "octagonal structure" was shot down by an F-16. He said the UFO fell into the water and had not caused any damage to human life or property. Bergman said divers with special gear would be required to retrieve the remnants of the object.
The Associated Press reported that the object was believed to be the same as one that previously was spotted over Montana on Saturday. Reports had suggested that the UFO over Montana may have simply been an "anomaly," but members of Congress from the state shed doubt on that earlier on Sunday.
"There may still be something up there," Senator Jon Tester, a Montana Democrat, told CBS News' Face the Nation during an interview Sunday morning.
"I'm sure as we speak it's being checked out right now," he added, suggesting it would likely be shot down if there actually was an object flying above the country.
Representative Matt Rosendale, a Montana Republican, later posted to Twitter asserting that the object over Montana was not an anomaly.
"I am in constant communication with NORCOM and they have just advised me that they have confidence there IS an object and it WAS NOT an anomaly. I am waiting now to receive visual confirmation. Our nation's security is my priority," the congressman wrote.
Mystery continues to surround the objects. Although U.S. officials confirmed quickly last week that a Chinese spy balloon was flying over the country before it was shot down last Saturday, they have not publicly cast blame for the three objects shot down on Friday, yesterday, and today as of the time of this article's publication.
Beijing also quickly admitted the downed balloon was Chinese, although it contended it was a civilian weather balloon. Some analysts and lawmakers have suggested, or assumed, that the additional objects downed by the U.S. were Chinese, but that has not been confirmed by either side at this time. Others have put forward fringe theories that the UFOs are extraterrestrial in nature.
"All of a sudden, massive speculation about alien invasions and additional Chinese action or Russian action. In the absence of information, people's anxiety leads them into potentially destructive areas. So I do hope very soon the administration has a lot more information," Representative Jim Himes, a Connecticut Democrat, told NBC News' Meet the Press on Sunday.
Newsweek reached out to the Pentagon and NORAD for additional comment.
Update 2/12/2023, 5:21 p.m. ET: This article has been updated with additional background information and details.