Senator Raises These 2 Questions About Flying Object Shot Down Over Alaska
Senator Bill Hagerty, a Tennessee Republican, raised two "immediate" questions that he said is in the "public's interest" to know about the unidentified flying object that was shot down over Alaska on Friday.
"Yesterday's incident raises two immediate questions in the public's interest. First, what was shot down in U.S. sovereign airspace above Alaska? A day later, details still remain oddly scarce," the senator wrote on Twitter on Saturday.
In the same thread, Hagerty tweeted: "Second question: Why did @POTUS @JoeBiden order immediate action in yesterday's incident, yet not issue any orders until **several days** after the USG first detected the China spy balloon's initial violation of U.S. sovereign airspace over Alaska?"
Friday's "high-altitude object" was shot down by an F-22 fighter jet off the northern coast of Alaska after President Joe Biden ordered its downing.
The object was "the size of a small car" flying at 40,000 feet, meaning it posed a "reasonable threat" to commercial aviation, according to National Security Council Coordinator for Strategic Communications spokesperson John Kirby.
"We do not know who owns it, whether it's state owned or corporate owned or privately owned," Kirby said.
Still, Hagerty believes that the public should know more details about the object.
"Senator Hagerty believes the public should have timely access to unclassified information about what the object over Alaska was, where it came from, and what the nature of its threat was—especially after a Chinese spy balloon was recently allowed to operate at 'near space' altitudes while violating American sovereign airspace for many days and flying over U.S. states that are home to sensitive U.S. military and nuclear weapons sites," Hagerty's spokesperson told Newsweek on Sunday.
Meanwhile, others expressed their concerns about the scarce details that were revealed about the unidentified object that flew over Alaska.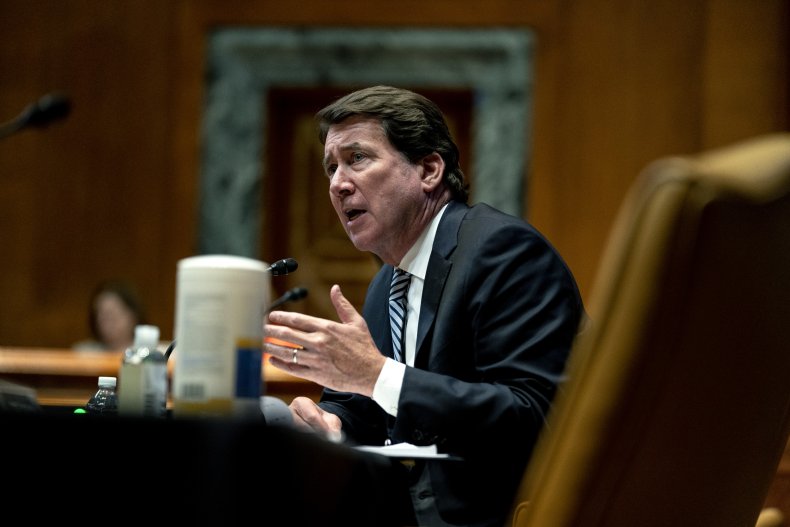 "I join my fellow delegation members in expecting answers from our military leaders for how unidentified objects have been able to infiltrate our airspace in recent weeks...We need to be aware of any other such objects over Alaska," Representative Mary Peltola, an Alaska Democrat, said in a statement according to Alaska Public Media.
Meanwhile, the news outlet also reported on Friday that Senator Dan Sullivan, an Alaska Republican, said that several similar objects were detected over the state's skies in recent weeks.
"There were things that were seen on radar but weren't explained," said Sullivan, a member of the Senate Committee on Armed Services. "So I don't know what they were, but I think our military is trying to figure that out as well."
"But this had similar signatures," he added, comparing Friday's flying object to ones detected in the past without citing the source of his information.
Alaska Governor Mike Dunleavy warned that objects entering the state's airspace could become "the new norm."
"If the last few days are any indication, this may be the new norm and we must be prepared," he said Friday. "The Alaska National Guard is working closely with [U.S. Northern Command] and other agencies to provide any support as requested. This latest incident demonstrates that Alaska remains the most strategic place on earth for both geopolitics and national defense."
Some Republicans praised the quick response to the flying object, with Senator Lisa Murkowski, an Alaska Republican, tweeting, "I commend the men and women serving in the Alaska NORAD region, the 11th Air Force, and the Alaska Air National Guard. They did their job quickly, professionally, and with great precision to take down an unidentified aerial object in Alaska territory."
Representative Marjorie Taylor Greene, a Georgia Republican, also expressed gratitude for the fast response, but added that it "proves all of their excuses about last week's Chinese Spy Balloon was BS."
Last Saturday, the Biden administration ordered a Chinese surveillance balloon to be shot down over the Atlantic Ocean after it flew across American airspace for several days after it was spotted hovering over Billings, Montana. It was first seen north of Alaska's Aleutian Islands on January 28, and moved over the state and into western Canada on January 30.
Biden initially called for the spy balloon to be shot down last Wednesday after he was briefed, however national security officials refused, citing possible safety concerns for the people on the ground.
Days later, the Federal Aviation Administration (FAA) closed down its airspace over parts of North Carolina and South Carolina. At Biden's discretion, the balloon was shot down by an F-22 fighter jet approximately six nautical miles off the coast of Myrtle Beach, South Carolina.
Unlike the object that was shot down on Friday, the Chinese spy balloon was "well above commercial air traffic" and did not "present a military or physical threat to people on the ground," Pentagon press secretary Brigadier General Patrick Ryder said at the time.
Update 2/12/2023, 3:19 p.m. ET: This article has been updated to include comments from Hagerty's spokesperson.