Donald Trump Jr. Mocks 'Collusion Truthers' as Mueller Probe Ends With No More Indictments
Donald Trump Jr. celebrated the end of the probe of special counsel Robert Mueller on Twitter on Friday by mocking "collusion truthers."
He tweeted simply: "#CollusionTruthers"
He also responded to a post from The Washington Post's Josh Dawsey that read: "DOJ letter says there was not a single time Mueller was blocked from an action he wanted to take."
In response to that post, Trump Jr. tweeted: "Well that's going to make it a bit harder for the MSM and Dems to spin but they'll do it anyway."
Attorney General William Barr on Friday sent a letter to top members of the Senate and House Judiciary Committees, telling them that Mueller has submitted his final report. In the letter, Barr indicated he may be able to provide some information on what the report states by this weekend.
"I am reviewing the report and anticipate that I may be in a position to advise you of the Special Counsel's principal conclusions as soon as this weekend," Barr wrote.
Early reports have indicated that no further indictments were in the pipeline as a result of the Mueller investigation. The Associated Press reported—as did other outlets—that an anonymous Department of Justice official told them Mueller was not recommending any further indictments.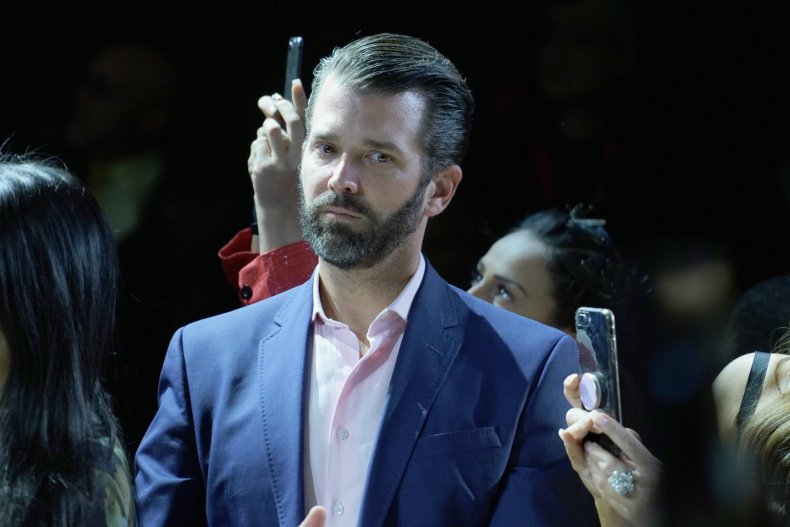 Trump Jr. retweeted a post from GOP communications strategist Andrew Surabian that responded to that news. Surabian tweeted: "The #CollusionTruthers in the Dem Party and their friends on @CNN/@MSNBC don't seem very happy today, I wonder why?"
Newsweek's Nicole Goodkind laid out what's next concerning the Mueller report. There is likely to be a fight over how much information is shared with the public.
President Donald Trump has stated publicly that if the public wants to see the report, then they should.
"The next steps are up to Attorney General Barr, and we look forward to the process taking its course," Press Secretary Sarah Sanders tweeted shortly after the news broke on Friday evening. "The White House has not received or been briefed on the Special Counsel's report."