Trump Jr. Criticizes Congresswomen for Not Wearing American Flag Pin—His Brother Tweeted Pic of 'Team Trump' Doing Same Thing
Donald Trump Jr. managed what can only be described as a swing and a miss on Wednesday when he tried to call out Democrat congresswomen for not wearing U.S. flag pins to the State of the Union address on Tuesday—neglecting to notice that Team Trump didn't don the pins either.
Trump Jr. has tried in the past to replicate his father's knack for pithy Twitter put-downs. But his most recently tweeted meme, which questioned the patriotism of Democrat congresswomen at the State of the Union for not wearing flag pins, quickly faced backlash on Twitter, all because of a telling photo.
One observant Twitter user promptly tweeted a picture in response—taken by Trump's own brother, Eric—showing the Trump children and their partners also at the State of the Union. None of them wore an American flag pin to the event. The internet revelled in Trump Jr.'s hubris.
"Speaks for itself and no one is at all surprised," Trump Jr. tweeted alongside the meme captioned "Not one American flag pin in site." The tweet in response showed a photo of Trump Jr.'s girlfriend, Kimberly Guilfoyle, Trump Jr. himself, Tiffany Trump, Lara and Eric Trump and Ivanka Trump and Jared Kushner together. "Not one American flag pin in sight," the tweet read.
Spotting Trump Jr.'s mitake, Twitter users piled on. "Not one patriot in sight" one tweeter wrote in response to the image of the Trumps, originally tweeted by Eric after the State of the Union with the tagline "Team Trump." Another referred to special counsel Robert Mueller's investigation into Russian intererence in the 2016 election. "Trumps prefer Russian flags," the tweet read.
Trump's State of the Union address was almost eclipsed by the attention generated by the Democratic congresswomen attending the speech on Capitol Hill. The eye-catching white clothes they wore were a symbolic tribute to the white dresses worn by members of the women's suffrage movement in the first half of the 20th century.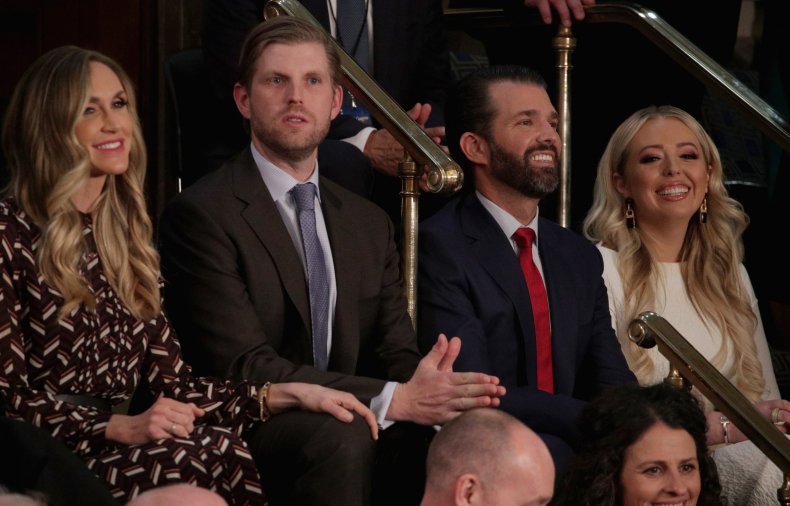 They also donned white garb for the same reason as the original suffragists, The Washington Post reported. The early campaigners for women's rights, like the congresswomen of the modern era, knew their white clothes would stand out in news coverage.
When Trump paid tribute in his speech to the record number of women elected to Congress, the dozens of women dressed in white issued cheers and chants of "U.S.A.! U.S.A.!"