Twitter Goes Wild as 11-year-old 'Resistance Hero' Joshua Trump Falls Asleep During Trump's State of the Union Speech
An unlikely hero of the liberal left emerged during President Donald Trump's State of the Union address Tuesday when one of the White House's own guests, Joshua Trump, fell asleep during the address and was feted online for joining the "resistance."
Joshua Trump, a sixth-grader from Delaware not related to the president, was invited to the State of the Union after he endured years of bullying because he shared the president's name.
While previously he had been pointed to as a victim of the resistance, a term used by groups and individuals to self-describe their opposition to the president, last night Joshua Trump was welcomed into its ranks with open arms. His new comrades recognized a kindred spirit through his sleepy protest.
"Resistance hero, Joshua Trump," one Twitter user wrote as images of the 11-year-old asleep next to First Lady Melania Trump and 10-year-old cancer survivor Grace Eline were shared hundreds of times on the social media platform.
"Joshua is a cute kid sleeping during a very long and boring speech. Is he the best person with the last name Trump? Very possibly," the writer Molly Jong-Fast posited in a tweet.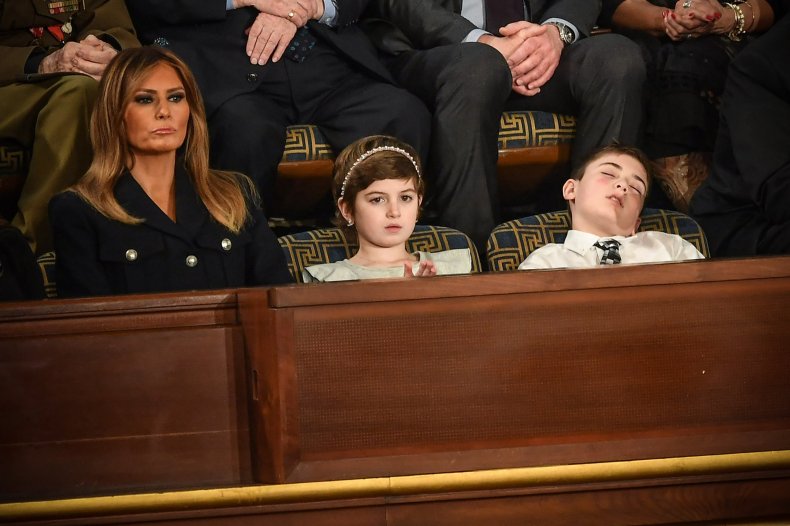 Joshua Trump was one of 13 guests invited to the White House to watch the State of the Union. Other guests included the family of a couple allegedly killed by an undocumented migrant, two Tennesseans released from prison, and survivors of the Tree of Life Synagogue mass shooting last year in Pittsburgh.
The middle schooler's story caught the attention of the First Lady whose flagship political endeavor in the White House has been her anti-bullying campaign "Be Best." His parents went public with his suffering in 2018 as they explained he had been forced to drop out of school.
"They curse at him. They call him an idiot. They call him stupid," his mother, Megan Trump Berto, told ABC affiliate WPVI at the time.
AFP reported that the bullying had reached such an extent that the child and his school were going to change his last name. He was going to start using his father's surname Berto until he was encouraged not to give in to the pressure by an anti-bullying organization.
Joshua Trump's invitation had been criticized in the media which viewed him as a fig-leaf for Melania's controversial campaign. The choice of a cause to champion has been heavily criticized because of the president's reputation for unrelentingly pursuing his opponents on social media and handing out often offensive nicknames.