Sixth Grader Bullied for 'Trump' Last Name Awarded Medal of Courage From Anti-Bullying Group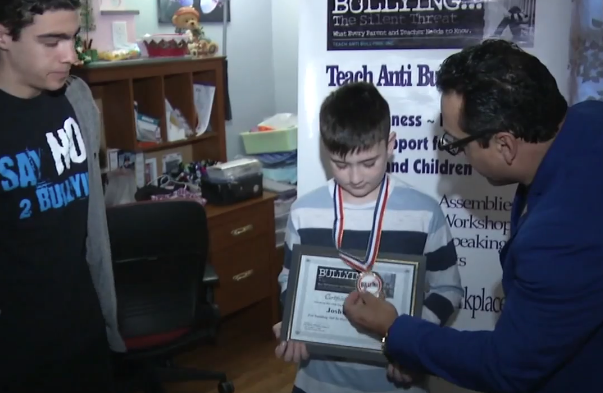 A Wilmington, Delaware sixth grader who was bullied and shamed at school simply for being named "Joshua Trump" received a national anti-bullying award Saturday.
The 11-year-old Trump's mother, Megan Trump Berto, revealed to local news stations last week her son "hates himself" due to the nasty remarks fellow students lob at him for sharing a last name with the 45th president, Donald Trump. Trump's family said the Talley Middle School sixth grader was forced to change buses to avoid taunting over his name and administrators even agreed to change how his name officially appears in official school records. Trump was awarded the National Anti Bullying Medal of Courage from a national anti-bullying organization Saturday for enduring "the silent threat."
"He said he hates himself, and he hates his last name, and he feels sad all the time, and he doesn't want to live feeling like that anymore, and as a parent that's scary," Trump's mother told WPVI-TV last week.
The boy detailed to Inside Edition last week how students repeatedly question whether or not he is related to Donald Trump, at which point Joshua Trump said he responds, "Would I be here if I were related to him?"
The Pennsylvania-based nonprofit organization which promotes efforts to weed out school violence, Teach Anti Bullying, awarded Trump with a certificate of recognition during a brief ceremony at his home in Claymont, Delaware Saturday "for standing tall to bullying in his school community, WPVI-TV first reported.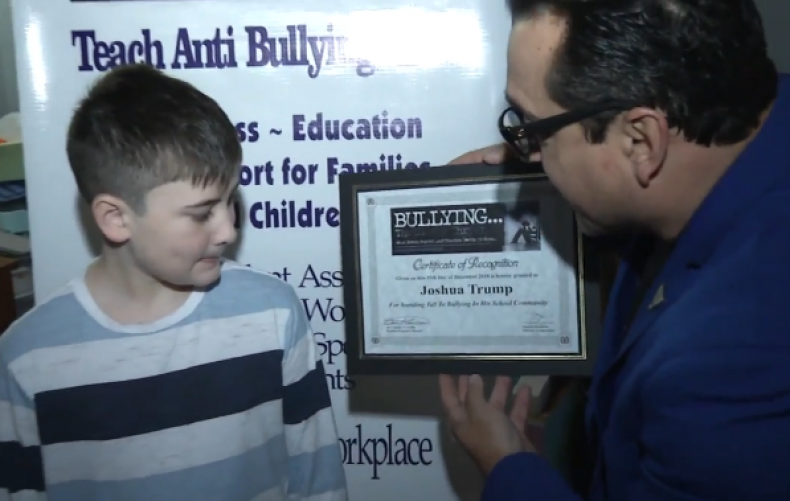 Joshua Trump is the 48th recipient of the National Anti Bullying Medal of Courage, according to the organization.
"This kid wants his last name changed in the school system. For what purpose? These kids need to be held accountable," said Teach Anti Bullying founder and CEO, Dr. Claudio V. Cerullo. "It's a name. His name is Joshua Trump. That's his name and that's what he should be referred to...that's his God-given name."
Talley Middle School Principal Mark Mayer told local news outlets five students were disciplined as a result of an investigation the school launched following complaints from Trump's parents. All of the students involved have since apologized to Trump for mocking his infamous surname. Bullying is classified as a Level III offense, according to the Brandywine School District student code of conduct available online.
Cerullo urged President Trump to reach out to his potentially distant relative in Delaware and invite him to the White House. "Irregardless of whether you like our president or don't like our president, that's his name, period, end of story."
Another member of the Trump household, First Lady Melania, has used her "Be Best" campaign to support anti-bullying causes on the national level. She has particularly targeted online harassment and social media bullying despite her husband using Twitter primarily as a tool to attempt to intimidate those who disagree with him.
According to Teach Anti Bullying, more than 200,000 kids stay home each year to avoid bullying and 13 million a year are affected by bullying in some way during their daily lives.