Donald Trump Jr., Vanessa Trump Praised by Judge for Resolving Child Custody Issues During Divorce Hearing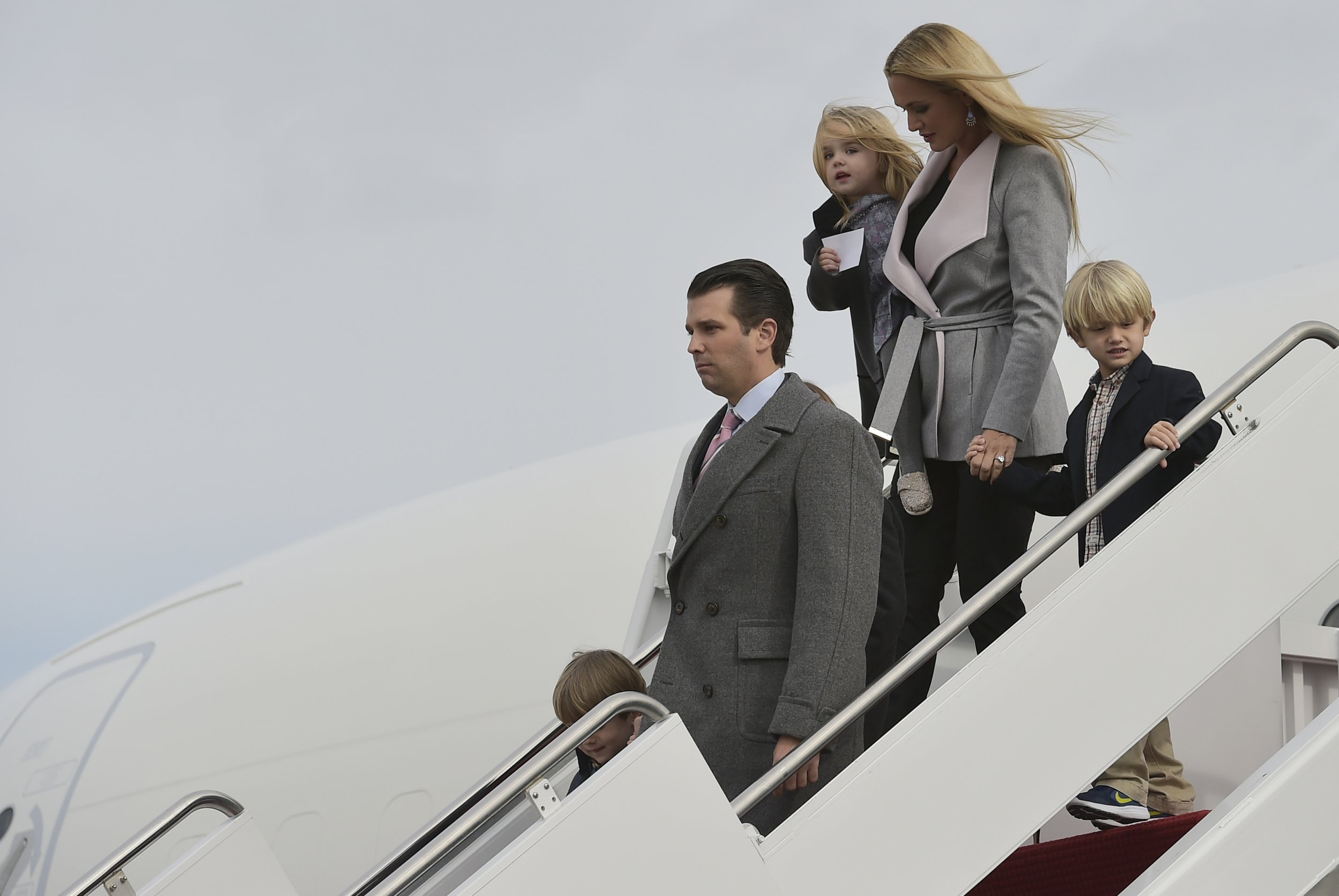 Donald Trump Jr. and Vanessa Trump received congratulations from a judge Thursday for resolving a child custody issue as they navigate through divorce proceedings.
New York State Supreme Court Justice Michael Katz said during the open hearing that the couple had squared away all matters relating to their five children, as well as parental rights, according to the Associated Press.
"I congratulate you for working those things out," Katz told Trump Jr. and his estranged wife, who filed for divorce in March.
"I would very much like to commend both of you," Katz said, according to the New York Daily News. "Obviously you have prioritized your children and taken steps to shield them from what could have been an invasive litigation process." The written agreement will be finalized within a few weeks, lawyers said.
Vanessa Trump's divorce filing was uncontested at first but modified to contested due to at least one unsettled issue.
Trump Jr.'s lawyer Norman Heller said there are "only a few issues left" to address.
"Your honor between us we have resolved most of the financial issues," Heller told the judge.
Katz responded: "I can help resolve those issues," as well as "bridge any of those gaps."
The proceeding lasted only around 15 minutes. The couple, who wed in 2005, arrived at Manhattan Supreme Court together. Trump Jr. reportedly smiled at his soon-to-be ex-wife and they both smiled at points during the hearing.
There appear to be no hard feelings between them.
Vanessa Trump defended Trump Jr. last month after a report criticized then-Fox News host Kimberly Guilfoyle—who apparently began dating President Donald Trump's eldest son around the time of the divorce filing—due to her role as a media personality while being in a relationship with a member of the Trump family.
"The lengths people will go to attack a woman simply because she's dating Don," Vanessa Trump tweeted. "We've been separated for over 9 months and respect each other's decisions & privacy. We'll focus on raising our great kids. Would be nice if the press did the same rather than obsess over our pvt lives!"
Guilfoyle parted ways with Fox News last week and has been named vice chair of a pro-President Donald Trump PAC America First Action.
Vanessa Trump has continued to retweet messages from Trump Jr. and the first family and frequently posts photos of her children.