Kimberly Guilfoyle Says Donald Trump Jr. Is 'Number One Up-and-coming Political Figure' and 'Best I Ever Shot With'
Donald Trump Jr.'s new girlfriend, Fox News host Kimberly Guilfoyle, showered him with praise in a recent interview, from claiming he is the right's most promising political figure to being the best "I ever shot with."
Related: Vanessa Trump Defends Estranged Husband Donald Jr. Over Kimberly Guilfoyle 'Romance'
Guilfoyle, 49, who started dating Trump Jr. around March, when his wife, Vanessa Trump, filed for divorce, complimented him in Breitbart News Daily interview just a couple of days after he invited her to the White House to celebrate July 4 with the Trumps.
She went so far as to suggest Trump Jr., 40, could be following in his father President Donald Trump's footsteps.
"I think he is the number one up-and-coming political figure for sure, on the right," Guilfoyle said.
Her comments are not surprising, given reports early Friday she planned to leave Fox News to hit the campaign trail with Trump Jr. ahead of November's crucial midterm elections. Fox News in an email to Newsweek Friday afternoon stated: "FOX News has parted ways with Kimberly Guilfoyle."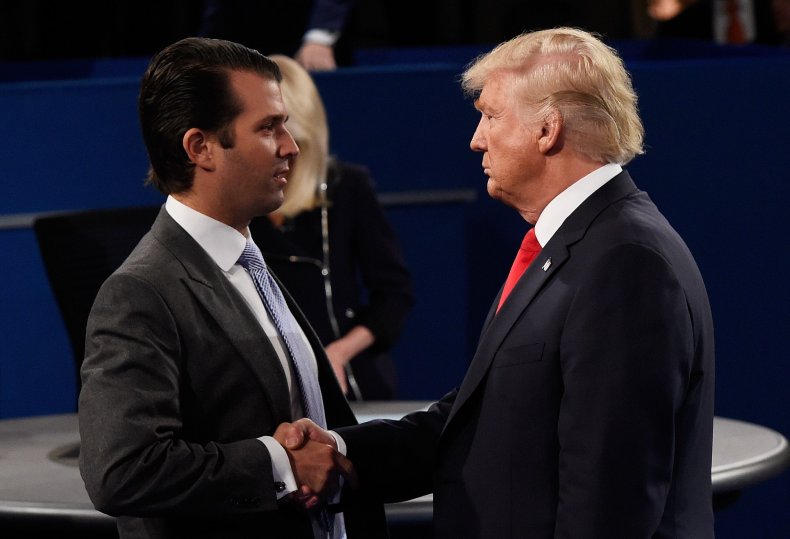 Guilfoyle based her assessment on Trump Jr.'s performances at Trump rallies, including a GOP convention in Montana in which he introduced the president.
"'He has a compelling political voice; he is incredibly bright," Guilfoyle said. "I have seen him at these different rallies, and I went to Montana with him. I've known him for over a decade."
Guilfoyle said Trump Jr. "actually puts the time in and the effort to understand the base, because he is the base." She also called him "very approachable" and "very relatable in terms of his background and his interests."
That remark led her to elaborate on how Trump Jr. is "incredible outdoors," including as a fly fisherman.
"He's fantastic, knows everything about weapons, which I admire, because I'm a big Second Amendment supporter."
She continued, "I've been shooting with him, and I mean, he's the best I've ever shot with, for sure. And that's saying something, since I've shot with all the guys who are, like, [on] SWAT teams … and military guys."
To many Americans, such qualities are less admirable. Animal rights activists have been outraged with Trump Jr. since images surfaced of him posing with animals he apparently shot and killed abroad. People for the Ethical Treatment of Animals put up a billboard in April of Trump Jr. holding a knife and the tail of an elephant, and calling for his deportation.
Unlike his sister Ivanka Trump, Trump Jr. does not have a role in the Trump administration, but rather runs theTrump Organization along with his younger brother, Eric Trump.
Guilfoyle has received some criticism as a news personality dating the president's eldest son, but others have sprung to her defense, pointing out she is an opinion host rather than a news reporter and is not the first media figure to have a romantic relationship with someone in politics.
This story has been updated with a statement from Fox News.