Donald Trump Jr. Suggests Vanity Fair Buys Fake Twitter Followers Even Though He and the President Have Lots of Them
The president's son, Donald Trump Jr., suggested Vanity Fair buys fake Twitter followers after the news outlet published an unfavorable story on Thursday about his father. But both he and President Donald Trump are no strangers to fake Twitter followers.
Trump Jr. was responding to a story from the magazine that cited a source claiming he was concerned his father was losing sleep over an obsession to find the anonymous senior Trump administration official who penned a scathing New York Times op-ed. The author claimed to be part of a "quiet resistance" against the president's "erratic behavior."
The Vanity Fair report said that "Trump's anger over Woodward's book is dwarfed by his continuing fixation on the anonymous New York Times op-ed. "Sources told me Trump is 'obsessed,' 'lathered,' and 'freaked out' that the leaker is still in his midst," Vanity Fair reported. "His son Don Jr. has told people he's worried Trump isn't sleeping because of it, a source said."
Trump Jr. responded by calling the story made-up "crap" and, because of few interactions with the outlet's Twitter account, questioning whether Vanity Fair bought its followers.
"What a joke, you think I worry my father isn't sleeping? I have never and will never worry about that. Keep making crap up," Don Jr. tweeted. "Oh, [Vanity Fair] with 4.8 [million] 'followers' how do you average less than 20 [retweets] for your last 20 or so posts? BUYING FOLLOWERS MUCH? SAD, PATHETIC, & IRRELEVANT!"
Trump Jr. did not offer evidence for his claim other than the fact that the account's most recent posts had few interactions.
He responded again on Twitter Friday afternoon, this time to a story from The Hill over his suggestion Vanity Fair bought fake followers.
"I asked a simple question as I can't imagine that anyone with 4.8m 'followers' could have engagement that bad," Trump Jr. said. "Don't get me wrong the content sucks but seriously, less than 20 [retweets] per post average? They have +- 2m more followers than me... watch what happens below!"
It is possible to buy fake followers that are bots by using certain services. The way Twitter, bots and the platform's algorithm operates, nearly every user usually has some degree of fake followers. And Trump Jr. and his father are no exception.
When Twitter did a purge of fake accounts in July, those with large amounts of followers took huge hits. President Trump lost more than 330,000 followers, dropping from around 53.4 million to 53.07 million. Former President Barack Obama lost more than 2.3 million of his 103.6 million followers. Twitter's own Twitter account lost nearly 8 million of its followers.
The purge was a move by Twitter to crack down on millions of fake accounts as part of an "ongoing and global effort to build trust and encourage healthy conversation" on the platform, said Vijaya Gadde, Twitter's legal and policy chief.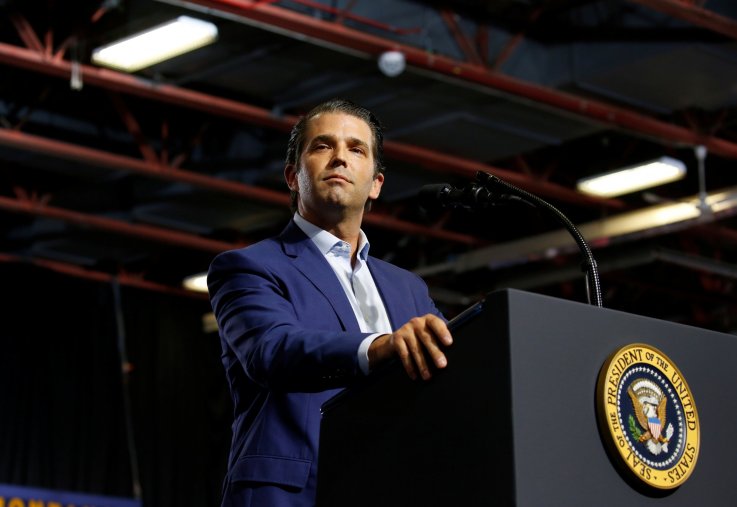 Unofficial methods used to test an account's percentage of real followers, like twitteraudit.com, suggest more than 198,000 of Don Jr.'s followers are currently fake. The site shows more than 6.2 million of Trump's 54.4 million current followers are fake. In May 2017, the same site showed that roughly half of the president's followers at the time were fake. Vanity Fair's account currently sits at 1.35 million fake followers of their total 4.8 million followers, according to the third party website.
Twitter audit is not affiliated with Twitter and is a free service that offers paid upgrades, so it is not viewed as an official measure of fake followers and bot accounts. The site states: "Each audit takes a sample of up to 5,000 (or more, if you subscribe to Pro) Twitter followers for a user and calculates a score for each follower. This score is based on number of tweets, date of the last tweet and ratio of followers to friends. We use these scores to determine whether any given user is real or fake. Of course, this scoring method is not perfect, but it is a good way to tell if someone with lots of followers is likely to have increased their follower count by inorganic, fraudulent or dishonest means."
Donald Trump Jr. Suggests Vanity Fair Buys Fake Twitter Followers Even Though He and the President Have Lots of Them | U.S.