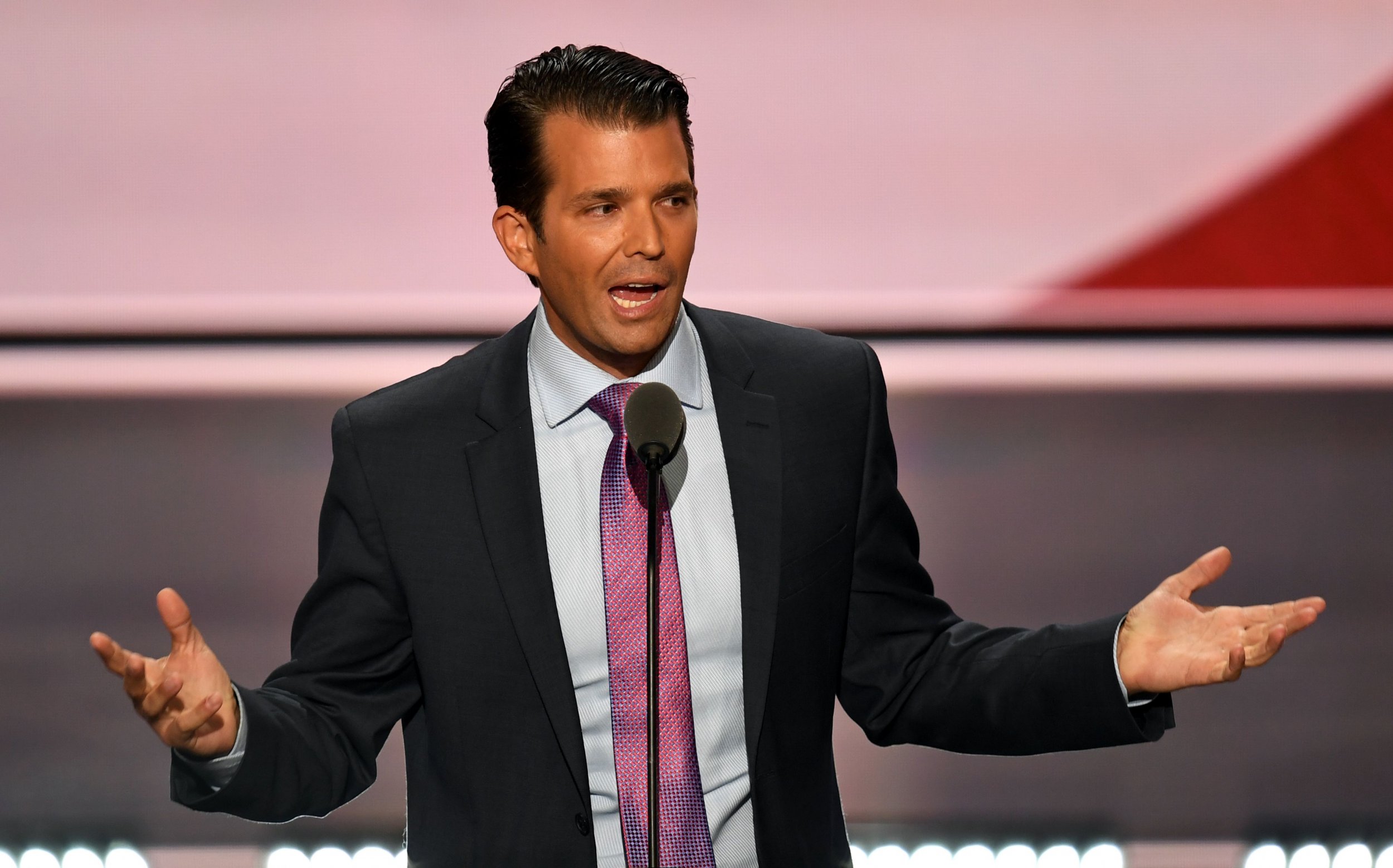 Donald Trump Jr., President Donald Trump's eldest son, said he was promised damaging information about then presidential hopeful Hillary Clinton ahead of a meeting with a Kremlin-linked Russian lawyer.
Further details provided to The New York Times by three White House advisers briefed on the meeting suggest Trump Jr. was promised potentially damaging information about Clinton before he agreed to the meeting.
Trump Jr. revealed he had attended a meeting with Natalia Veselnitskaya at Trump Tower on June 9, 2016, during the presidential election campaign, along with then campaign chairman Paul J. Manafort and the president's son-in-law Jared Kushner.
"After pleasantries were exchanged, the woman stated that she had information that individuals connected to Russia were funding the Democratic National Committee and supporting Ms. Clinton" Trump Jr. said in a statement on Sunday seen by The New York Times.
"Her statements were vague, ambiguous and made no sense. No details or supporting information was provided or even offered. It quickly became clear that she had no meaningful information," he added.
The meeting focused on a program that allowed Americans to adopt Russian children, with the topic of conversation soon turning to this. Russia's parliament voted to disband the program December 2012 following a bill—known as the Magnitsky Act—in the United States Congress the same year, which placed financial sanctions on corrupt Russian officials.
"It became clear to me that this was the true agenda all along and that the claims of potentially helpful information were a pretext for the meeting," Trump Jr. added, not going into further details about whether the promised information on Clinton was provided.
It would have been impossible for the trio of Trump representatives to have discussed the adoption program without talking about ending sanctions against Russia, said former Assistant Secretary of State for Democracy, Tom Malinowski, on Twitter Saturday.
"Russia suspended the adoptions as leverage to end U.S. human rights sanctions," he said. "If you're talking about one, you're talking about the other."
Given the investigations into whether Trump's team colluded with Russia during the election campaign, the timing and content of Trump Jr's meeting with Veselnitskaya is likely to be of interest.
The president said this weekend through a member of his legal team that he was not aware of the meeting taking place and was not in attendance at Trump Tower.
Indeed, a Trump attorney put the blame for the meeting at the feet of the Democrats, suggesting it was some kind of plot.
"We have learned that the person who sought the meeting is associated with Fusion GPS, a firm which, according to public reports, was retained by Democratic operatives to develop opposition research on the President and which commissioned the phony Steele dossier," Mark Corall, spokesperson for President Trump's lawyer Marc Kasowitz told NBC.
"These developments raise serious issues as to exactly who authorized and participated in any effort by Russian nationals to influence our election in any manner," Corall continued.