Trump Admits 'Ultra-MAGA' Candidate Can't Win Against Democrats
Former President Donald Trump said conservative commentator Kathy Barnette would be an unsuccessful challenger to the Democratic Party should she win the Republican nomination for Pennsylvania's Senate seat in Tuesday's primary, telling GOP voters that voting for her would be "a vote against Victory in the Fall!"
Barnette, who has been described by Trump ally and right-wing strategist Steve Bannon as "ultra-MAGA," has seen a surge in support over the final weeks of one of the most expensive races in the country. She has emerged as one of the frontrunners in the race alongside Mehmet Oz and David McCormick.
And as Barnette has continued to rise in the polls, both of her opponents—who had been mainly focused on each other up until now—have turned their efforts to attacking her. Trump, who has endorsed Oz much to the dismay of several prominent Republicans who argue the celebrity doctor is not conservative enough, joined in on those criticisms just five days before Republican voters headed to the polls.
"Kathy Barnette will never be able to win the General Election against the Radical Left Democrats," the former president said in a Thursday statement. "She has many things in her past which have not been properly explained or vetted, but if she is able to do so, she will have a wonderful future in the Republican Party — and I will be behind her all the way."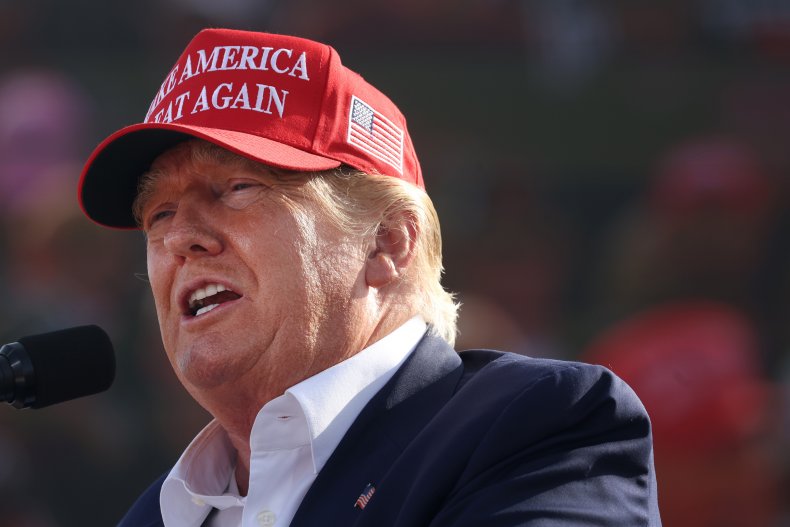 In the meantime, Trump said: "Dr. Oz is the only one who will be able to easily defeat the Crazed, Lunatic Democrat in Pennsylvania. A vote for anyone else in the Primary is a vote against Victory in the Fall!"
Republican strategist Jay Towsend told Newsweek that Trump's opposition to Barnette is incongruent with his own policies, adding that a victory for Barnette could suggest that Trump's MAGA "cult" has taken on a life of its own.
"It is ironic that Trump has endorsed the moderate in the PA Senate race, rather than the 'Ultra-MAGA,'" he said. "If she wins, it will be an indication Trump is losing a grip on the cult he created."
While Oz and McCormick have received the most media-worthy endorsements in the race, Barnette has been backed by state Senator Doug Mastriano, who is leading in Pennsylvania's gubernatorial primary.
Barnette, who identifies as an American First candidate, has described herself as a "product of rape" who went on to become a veteran and adjunct professor of corporate finance. She has also made statements alleging voter fraud in the 2020 presidential election and said during a debate that it is "absolutely not" time for the GOP to move past Trump's loss.
Newsweek reached out to Barnette for comment.