Former Secretary of State Mike Pompeo came out swinging against Pennsylvania GOP Senate candidate Dr. Mehmet Oz on Friday, raising what he described as "national security concerns" about the TV personality, who has been endorsed by Donald Trump.
Pompeo, who served in the Trump administration as CIA director and then the State Department's top diplomat, endorsed Oz's opponent, David McCormick, a former hedge fund chief executive officer, in February. Meanwhile, Trump is holding a Pennsylvania rally on Friday to tout his support for Oz ahead of the Republican primary there on May 17.
Early Friday morning, McCormick's campaign sent out a press release announcing a briefing that would be led by Pompeo regarding Oz. It said Pompeo would speak about "significant national security concerns and unanswered questions on Mehmet Oz's close ties to the Turkish government and military."
Oz was born in Ohio to parents who emigrated from Turkey. He maintained his ties to Turkey and even served in the country's military. He also voted in the 2018 Turkish election. A photo of Oz casting a ballot emerged this week, drawing some backlash—particularly because Oz previously said he'd "never been politically involved in Turkey in any capacity."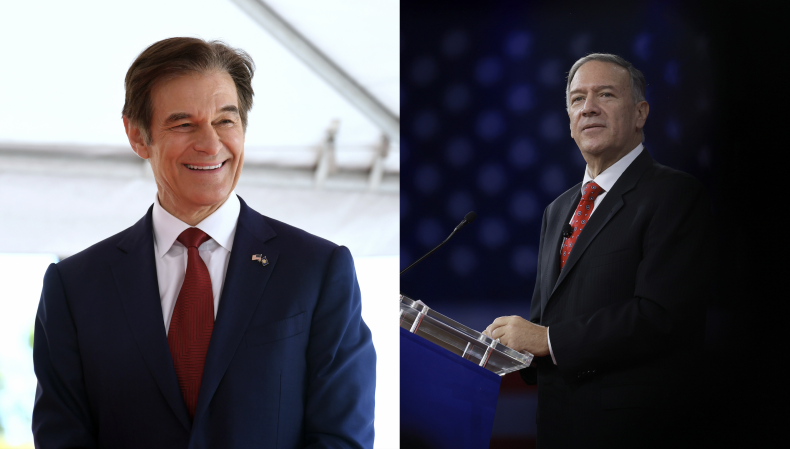 In his Friday briefing, Pompeo raised concerns about Oz voting in Turkey, according to audio of the former secretary of state's remarks shared with Newsweek by McCormick's campaign afterward. Pompeo urged Oz's campaign to explain why he had "time and energy to vote in a Turkish election but not in an American election." Pompeo said that decision "raised in my mind lots of judgments about his priorities."
"You stack that up with some of the work he's done, some of the political involvement he's had with Turkey, and I think the campaign owes the people of Pennsylvania...an explanation for this," Pompeo said. Although he noted that Oz's ties to Turkey could be innocent, he contended that voters have the right to know the "scope and depth" of his relationship to the foreign nation.
Noting his experience leading the CIA, Pompeo said that issues like this would raise questions as people were considered for security clearance. "They would want to understand in depth how one was thinking about that," he explained. He also touted his long personal relationship with McCormick, describing him as "a strong conservative" and a "believer in the things conservatives in Pennsylvania stand for."
Oz campaign spokeswoman Brittany Yanick slammed such assessments as "pathetic and xenophobic" in an email to Newsweek. Yanick did not mention Pompeo in her response, instead blaming McCormick directly.
She wrote, "Now that he lost President Trump's endorsement, he's resorted to sad and desperate attacks that are no different than the tropes used against Catholics and Jews. Dr. Oz has already said when elected to the Senate he would renounce his citizenship. There is no security issue whatsoever, and David McCormick knows that Dr. Oz has maintained his dual citizenship to make it easier to help care for his mother who has Alzheimer's and lives there."
Yanick previously told ABC News: "Voting in an election is far different from being actively engaged in the political work of the Turkish government, which Dr. Oz has never been involved with. There is no security issue whatsoever."
Yanick explained that Oz voted for an opposition candidate challenging Turkish President Recep Tayyip Erdoğan. While Turkey and the U.S. have had sometimes tense relations, particularly during Erdoğan's leadership in recent years, the country is a member of NATO—meaning it is militarily aligned with the U.S. and Western European nations.
Newsweek reached out to the McCormick campaign for comment.
Pompeo's endorsement of McCormick and opposition to Oz underlines Republican tensions surrounding some of Trump's endorsements. A number of Pennsylvania Republicans, as well as prominent right-wing Trump allies, have slammed Trump's decision to back the physician. Trump's endorsement of Oz came as a surprise to many of his supporters in early April.
"Wait? President endoresd [sic] this guy?" Trump ally and right-wing strategist Roger Stone wrote in a Telegram post the day after the endorsement was announced. Stone included an image of Oz on his TV show flexing his bicep, with former first lady Michelle Obama, a Democrat, doing the same as she stands next to him.
"I think it was a mistake for Trump to endorse Oz. I'll say it, I'm not afraid to say it," Fox News host Laura Ingraham said on her TV program the week after Trump made the decision.
Many Republicans in Pennsylvania are skeptical of Oz's conservative credentials. "The conservative Trumpers are very upset over his endorsement, and they cannot understand it," Arnold McClure, the GOP chair in rural Huntingdon County, where Trump won about 75 percent of the vote in 2020, told the Associated Press in April.
Recent polling shows a close race in Pennsylvania's GOP primary. Survey data released by Franklin & Marshall College on Thursday showed Oz just 2 points in the lead, with less than one-fifth of Republican voters supporting his candidacy.
The Trump-endorsed contender was backed by 18 percent of Republicans, while McCormick came in second with 16 percent. Army veteran Kathy Barnette was in third place, at 12 percent. Several other GOP candidates polled in the single digits.
Newsweek reached out to Trump's press office for comment.