Former Aide Knocks Trump's 'Dumb Endorsements' in GOP Primaries
Ex-Trump administration official Alyssa Farah Griffin, along with a number of other Republicans, is knocking former President Donald Trump's endorsements ahead of the GOP primaries.
Trump has thrown his support behind a slate of GOP candidates across the country, with some of those endorsements drawing the ire of Republican supporters and critics alike. In several states, Republican lawmakers and officials have openly worked to prevent some of those backed by the former president from winning—or in some case even being able to appear on the primary ballot.
"The biggest way to defeat him is to electorally chip away at the notion he is the most powerful endorsement in the country. He still is, but smart operatives need to play against him in races where he's made dumb endorsements," Farah Griffin, who served as a White House communications director under Trump, but has since become a critic, told The Washington Post for an article published Saturday.
In the Pennsylvania GOP Senate primary, Trump's endorsement of physician and television personality Mehmet Oz last weekend has drawn substantial backlash from Republicans—many of whom question Oz's conservative credentials. On Friday, Trump issued an endorsement of J. D. Vance for the Republican Senate primary in Ohio. That move came despite many Republicans in the state believing that Vance won't even manage to win the GOP nomination.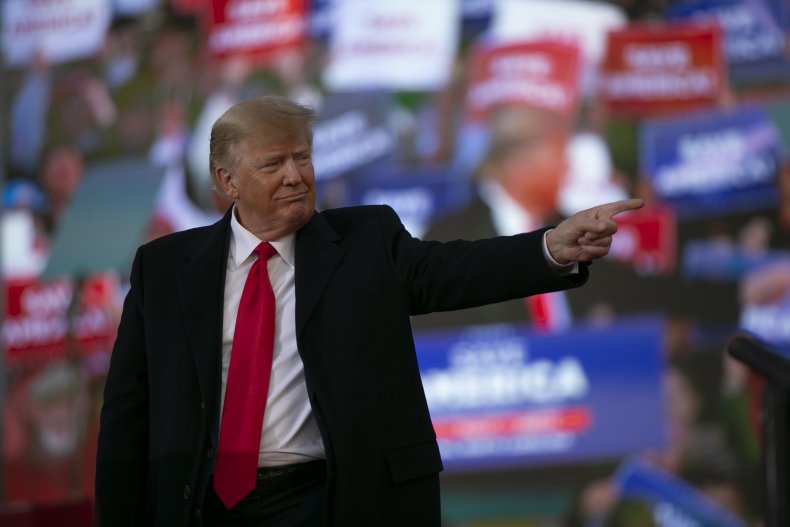 Similar pushback to Trump-backed candidates has played out in Tennessee, where GOP lawmakers pushed through legislation in a bid to keep one of his endorsees off the ballot, as well as in Georgia, where Trump has a vendetta against incumbent Republican Governor Brian Kemp because he declined to help overturn President Joe Biden's 2020 election win in the southern state. Polls still show the governor with a substantial lead over Trump-backed former GOP Senator David Perdue.
Even some close allies of the former president, including right-wing strategist Roger Stone and Fox News host Laura Ingraham, have publicly criticized his decision to back Oz in Pennsylvania.
"Wait ? President endoresd [sic] this guy ?" Stone wrote in a Telegram post on Sunday. The Trump ally included an image of Oz on his television show flexing his bicep as former first lady Michelle Obama, a Democrat, did the same while standing next to him.
"I think it was a mistake for Trump to endorse Oz. I'll say it, I'm not afraid to say it," Ingraham said during her Fox News program on Tuesday.
Local Republicans are expressing frustration with Trump's picks in some places as well. Regarding Trump's endorsement of Vance in Ohio, Dave Johnson, the chair of the Columbiana County Republican Party and a Trump supporter, warned that the decision could "backfire."
"I don't want him to make a misstep for his sake," Johnson told the Post. "I think it will backfire on Trump, and if he's running in 2024, I want Ohio to stay strong Trump country."
Trump regularly touts what he and many others view as the influence of his endorsements on Republican voters. The former president contends that a slew of longtime GOP incumbents as well as party newcomers have only won their recent elections because of his support.
In reality, like other former president's and prominent politicians, Trump's endorsements have had mixed results—in many cases his preferred candidates have won while in others they have lost. An analysis by Ballotpedia showed that Trump-backed candidates did have a 77 percent success rate in 2020, but in 2018 it was only 58 percent.
How powerful Trump's support turns out to be in the rapidly approaching GOP primaries this year will, for many Republicans, be a test of his continued influence on the party.
"It's almost certain that the growing sentiment among Republican leadership that Trump's day has come and gone will be reinforced this year. He's put his political capital on the line in so many races," Larry Jacobs, director of the Center for the Study of Politics and Governance at the University of Minnesota, told The Guardian in an article published Saturday. "A more seasoned politician would have been a little more judicious, a little more careful on these close races."
Polls consistently show that GOP voters largely view the former president favorably—with a majority seeing him as the clear frontrunner to challenge Biden again in 2024. At the same time, approval of Trump doesn't necessarily mean supporting the candidates he endorses as well.
A Pennsylvania GOP voter told NPR this week that Trump's endorsement of Oz wouldn't influence his decision. "In my mind, Trump was a type of leader. You don't agree with your leaders 100 percent of the time, but he wasn't afraid to lead," Bob Rapp, who was at an event for Oz's top GOP rival, said.
Asked if Trump's backing of Oz would influence his decision, Rapp responded with a flat, "No."
"It's one thing to say, 'Trump is popular,' and quite another to say, 'voters will do whatever they are told every time,'" Gail Gitcho, a Republican strategist, told Morning Consult.
Gregg Keller, a GOP strategist and former executive director of the American Conservative Union, also told Morning Consult, that Trump's endorsement definitely has power, but it's unclear how much.
"Every candidate should be out there seeking a Trump endorsement, because more often than not, it helps candidates substantially," he said. "But we're going to find out it's not a silver bullet in all races at all times."
Newsweek reached out to Trump's press office for comment.