Laura Ingraham Says Donald Trump's Endorsement of Dr. Oz is a 'Mistake'
Fox News' Laura Ingraham believes Donald Trump's endorsement of Dr. Mehmet Oz in the GOP Pennsylvania Senate Primary was a "mistake."
While speaking to Trump's former senior counselor, Kellyanne Conway, on her show Tuesday night, Ingraham questioned whether Conway believed the former president made the correct decision.
Trump endorsed the doctor, who rose to fame through The Dr. Oz Show, Saturday night during his rally in Selma, North Carolina, praising him as a candidate who is "smart, tough, and will never let you down."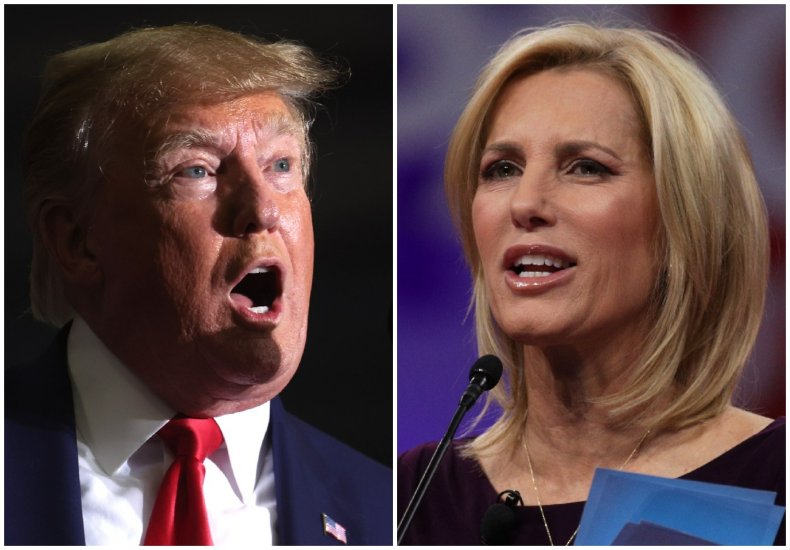 Without explicitly saying it was a mistake, Conway said it was a confusing decision and highlighted Trump's endorsements were highly sought after.
"President Trump's endorsement in these Republican primaries is a highly sought-after and deeply consequential piece of political currency.
"Here is what I think about it, I think it confused many Republicans and conservatives in Pennsylvania because they have seen Oz at his own words on video.
"Against guns, for abortion, praising Hilary Clinton as one of the most brilliant women, smartest women he has ever met, being for Obamacare and so on and so forth."
Conway, who has endorsed David McCormick, argued she did not see Dr. Oz doing the same work that Trump did to become popular among Republicans.
"Donald Trump won because he did the work, he went out and talked about trade policies, he took on China on your network every Monday morning," Conway continued.
"Trump did something that I don't see Oz doing."
Conway concluded that she did not see Dr. Oz coming out to retract his previous comments that may prevent Republicans and conservatives from voting for him, as Trump did.
The Fox News host interrupted to say that Conway still had not been clear on whether she believed Trump's endorsement was a mistake.
"You wouldn't answer the question as to whether it was a mistake, I think it was a mistake," Ingraham said.
"I'll say it, I'm not afraid to say it. It was a mistake to endorse Dr. Oz.
"I think he is probably the greatest guy ever, it is nothing personal but I think it was a mistake."
Following Trump's endorsement, other conservative figures offered similar sentiments to Ingraham's.
Sean Parnell, the Senate candidate Trump previously endorsed before he dropped out, wrote on Twitter that he is "disappointed" with Trump's choice.
"I have enormous respect for President Trump. I was honored to have his endorsement in PA. Twice," Parnell wrote in a tweet.
"But i'm disappointed by this. Oz is the antithesis of everything that made Trump the best president of my lifetime.
"He is the farthest thing from America First and he'd be very bad for PA."
Representative Mo Brooks, an Alabama Republican, blamed Trump's staff for the endorsement.
"This is happening because Trump's surrounded himself by staff who are on McConnell's payroll & hostile to the MAGA agenda. Everybody telling Trump who to endorse in primaries works for The Swamp," he wrote. "They played him. Again."
Newsweek has contacted Fox News and Donald Trump's office for comment.