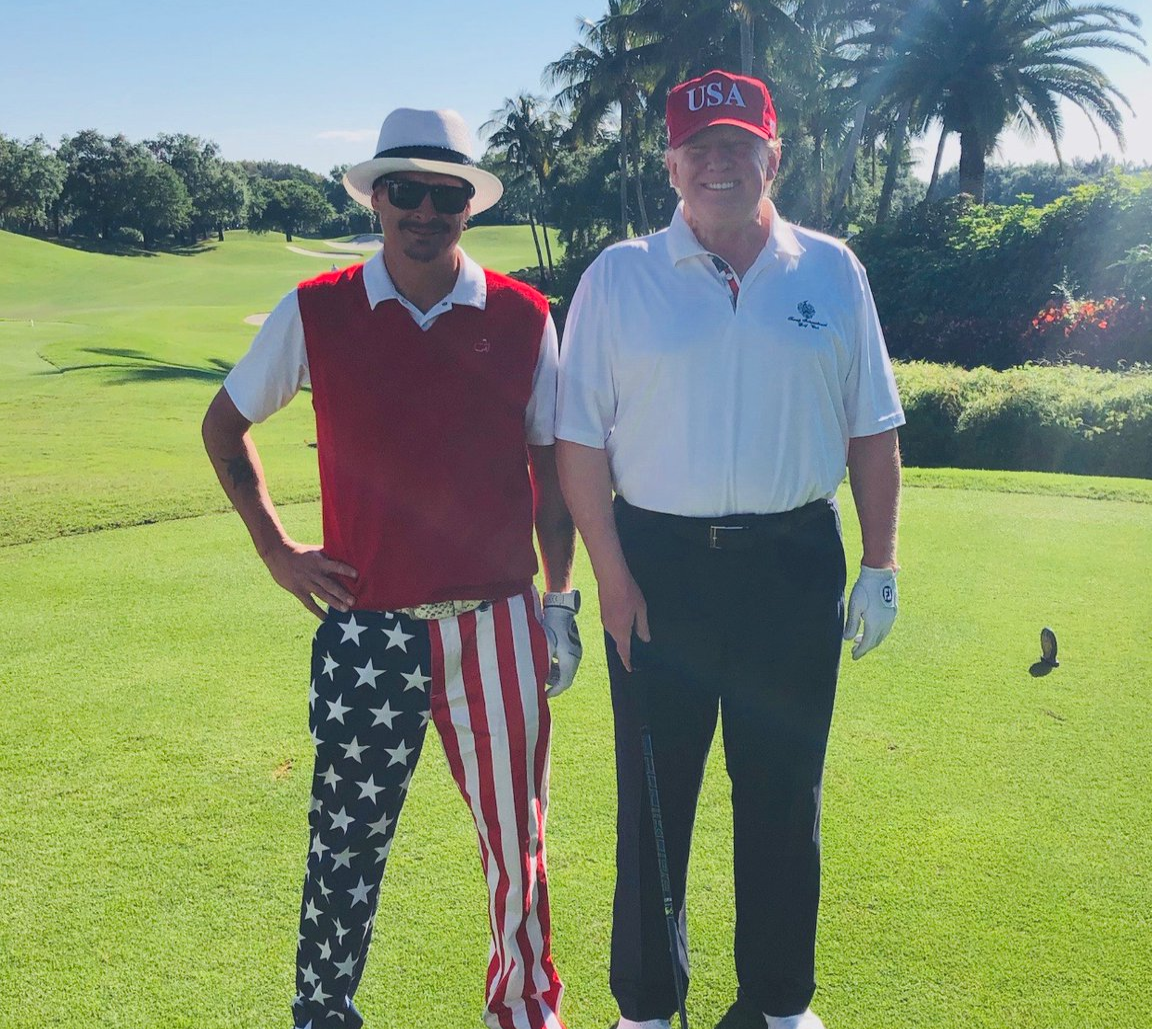 Donald Trump appeared relaxed in the wake of special counsel Robert Mueller handing in his long-awaited report on the investigation into alleged Russian interference in the 2016 election to Attorney General William Barr. On Saturday, musician Kid Rock shared a photo to Twitter of himself and the president on the tee at Trump International Golf Club West Palm Beach, Florida.
Kid Rock (real name Robert James Ritchie) is a well-documented Trump supporter, and was pictured wearing American flag pants next to the smiling president, who was sporting a red "USA" cap.
"Another great day on the links! Thank you to POTUS for having me and to EVERYONE at Trump International for being so wonderful. What a great man, so down to earth and so fun to be with!! KEEP AMERICA GREAT!!," Kid Rock wrote on Twitter.
On Friday, Trump had arrived at his luxury Mar-a-Lago resort to speak with Caribbean leaders on trade and the situation in Venezuela. Twitter users were quick to point out that each time the "down to earth" president travels to his luxury Mar-a-Lago resort for golfing, it's the taxpayer who foots the bill for logistics to protect the president and his entourage.
According to a United States Government Accountability Office report released in January, it cost federal agencies around $13.6 million for the president's four trips to Mar-a-Lago between February 3 and March 5, 2017.
"This estimate consisted of approximately $10.6 million for operating costs of government aircraft and boats and $3 million for temporary duty costs of government personnel supporting the President's travel, including transportation, lodging, and meals and incidental expenses. These figures do not include certain classified cost information or the salaries and benefits of government personnel traveling with the President because, salaries and benefits would be paid regardless of whether the President was traveling," the GAO worte.
The timing of the golf trip also did not go unnoticed on social media. "Facing a devastating Mueller report which will likely cause him to go to war with the vast majority of the US government and about 65% of US voters, Trump retreats to his golf club and surrounds himself with.......Kid Rock," tweeted Estimize founder Leigh Drogen.
"Anyone find it odd that Don went radio silent the moment Mueller filed his report, and played golf with Kid Rock?" added filmmaker Morgan J. Freeman. "Not even a rogue 'no collusion!' nor 'witch hunt!' Hmmmm...must be a big cat if this hard skin."
However, Trump did have reason to celebrate after the Justice Department announced that there would be no further indictments in connection to the report which Mueller handed to Barr on March 22. His son Donald Trump Jr. and son-in law Jared Kushner were among the names linked to alleged collusion between the the Trump administration and Russia.
According to USA Today, White House spokesperson Hogan Gidley confirmed that Trump played golf with three people that day, but did not say whether the president discussed Mueller's report. Trump has not made a statement regarding the report, but has frequently denied there was any collusion between his administration and Russia during the 2016 election.
It is unclear if the president as been briefed about the contents of the report. According to CNN, Trump was at his Mar-a-Lago resort with First Lady Melania Trump and his son Barron when he was informed that the report had been handed in after nearly two years on investigations by Mueller's team