As It Happened: Day 2 of Donald Trump and Kim Jong Un's Singapore Summit
President Donald Trump and Kim Jong Un held an historic summit in Singapore during which the North Korean leader signed an agreement promising a "complete denuclearization of the Korean Peninsula."
The document, signed in front of the world's press following a handshake between the two world leaders, promised to contribute "peace and prosperity of the Korean Peninsula and of the world" and the two nations agreed to build a "lasting and stable peace regime."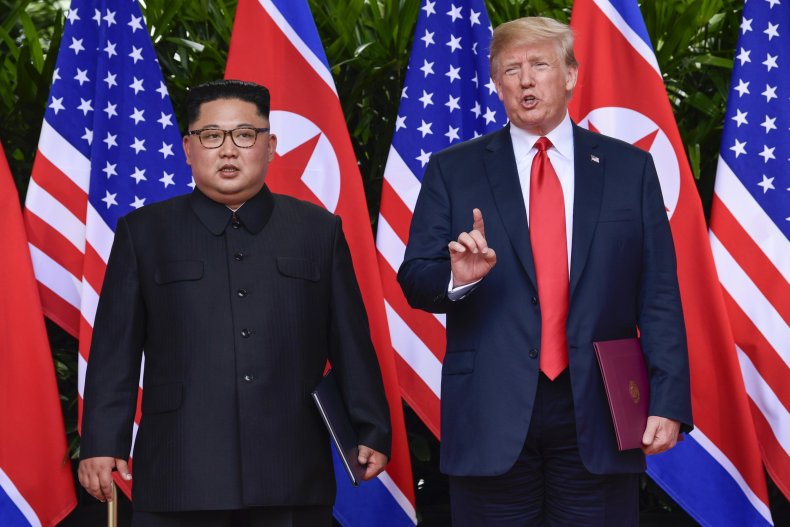 Although this is not the first time North Korea has agreed to abandon its nuclear weapons program, the latest agreement arrived following the first ever meeting between a sitting US president and a North Korean leader.
In the wake of the anticipated meeting between Kim and Trump, the U.S. president is due to give a press conference. Below Newsweek brings you live updates throughout the day.
That concludes our coverage of the reaction to the Singapore summit. Follow further coverage of events across the world on newsweek.com.
UPDATE: 07:18 a.m. ET— Trump has reportedly left Singapore slightly ahead of schedule, according to Agency France-Presse's White House Correspondent Andrew Beatty.
UPDATE: 06:13 a.m. ET— According to the Yonhap News Agency, South Korean President Moon Jae-in has hailed the outcome of the summit between, adding it will end the "last remaining conflict of the Cold War and write a new history of peace and cooperation on the Korean Peninsula."
"I pay my high compliments for the courage and determination of the two leaders, President Trump and Chairman Kim, not to settle for that outdated and familiar reality but to take a daring step towards change," he said in a statement.
"Building upon the agreement reached today, we will take a new path going forward. Leaving dark days of war and conflict behind, we will write a new chapter of peace and cooperation. We will be there together with North Korea along the way."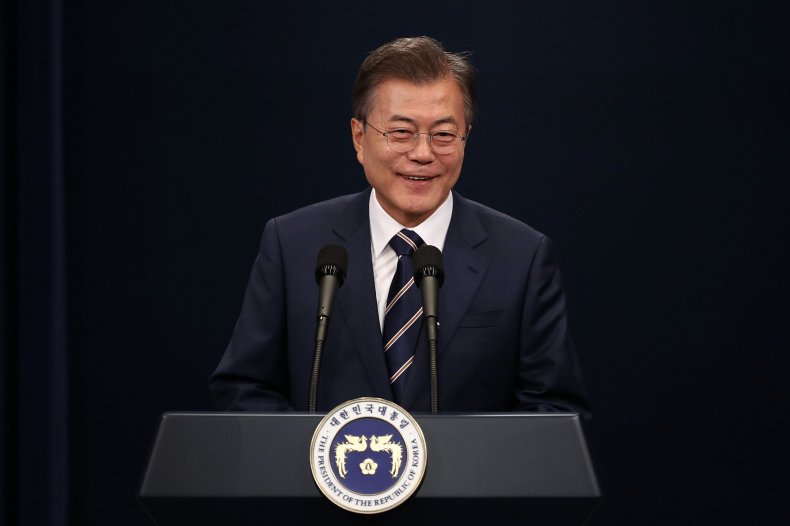 UPDATE: 06:08 a.m. ET— According to Reuters, U.S. forces in Korea say they have received "no updated guidance on execution or cessation of training exercises" after Trump's statement.
UPDATE: 06:01 a.m. ET— Newsweek has the full text of President Trump's opening remarks at his press conference.
Read: Donald Trump's North Korea statement in full: "There is no limit to what North Korea can achieve."
UPDATE: 05:49 a.m. ET— Vice President Mike Pence has tweeted his reaction to the summit.
He wrote: "With the success of the Singapore Summit, the world is one step closer to peace on the Korean Peninsula. This historic summit is a tribute to the steadfast leadership of @POTUS on the world stage and an important milestone on the path to a nuclear free Korean Peninsula."
UPDATE: 05:36 a.m. ET— In response to Trump's press conference, a spokesperson from South Korea's presidential Blue House is reported to have said: "At this moment, the meaning and intention of President Trump's remarks requires more clear understanding."
UPDATE: 05:22 a.m. ET— Trump ends the conference by describing the summit as "a very important event in world history, and I want to get it correct."
"If you don't the ball over the goal line, it doesn't mean enough," he adds.
UPDATE: 05:19 a.m. ET— When asked again about the planned North Korea disarmament, Trump said: "I think it will happen. I mean I think it will, who knows? Maybe I'll stand before you in six months and say I was wrong...I don't know if I would ever admit that, but..."
UPDATE: 04:57 a.m. ET— When asked how North Korea might want to move forward in the future, Trump said he told Kim: "They've got great beaches, you saw that when there were firing missiles in the ocean.
"I said to him, you could have the greatest hotels in the world."
UPDATE: 04:57 a.m. ET— Trump said that he will meet with his team next week to "go over the details" of the agreement in order to "get stuff done."
UPDATE: 04:48 a.m. ET— When asked what will happen if North Korea do not follow through with their promises, Trump said: "I don't want to be threatening…you've seen what was perhaps going to happen.
He added that "you could of loss 20, 30, 40 million people [in an attack]" as South Korea's capital of Seoul is close to the border.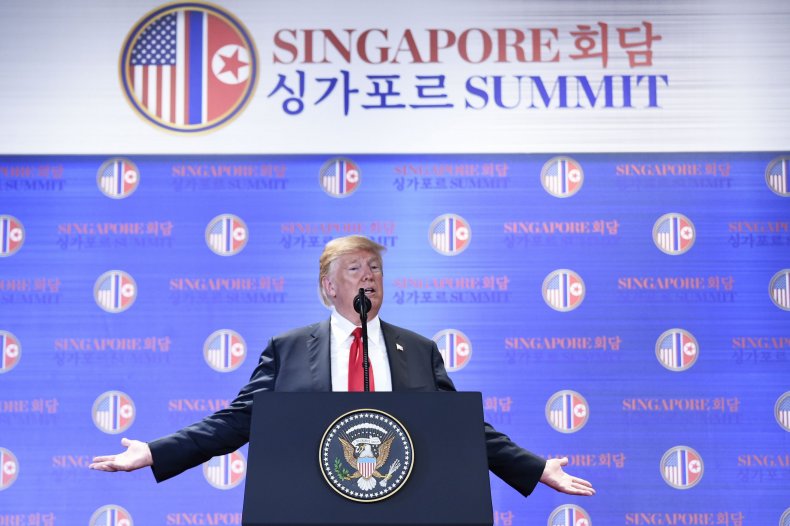 Discussing his previous threats towards North Korea, Trump added at that time "perhaps we needed 'fire and fury.'"
UPDATE: 04:40 a.m. ET— Discussing what the next steps are, Trump said he would like to travel to North Korea's capital Pyongyang at some point and will invite Kim to the White House "at the appropriate time."
UPDATE: 04:36 a.m. ET— Trump admits it "takes a long time, scientifically" to pull of full denuclearization.
"But once you start the process that means it's pretty much over… We will do it as fast as it physically be done," he added.
UPDATE: 04:34 a.m. ET—"We can replace the horrors of battle with the blessings of peace," Trump continues.
UPDATE: 04:24 a.m. ET—Trump has given a press conference following yesterday's agreement, North Korea has already promised to destroy a major nuclear testing site.
"Anyone can make wars, only the most courageous can make piece," he told reporters.