Trump Launches Fresh Attack on His Own Acting Ambassador To Ukraine: 'He's a Never-Trumper and His Lawyer is a Never-Trumper'
President Donald Trump's only rebuttal so far of a career diplomat who gave damning testimony at impeachment proceedings was to label him as a "never-Trumper"—without addressing any of the statements that the diplomat made.
Trump's comments came after he was asked to respond to statements made by Bill Taylor, the top U.S. diplomat in Ukraine, in which he provided evidence for ongoing the alleged quid-pro-quo attempt to make military aid to Ukraine contingent on the country probing 2020 Democratic front-runner Joe Biden.
In Taylor's opening statement to impeachment proceedings on Tuesday, he said that Trump wanted the Ukrainian president to "go to a microphone and say he is opening investigations of Biden and 2016 election interference."
Taylor said that U.S. Ambassador to the European Union Gordon Sondland told him that "'everything' was dependent on such an announcement, including security assistance."
Speaking to reporters outside the White House before flying to a Criminal Justice Forum in Columbia, South Carolina, Trump interrupted a CNN reporter who tried to question the president about Taylor's statement and he justified the dismissal of his questions by repeating incorrect claims that CNN is "fake news."
"Well the problem is..." Trump said. "Here's the problem. Here's the problem. He's a never-Trumper and his lawyer is a never-Trumper and the other problem is..."
Reporters present were quick to question Trump's assertions, however, as Taylor was appointed by secretary of state Mike Pompeo in June of 2019, and Sen. Chris Murphy (D-CT) alleged on Twitter that Trump himself "begged" Taylor to come out of retirement to take the role.
"Mike Pompeo?" Trump went on. "Everybody makes mistakes. He's a never-Trumper, his lawyer is the head of the never-Trumpers. They're a dying breed but they're still there. And here's the other problem. You're with CNN and you're fake news."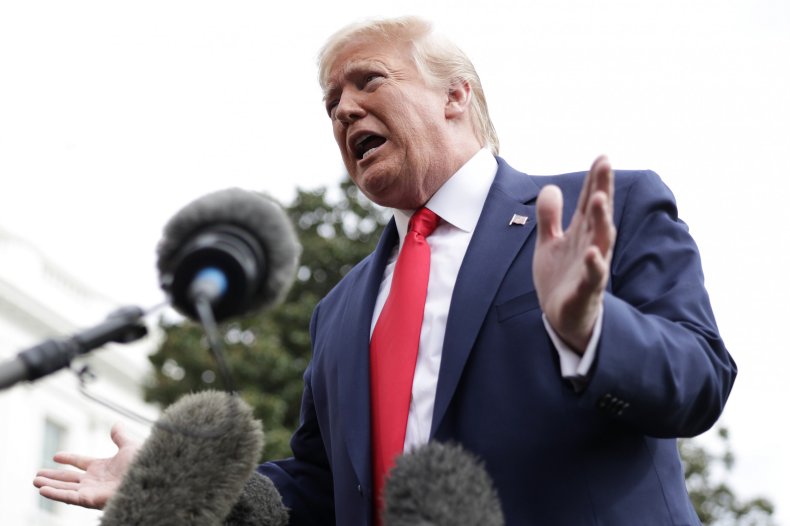 Trump then rolled his eyes and took no more questions before boarding his jet.
The exchange came as Trump struggled to fend off quid-pro-quo allegations, further strengthened by Taylor's testimony. Earlier, Trump tweeted comments made by Texas Republican congressman John Ratcliffe on Fox News in which he stated Ukraine had not been aware that Trump was holding back congressionally approved military aid, therefore there could be no quid-pro-quo.
"You can't have a quid-pro-quo with no quo," Ratcliffe said.
Taylor's testimony dented those claims, however. Democrats declared it the most damning evidence of the quid-pro-quo allegations to date.
The hashtag #BillTaylorIsAPatriot started to trend on Twitter following the testimony on Wednesday morning.
A copy of his statements in a 15-page document was also acquired by The Washington Post and published online. It is available to view below: