Trump Calls 'Ungrateful Fool' LaVar 'Poor Man's Don King' as President's Ball Family Feud Escalates
Refusing to let his feud with the Ball family simmer, Donald Trump launched a new attack on LaVar on Wednesday morning.
In his first tweet of the day, the president launched a tirade apparently in reference to LaVar's interview with CNN on Monday, in which he again cast doubt on Trump's repeated assertions that a telephone call with President Xi Jinping of China had led to the release of LiAngelo, LaVar's middle son and a U.C.L.A. freshman, despite shoplifting charges. LiAngelo and teammates Cody Riley and Jalen Hill stole from three stories in Hangzhou, The New York Times reported on November 15. They have since been suspended from basketball activities indefinitely. "It wasn't the White House, it wasn't the State Department, it wasn't father LaVar's so-called people on the ground in China that got his son out of a long term prison sentence—IT WAS ME," Trump tweeted. "Too bad! LaVar is just a poor man's version of Don King, but without the hair. Just think.."
Trump, who was on a visit to the Far East last week, met with President Xi and discussed the release of the players. On November 15, as LiAngelo, Riley and Hill returned home, Trump tweeted, "Do you think the three UCLA Basketball Players will say thank you President Trump? They were headed for 10 years in jail!" The three players did thank Trump at a press conference later that day.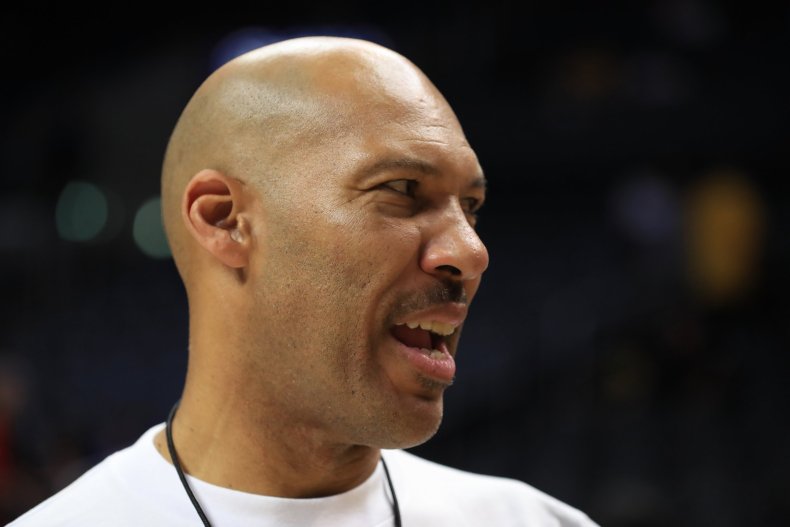 Trump's very public acknowledgement of his own role, though, started a war of words with LaVar, the voluble Ball family patriarch, through the media. "Who?" Ball had retorted to ESPN 's Arash Markazi on Sunday when asked about Trump's self-proclaimed involvement in LiAngelo's release. "What was he over there [in China] for? Don't tell me nothing. Everybody wants to make it seem like he helped me out." Trump hit back on Sunday, tweeting that LaVar was, "Unaccepting" of his help and that he, "Should have left them [the U.C.L.A. players] in jail."
LaVar responded on Monday in a typically pugnacious interview with CNN. "If I feel nobody did anything; I don't have to go around saying thank you to everybody," he told Chris Cuomo. "Just because people say things [doesn't mean] it's supposed to be true. 'Hey, I stopped them from [doing 10 years in prison]. Maybe we were doing some talking with some other people before [Trump] even got there."
Eight minutes after likening LaVar to Don King, Trump sent a follow-up tweet calling the founder of the 'Big Baller Brand' an "Ungrateful fool." " LaVar, you could have spent the next 5 to 10 years during Thanksgiving with your son in China, but no NBA contract to support you," Trump wrote. "But remember LaVar, shoplifting is NOT a little thing. It's a really big deal, especially in China. Ungrateful fool!"
LaVar's eldest son, the quiet and reserved Los Angeles Lakers point guard Lonzo Ball, had eight points and 13 rebounds on Tuesday night as Luke Walton's team beat the Bulls 103-94 at Staples Center.