Trump's Lawyer Urges Him Not to Let Go of 2020 Election
Former President Donald Trump shouldn't move on from the 2020 election, according to his attorney Christina Bobb.
More than two years after the election, which saw President Joe Biden defeat Trump by winning narrow victories in battleground states, Trump has refused to concede defeat. Instead, he and his supporters have pointed to alleged voter fraud in these key states as stealing the election from him, despite a lack of substantial evidence to back up these claims.
Trump is now running in the Republican primary to challenge Biden during the 2024 election. So far, his campaign—which has been marred by a number of investigations, including into his conduct surrounding the 2020 election—has largely centered around his stolen election claims.
However, some Republicans have sought to move away from these election fraud claims following a disappointing midterm election. Despite President Biden's struggling approval rating, Republicans only retook a slim majority in the House of Representatives and failed to win a majority in the Senate.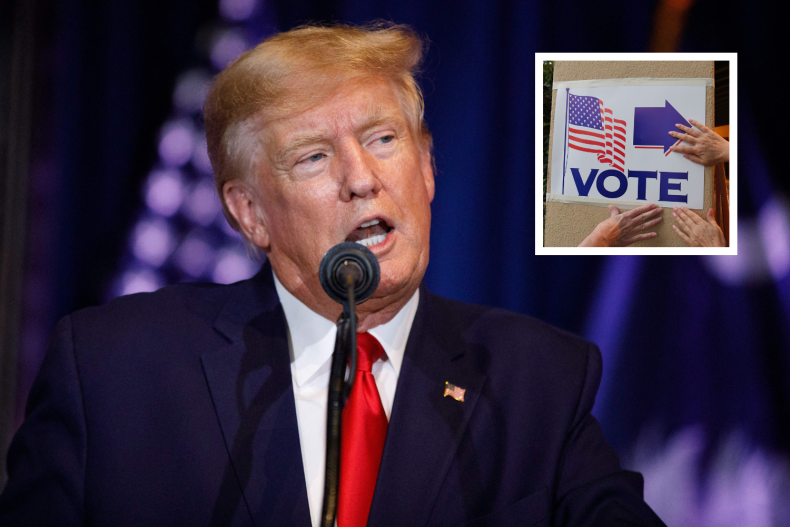 Trump-endorsed candidates whose campaigns focused on election denialism lost in competitive races, delivering key victories to their Democratic opponents. Some Republicans have since raised concerns that focusing on these theories could turn away moderate voters in competitive races.
Concerns that election denialism may be electorally toxic for Republicans are not deterring Bobb from talking about the 2020 election.
Bobb doubled down on stolen election claims during a lengthy interview that aired last week on the right-wing news outlet American Media Periscope, in which she accused U.S. leaders, without naming anybody specifically, of trying to "enslave everybody."
She suggested Trump could take legal action to launch an investigation into the 2020 race if he defeats Biden next year. Video of the interview was posted to Twitter by the Republican Accountability Project.
"We will get Donald Trump back in office," she said. "And by that point I think we need an investigation into who actually overthrew the United States government to install a fake president in 2020. Personally, I would like to see that investigated for the first time, and I think that we need to get Donald Trump back in office before that can happen."
Despite these remarks, election officials across the United States have maintained the integrity and accuracy of the 2020 presidential election. No substantial evidence has been provided to prove the election was stolen from Trump.
Bobb, a former anchor of the right-wing One America News Network who joined Trump's team last year, has made a number of controversial statements about the 2020 election. She last year claimed that Trump would be reinstated as president if Republicans retook control of Congress, a claim that has not turned out to be true.
She also said last year that Republican Kari Lake, who lost Arizona's gubernatorial race to Democrat Katie Hobbs, could also eventually become governor if election fraud was proven. Lake, like Trump, has claimed election fraud, but her legal battles have not proven to be fruitful so far.
Newsweek reached out to Trump's office for comment.