Donald Trump Letter Tells Nancy Pelosi She Can Fly Commercial Into a War Zone if She Wants to Travel During Shutdown
In a rebuke to House Speaker Nancy Pelosi's request for President Donald Trump to postpone his State of the Union Address—or deliver it in writing—until the government reopens, the president on Thursday penned a sardonic letter to the speaker canceling a military aircraft for her upcoming trips to foreign countries.
"Due to the shutdown, I am sorry to inform you that your trip to Brussels, Egypt and Afghanistan has been postponed," Trump wrote. "We will reschedule this seven-day excursion when the shutdown is over."
Due to security concerns and consistent with protocol, a lawmaker's trip to a country with an active war zone is typically not publicly disclosed beforehand. Earlier that morning, House Minority Whip Steve Scalise, the Republican from Louisiana, mentioned at a press conference only that Pelosi would be traveling to Brussels.
"Obviously, if you would like to make your journey by flying commercial, that would certainly be your prerogative," Trump said, referring to the military aircraft she would have otherwise taken.
Other Democratic House members were scheduled to embark on the trip with Pelosi, which, according to her deputy chief of staff, Drew Hammill, "did not include a stop in Egypt." A United States Air Force bus was already parked outside House office buildings waiting to take lawmakers and staffers to the airport.
"The Congressional Delegation to Afghanistan included a required stop in Brussels for pilot rest. In Brussels, the delegation was scheduled to meet with top NATO commanders, U.S. military leaders and key allies–to affirm the United States' ironclad commitment to the NATO alliance," Hammill said in a statement.
Hammill added that the purpose of the overseas trip was "to express appreciation and thanks to our men and women in uniform for their service and dedication, and to obtain critical national security and intelligence briefings from those on the front lines." He noted that Trump's surprise visit to troops in Iraq the day after Christmas was also during the shutdown.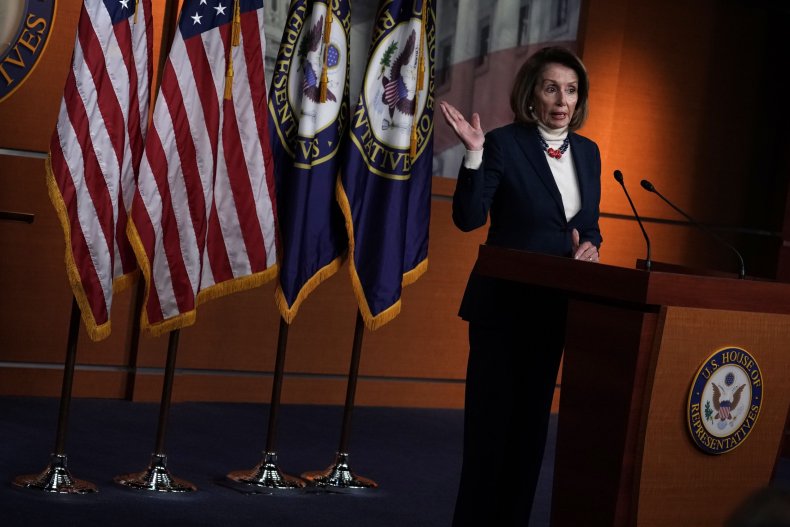 The president's letter is the first response Pelosi has received since she made her State of the Union postponement request on Wednesday, in which she cited security concerns and "critical departments hamstrung by furloughs."
"Sadly, given the security concerns and unless government re-opens this week, I suggest that we work together to determine another suitable date after government has re-opened for this address or for you to consider delivering your State of the Union address in writing to the Congress on January 29th," Pelosi wrote in her letter to Trump.
"He's been very silent for more than 24 hours," Pelosi told reporters about the president on Thursday morning. When questioned if asking Trump to postpone was a political move rather than one centered on security concerns, as Republicans have suggested, the speaker disagreed. Homeland Security Secretary Kirstjen Nielsen rebuked Pelosi's claims Wednesday saying the Secret Service and DHS were prepared and had long begun planning for the address.
"I'm not denying a platform at all," Pelosi said. "I'm saying let's get a date when government is open." She mentioned that prior to issuing her letter, she "consulted" with Democratic Chairman of the House Homeland Security Committee Bennie Thompson.
"In light of the 800,000 great American workers not receiving pay, I am sure you would agree that postponing this public relations event is totally appropriate," Trump continued in his letter. "I also feel that, during this period, it would be better if you were in Washington negotiating with me and joining the Strong Border Security movement to end the shutdown."
This story has been updated with comments and information from House Speaker Nancy Pelosi's deputy chief of staff, Drew Hammill.