Citing security concerns and the partial government shutdown now on its 26th day, Speaker of the House Nancy Pelosi sent a letter to President Donald Trump on Wednesday requesting that he postpone his State of the Union address slated for January 29 until the government reopens.
The lead federal agency responsible for the event's security protocols, the U.S. Secret Service, which falls under the Department of Homeland Security (DHS), has not been funded since roughly 25 percent of the federal government shuttered last month. Because of "critical departments hamstrung by furloughs," Pelosi said, the speech to Congress should be rescheduled or delivered in writing.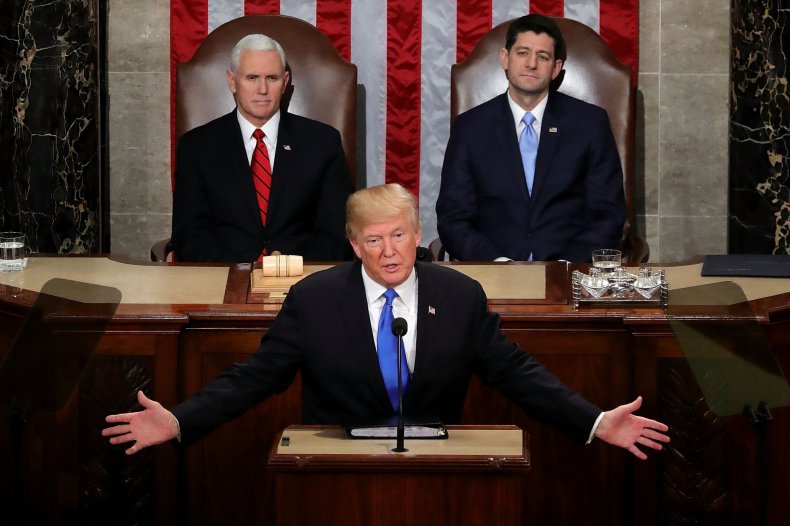 "Sadly, given the security concerns and unless government re-opens this week, I suggest that we work together to determine another suitable date after government has re-opened for this address or for you to consider delivering your State of the Union address in writing to the Congress on January 29th," Pelosi wrote in her letter.
The White House did not immediately respond to Newsweek's request for comment, and no public statements had been made by the president or press secretary Sarah Huckabee Sanders on whether they would postpone the speech or deliver it in writing.
Last September, as Pelosi highlighted, DHS Secretary Kirstjen Nielsen "designated State of the Union addresses as National Special Security Events, recognizing the need for 'the full resources of the federal government to be brought to bear' to ensure the security of these events." Due to the "weeks of detailed planning with dozens of agencies working together to prepare for the safety of all participants," Pelosi said it would not be safe.
The shutdown, which continues to have no end in sight, is the longest in United States history.