Government Shutdown Will Officially Become Longest in History With No End to Trump Border Wall Stalemate in Sight
With both the House and Senate adjourning on Friday until Monday, and without Congress passing a spending bill, the partial government shutdown will officially become the longest in United States history once the clock strikes midnight.
Now three weeks, or 21 days, in, Democrats and the White House appear to be no closer to finding a solution than they were on Day One. There continues to be no end in sight to the shutdown, leaving roughly 800,000 federal employees to wonder when they will see their next paycheck. Employees received paystubs Friday that read $0.00.
The current shutdown is the 19th such reduction of government services since 1976. Previous shutdowns lasted 16 days in October 2013, 18 days in September 1978 and 21 days in December 1995.
The House will reconvene Monday at noon and the Senate will gavel back into session at 3 p.m.
Before leaving town, senators on Thursday passed a measure by unanimous consent that will provide federal workers with back pay once the government reopens. The House passed the measure Friday. President Donald Trump has said he will sign the bill into law, according to Senate Majority Leader Mitch McConnell.
On Friday, the House continued to pass piecemeal spending bills to fund shuttered departments. They did not fund Trump's desired border wall, but they did provide $1.3 billion for various other types of border security measures. McConnell has said he would not take up any measure that the president does not support. An attempt by Senate Democrats to advance the House's spending bills was blocked by McConnell on Thursday.
The Senate was in session Friday, but it did not conduct legislative business, as most senators had already left town.
Federal workers have become increasingly frustrated with Washington's inability to reach a deal. Thousands of furloughed federal workers, including hundreds in Washington, D.C., rallied in protest on Thursday, pleading with lawmakers and the president to allow them to return to work.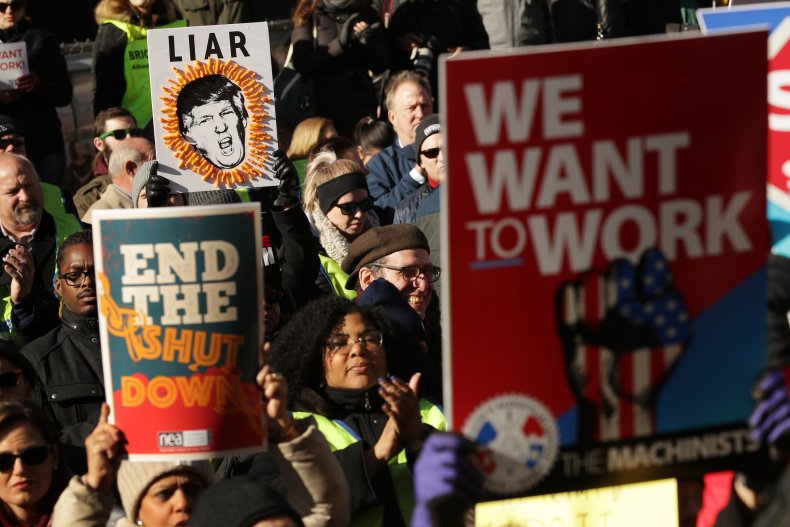 "Senators, Republican senators, do your damn job!" yelled David Cox, president of the American Federation of Government Employees (AFGE), into a microphone in D.C. "Let there be a vote in the Senate!"
Cox, who heads the largest federal workers union representing 700,000 people, told Newsweek Wednesday that, despite the president's unwillingness to budge on his border wall funding demand of more than $5 billion, Cox wanted Democratic leadership to "continue to move forward with the bills that they have sent to the Senate."
Leaders of federal workers unions, including Cox, railed against Trump and Republicans earlier this week, questioning the president's thinking when he said those without paychecks will "make adjustments."
"What, exactly, is he talking about?" asked Randy Erwin, president of National Federation of Federal Employees, on Capitol Hill Wednesday. "Is he saying they're not going to fill prescriptions that they can't afford anymore? Is he going to say that they're going to start missing payments and ruin their credit? Are they going to turn off the heat in the middle of winter and just tough it out? Those are the kinds of things–that is the predicament that middle-class people are dealing with in this country."
Update: This story has been updated to include the House has also adjourned until Monday.