Donald Trump Likes to Hire Staff Who Look Like Him When He Was Younger, Report Says
President Donald Trump was apparently drawn to a White House staffer for a somewhat odd reason: He looked like Trump in his younger days.
It had long been suspected that 36-year-old Nick Ayers—the chief of staff for Vice President Mike Pence—was Trump's favorite to replace his Chief of Staff John Kelly, who, after ongoing rumors, is indeed on his way out. Maggie Haberman of the New York Times reported Monday that part of the reason Trump liked Ayers so much was because of his looks.
"Mr. Ayers was the only person Mr. Trump had focused on since he made up his mind to part ways with Mr. Kelly," Haberman wrote. "With a head of blond hair, Mr. Ayers somewhat resembles Mr. Trump in his younger days, a fact that the president often looks for as a positive signal. The president had an unusual affinity for Mr. Ayers, telling aides who expressed concern about Mr. Ayers that he liked him."
The Times reported the job had all but been Ayers'—unnamed sources telling the paper a press release announcing the appointment had already been drafted—but that Ayers backed away from the position, not wanting to make the long-term commitment desired by Trump. The president would have to look elsewhere for a chief of staff.
"Thank you [Trump], [Pence], and my great colleagues for the honor to serve our Nation at The White House," Ayers tweeted on Sunday. "I will be departing at the end of the year but will work with the #MAGA team to advance the cause."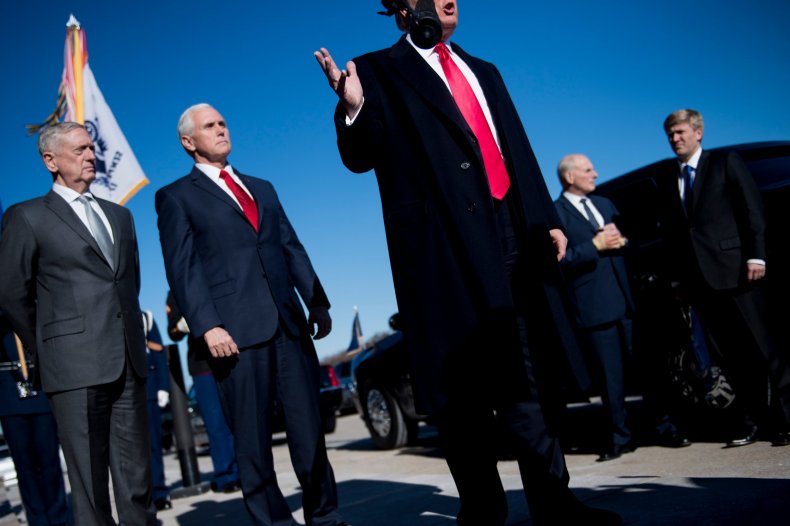 Trump has already had two chiefs of staff: Kelly and Reince Priebus. It won't be an easy task for whoever ends up taking the gig. Democrats have taken back control of the House of Representatives, the investigation from special counsel Robert Mueller looms and whispers of impeachment have already begun to circulate.
Trump, meanwhile, has insisted things are going swimmingly. "I am in the process of interviewing some really great people for the position of White House Chief of Staff," he tweeted over the weekend. "Fake News has been saying with certainty it was Nick Ayers, a spectacular person who will always be with our #MAGA agenda. I will be making a decision soon!"