Donald Trump Is Disappearing From Our Conversations
Former President Donald Trump's prominence in online discourse has majorly diminished since his departure from the White House, according to data shared with Newsweek.
Online mentions of the former commander-in-chief and Google searches for his name spiked around last year's election and the events of January 6—but have since dropped back significantly.
Data supplied by Brandwatch showed more than 355 million mentions of Donald Trump on what it calls the "social web"—including blogs, forums, news sites, and public social media pages and accounts—from the start of June last year to the end of July 2021. These mentions exclude his eldest son and namesake, Donald Trump Jr.
June 2020 saw the most, with more than 54.1 million mentions. Mentions also surpassed 50 million in October and November 2020, according to the figures from Brandwatch's Consumer Research platform.
The low point was April 2021, with more than 2.4 million—a 95 percent drop from its peak—while in July the figure stood at more than 3.5 million. The figures read "more than" to account for the possibility of deleted and or edited posts.
The graphic below shows the number of mentions each month since last June.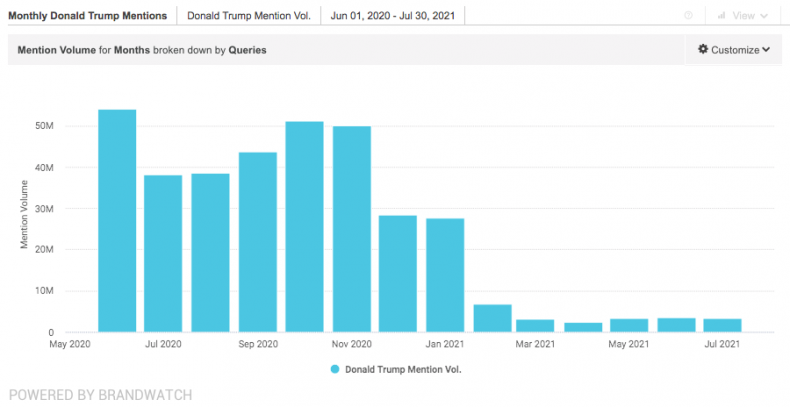 Looking on a daily basis, January 6 was the day with the most mentions of any in the time period examined, at more than 5.1 million.
The graphic below charts the daily mentions over the period assessed by Brandwatch.
"Obviously the large conversations in October and November of 2020 were due to the election which took place in early-November, and October held two, separately televised debates which tend to stir online discussion," Kellan Terry, Brandwatch's director of communications, told Newsweek.
"June's conversation was elevated due to online reaction and commentary around accusations that Trump was in a White House bunker and the photo of Trump in front of St. John's Episcopal church."
Terry said Brandwatch also looked at daily mentions of Trump, which gave a "more dramatic and stark" picture of how mentions of him changed. The day with the single-most mentions—5.1 million—was January 6, 2021, the day of the Capitol riot.
"Two days later, Trump was booted from many online social platforms. You can see how small Trump's online conversation has become since then," Terry said.
"Having said that, Trump is still mentioned tens-to-hundreds-of-thousands-of-times a day. Many, many brands would be delighted to have such a robust conversation online on a daily basis."
The graphic below charts the daily mentions over the period assessed by Brandwatch.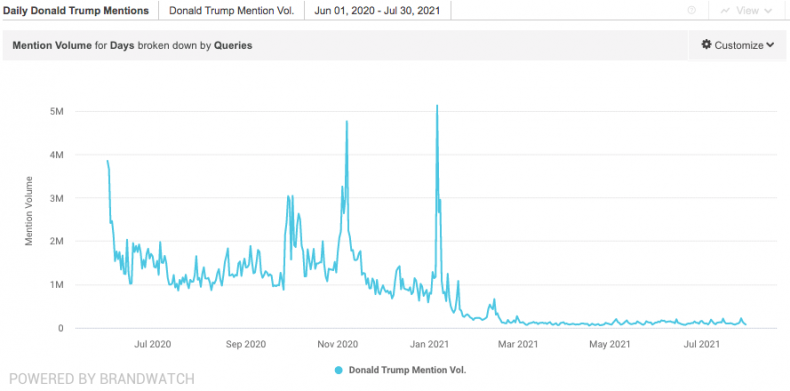 Brandwatch also assessed the sentiment of mentions, putting these into broad categories of negative and positive.
"For the entire timeframe, Trump's online conversation was overly negative with 69.48 percent of sentiment-categorized mentions being negative," Terry told Newsweek.
"You can see Trump's conversation has been a bit more negative since January 2021, but not overwhelmingly more negative when we examine the conversation sentiment on a monthly basis.
"This is a deviation away from Trump's conversation from several years ago. While Trump has always been a polarizing figure—with his online conversation sentiment routinely hovering around 50/50—his conversation is noticeably more negative within this timeframe."
The graphics below show the overall sentiment over the time period followed by the monthly breakdown.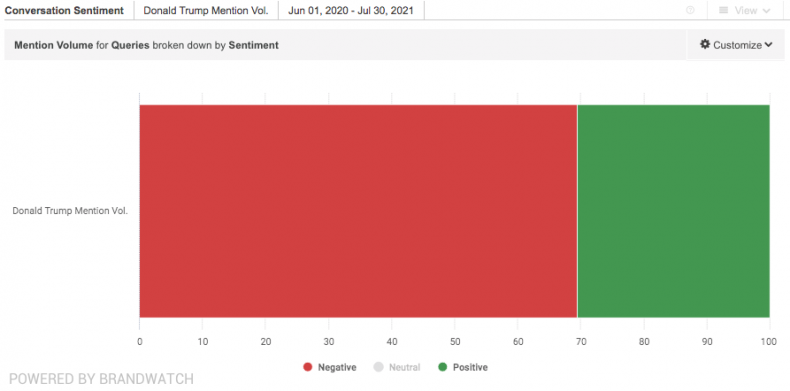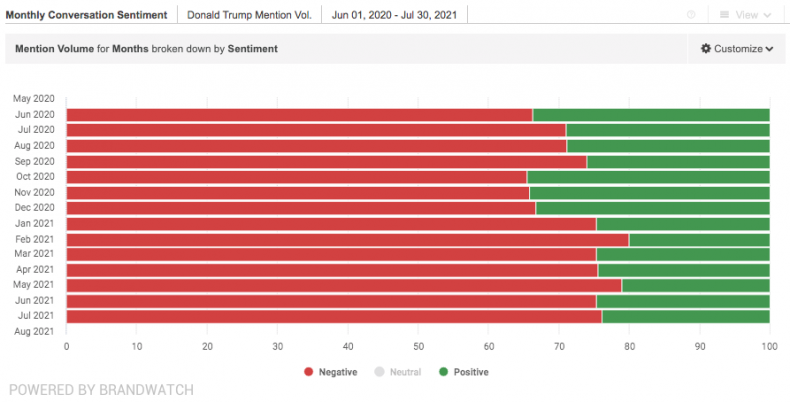 While Brandwatch's figures show a decline in the discussion, Google Trends data also shows a decline in search interest around the term "Donald Trump."
Trends data shows a figure between 0 and 100 highlighting relative interest in a search term over time.
Looking at the same period discussed above—the start of June 2020 to the end of July 2021—interest peaked at 100 around the time of last year's presidential election.
Following this, there was a spike between January 3 and 9, the time period in which the Capitol riot occurred, where it hit 57. As of the end of July, the figure was at 4. The lowest point in the measured period prior to Trump's departure from the White House was 17.
The screenshots below show the chart of Google Trends' data around searches for "Donald Trump" over the periods of June 2020 to July 2021 and June 2015 to July 2021.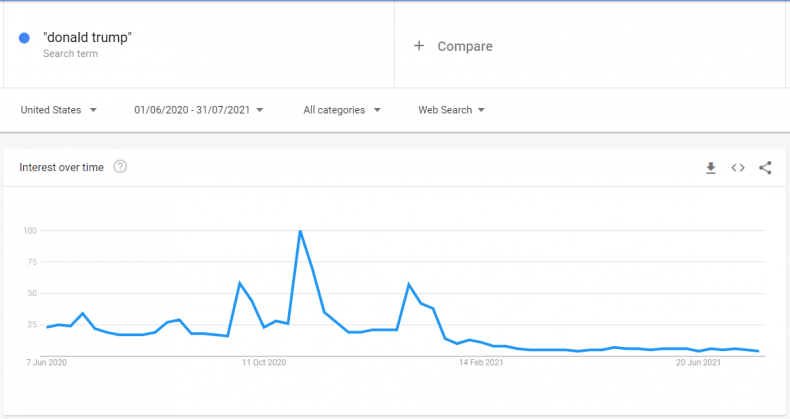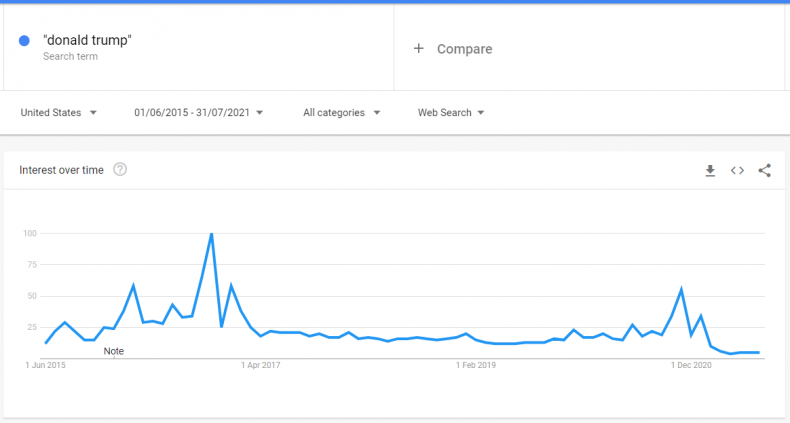 Looking back further, from the month Trump announced his candidacy—June 2015—to the end of July 2021 there has been a sharp decline in search interest.
Over that period, around the time Trump won the 2016 election search was at its highest mark of 100.
There was a spike around the time of his inauguration, at 58, and another around the 2020 election, with it rising to 57 in November 2020.
As of June 2015, it was at 20 while as of July 2021 the number sits at 5. Some of the variation between those figures may be somewhat impacted by a change to Google's data collection in January 2016.
In office, Trump had more power to generate news and media outlets were more tied to reporting on him. But as an ex-president that is no longer the case, Jon Herbert, senior lecturer in the school of social, political and global studies at Keele University and co-author of The Ordinary Presidency of Donald J. Trump, told Newsweek.
That decline in impact is not necessarily out of the ordinary for an outgoing president—but for Trump it is more notable because of his media strategy throughout his tenure, Herbert suggested.
"Trump can't generate that much news," Herbert said. "He had the full force of the federal government behind him—even if some of it was wielding knives—in terms of being able to make stories across a range of policy areas. The media were obliged to cover them as he was president; you just can't ignore the presidency because those words have impact at many different levels. So, willingly or unwillingly, the media were drawn into magnifying his every action. He understood that and played to it.
"Now, he's another citizen: Why should many media outlets pay attention? Certainly, there are some on the right trading on the Trump name for attention from their reader and viewerships—stories involving him are still popular among right-wing media consumers—but, if you like, the degree of magnification is much reduced.
"It happens to all departing presidents, but the optics of this are exaggerated in this case because Trump's presidency was so media-driven."
Herbert said that while Trump's bans from several social media platforms will have had an impact on his ability to influence the conversation, it would be "a mistake to overstate its importance even in Trump's example."
"I think he'd be struggling for the same level of coverage now even if he had access to Twitter—we discuss 'social media' but basically, he tweeted and the campaign/White House made sure it went out on other platforms," Herbert said.
"The conventional media attention would have dropped anyway because he's no longer president and that gives them much more choice on whether they cover his utterances or not."
Andrew Chadwick, professor of political communications at Loughborough University and author of The Hybrid Media System: Politics and Power, put more weight on the social media suspensions.
"It's inevitable that Trump's previous strategy of trying to whip up his online base and command the news cycle with incendiary tweets isn't going to work in the same way now that he has no Twitter account," Chadwick told Newsweek.
"Trump now needs to rely on social media surrogates to do that for him. There are plenty of those, but they won't cut through as effectively as he once did.
"Social media are based on an economy of attention. It's not enough to post press releases on your website and hope other people will post them on Twitter."
Chadwick highlighted that polling had still indicated high support for Trump among the electorate.
"So, we now have an intriguing situation, in which support for conservative politics remains high among the U.S. electorate but the main organizing force for that movement doesn't have the public profile he once did," he said.
"This potentially opens up space for new conservative Republican leaders to fill the gap online."
Newsweek has contacted the office of the former president for comment.