Donald Trump Tells Media to Stop 'Negative' and 'False Attacks' Hours After CNN Office Receives Pipe Bomb
President Donald Trump had a message for the media on the day that CNN's New York office was evacuated after receiving a pipe bomb in the mail: "Stop the endless hostility and oftentimes false attacks."
Trump was speaking at a rally for Republican candidates in Mosinee, Wisconsin, hours after the cable news network had its offices at the Time Warner Center in Manhattan evacuated. The bomb was discovered on the same day as other explosive devices were intercepted after being mailed to former President Barack Obama, former presidential candidate Hillary Clinton and others.
Trump began the rally with an attempt to halt the divisiveness his administration, and previously his campaign, has often been accused of fostering.
"No nation can succeed that tolerates violence or the threat of violence as a method of political intimidation, coercion or control. We all know that," Trump said, before adding: "We want all sides to come together in peace and harmony."
But Trump soon turned to a familiar target or his ire: the media.
"As part of a larger national effort to bridge our divides and bring people together, the media also has a responsibility to set a civil tone and to stop the endless hostility and constant negative and oftentimes false attacks and stories. Have to do it," Trump said.
After Trump excoriated the media, some in the crowd chanted "CNN sucks."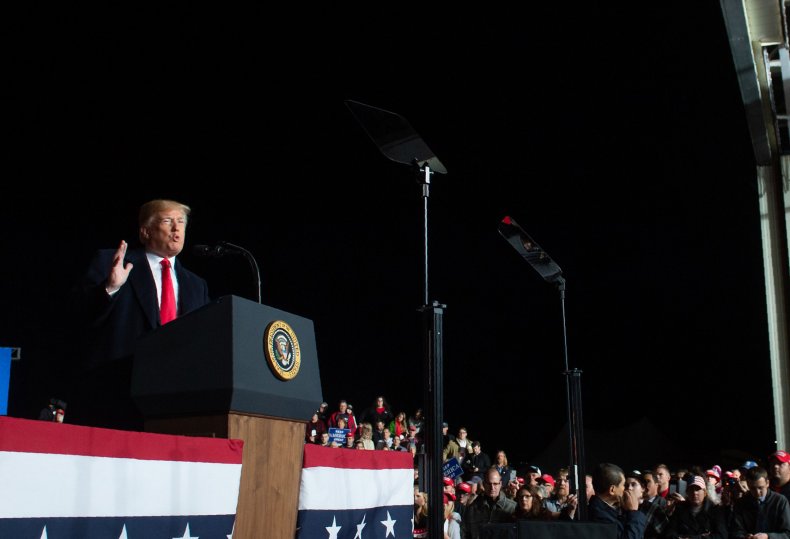 As well as Obama, Clinton and the CNN offices, packages containing explosive devices were also sent to Democratic Congresswomen Maxine Waters and Debbie Wasserman Schultz as well as former Attorney General Eric Holder. Two days earlier, billionaire Democratic donor George Soros, who has been the subject of conspiracy theories peddled by conservatives including Trump, also received an explosive device.
"Any acts or threats of political violence are an attack on our democracy itself," Trump said in Wisconsin.
All those sent the packages have been the subject of attacks by Trump. Still, Trump said that "there is one way to settle our disagreements. its called peacefully at the ballot box." Trump went on to criticize those who have recently confronted politicians, many of them Republicans, in public spaces.
He added: "Those engaged in the political arena must stop treating political opponents as being morally defective." Trump recently said that sexual assault allegations against his Supreme Court nominee Brett Kavanaugh were brought about "by people who are evil."
In his opening, Trump also remarked that "No one should carelessly compare political opponents to historical villains—which is done often. It's done all the time. Gotta stop." The president's eldest son, Donald Trump Jr., recently compared the Democratic Party's platform to that of the Nazis.