Donald Trump, Melania Host Mar-a-Lago NYE Party For Allies, Including Matt Gaetz
Donald and Melania Trump returned to hosting their traditional New Year's Eve celebration at Mar-a-Lago, their Florida resort, on Friday, social media images suggest.
Pictures showed the ex-president, wearing a tuxedo, the former first lady, as well as allies and family members.
Florida Representative Matt Gaetz, a Republican, who faces an investigation over allegations he denies of sex trafficking and sex with a minor, was pictured at the event with his financee, Ginger Luckey.
Also pictured at the gala were the former president's son Eric, along with his wife, Lara, and their children.
A picture also showed that among the attendees in the main ballroom that can hold hundreds was the former New York City mayor and Trump attorney, Rudy Giuliani.
Another picture shared on Instagram showed the former first couple sitting at a dinner table smiling while surrounded by serving staff wearing masks in what appeared to be a largely maskless event.
The couple mingled with guests who had gathered at the event at Mar-a-Lago before midnight, according to the Daily Mail. Images on social media show the Trumps got a standing ovation as they walked through the ballroom to the table where they dined with Trump's daughter Ivanka and her husband, Jared Kushner.
Florida, which has seen a significant spike in COVID cases, recommends but does not mandate face masks for the general public.
Earlier in the week, the country's top infectious diseases expert Dr. Anthony Fauci had recommended against large New Year's Eve gatherings.
The New Year's Eve event at Mar-a-Lago is one of the highlights of the private club's social calendar.
However, the former president skipped last year's gala in which guests had gathered in expectation that he would attend.
He decided to return to Washington, D.C. with the former first lady as he joined efforts by some Republicans to delay the certification of then President-elect, Joe Biden, according to CNN, and to battle GOP leaders for larger COVID stimulus checks.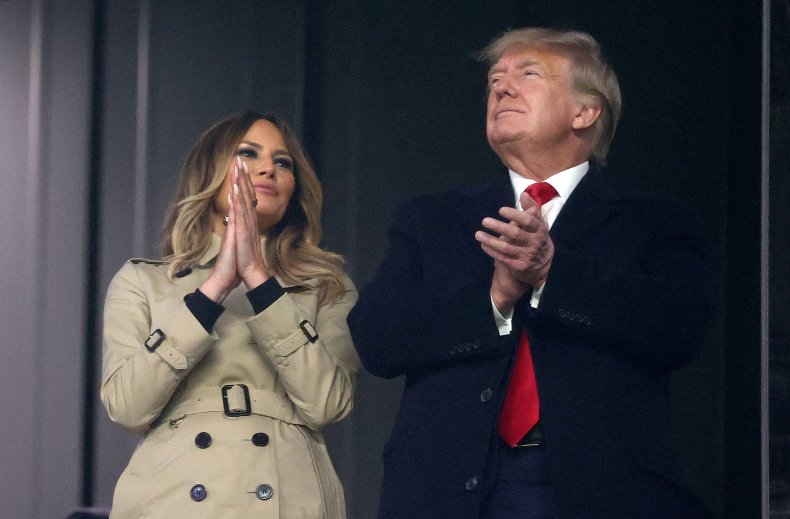 The Trump family also spent Christmas at Mar-a-Lago, according to the Mail.
The Mar-a-Lago resort will be the venue for a press conference that Trump has planned for January 6, on the first anniversary of the attack on the U.S. Capitol by his supporters disputing the 2020 election result.
In a statement through the Save America political action committee, Trump suggested he would use the event to revisit his false claims that the victory of President Joe Biden was marred by fraud.