Democrats Will Hold Solemn Jan 6 Anniversary While Donald Trump Rants About Election Fraud
Democrats will organize a somber commemoration on the first anniversary of the January 6 insurrection, while ex-President Donald Trump plans to hold a news conference that day to recycle the unsubstantiated claims about election fraud that caused the violence.
A press release by House Speaker Nancy Pelosi showed a very different approach to marking the attack than Trump, whose supporters—stoked by claims that the 2020 election was stolen—stormed the U.S. Capitol 12 months ago.
The House will not be in session in the first week of January, but Pelosi has said there would be a "full program of events" on January 6, 2022 to commemorate the day.
These would include a discussion among historians about what happened, the chance for lawmakers to share their reflections that day and a prayerful vigil in the evening.
Pelosi asked Democratic members of Congress who are in Washington on January 6 to prepare for a "solemn observance" of the day and said the events will be live-streamed, so lawmakers not in Washington could watch and participate from their home districts.
In contrast, on the same day, Trump will hold a news conference at his Mar-a-Lago resort as he looks to capitalize on the first anniversary of the attack by his supporters on the U.S. Capitol to push his false claims that the election won by President Joe Biden was stolen.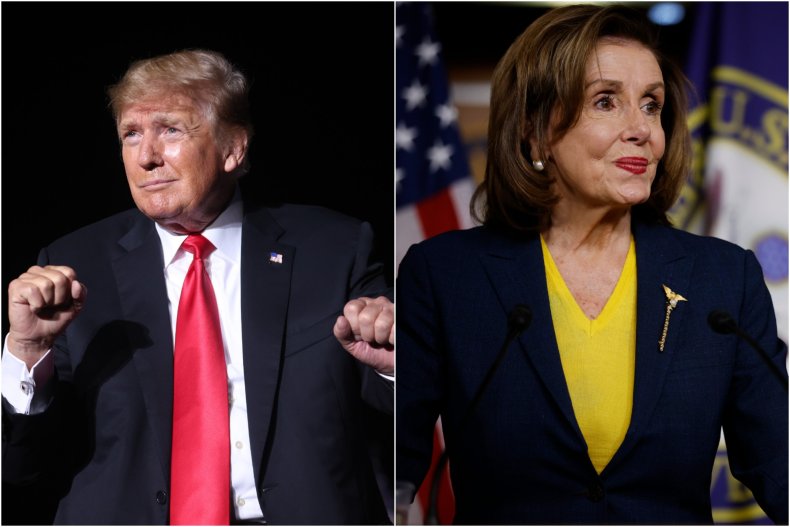 In a statement by the Save America political action committee, Trump took aim at the January 6 committee which has issued dozens of subpoenas of his allies, such as former national security adviser Michael Flynn who is taking legal action to block efforts to get his phone records.
This week, Republican Congressman Scott Perry (G-PA) became the first sitting lawmaker the committee requested information from, although he has said he would not co-operate.
Describing the committee as consisting of "highly partisan political hacks" Trump said the cause of the "protest" was in fact, "the rigged presidential election of 2020," as he reiterated false claims of election irregularities.
Using his term for a "Republican in name only", his statement goes on to say "in many ways a RINO is worse than a Radical Left Democrat, because you don't know where they are coming from and you have no idea how bad they really are for our Country. "
"I will be having a news conference on January 6th at Mar-a-Lago to discuss all of these points, and more," he said, without specifying what he meant by "more."
"Until then, remember, the insurrection took place on November 3rd," he said, "it was the completely unarmed protest of the rigged [2020] election that took place on January 6."
Newsweek has contacted Trump and Pelosi's office for comment.
Meanwhile, the White House will also commemorate the anniversary of the attack, but has not announced anything specific.
"It was a day when our nation's capital was under attack," White House press secretary Jen Psaki told reporters last week "there's no question you'll see us commemorate that day."