Nancy Pelosi Says 'Full Program of Events' Planned to Observe the January 6 Attacks
With the one-year anniversary of the January 6 Capitol Riots approaching, Democrats in Washington, D.C., have big plans to observe the day.
In a message sent to her fellow Democrats, House Speaker Nancy Pelosi revealed that a "full program of events" is in the works for January 6, 2022. At this stage, the message is meant to solicit interest from lawmakers who might want to be involved in the events, since Congress will not be in session that week.
"Already, preparations are underway for a full program of events, including a discussion among historians about the narrative of that day; an opportunity for Members to share their experiences and reflections from that day; and a prayerful vigil in the evening. All events will be live-streamed, so that Members can watch and participate from their districts. As always, we will continue to work with the House Historian to establish and preserve our records in this regard," Pelosi said.
Newsweek reached out to Pelosi's office for a comment on this story.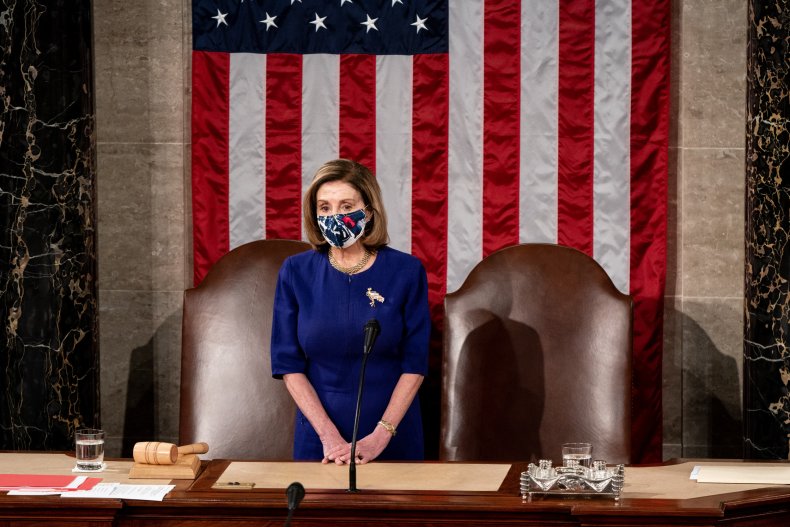 As the investigation into the January 6 Capitol riots continues, former President Donald Trump has continued to make false statements about the nature of the attack. During a Houston stop on his "History Tour" with former Fox News personality Bill O'Reilly, Trump attempted to dismiss criticism that he did not do enough to rein in his supporters during the riots by asserting that only one person died.
"I will go a step further, nobody died that day other than a wonderful patriot named Ashli Babbitt," Trump said. "She was shot at point-blank range by a person that they wanted to guard his identity, he could not get on television fast enough. He was all over the place, he went on television, he was so proud of what he did, shooting a woman at point-blank range, killing Ashli Babbitt who was a patriot who loved the people here and President Trump."
Capitol Police Officer Michael Byrd did appear on television to address the shooting, but eight months after the riots. During his first interview, with NBC Nightly News, Byrd said firing his gun was a "last resort."
"I tried to wait as long as I could," Byrd said. "I hoped and prayed no one tried to enter through those doors. But their failure to comply required me to take the appropriate action to save the lives of members of Congress and myself and my fellow officers."
Including Babbitt, five people died during the January 6 riots. This included Capitol Police officer Brian Sicknick who died following the riot; his autopsy revealed he died of natural causes, though the medical examiner said "all that transpired played a role in his condition." Three other Trump supporters at the event also died from what officials called "medical emergencies."