Donald Trump to Be Investigated by Multiple Congressional Committees Over Report He Directed Michael Cohen Lie Under Oath
On the heels of a bombshell BuzzFeed News report Thursday night alleging President Donald Trump directed his former lawyer Michael Cohen to lie, under oath, to Congress to cover up his negotiations to build a Trump Tower in Moscow during the 2016 campaign, two of the House's top committee's will investigate the matter.
Intelligence Committee Chairman Adam Schiff, a California Democrat, and Judiciary Committee Chairman Jerrold Nadler, a New York Democrat, vowed to open congressional investigations.
"The allegation that the president of the United States may have suborned perjury before our committee in an effort to curtail the investigation and cover up his business dealings with Russia is among the most serious to date," Schiff said immediately following the report. "We will do what's necessary to find out if it's true."
Nadler echoed those remarks Friday morning, saying "we know that the president has engaged in a long pattern of obstruction."
"Directing a subordinate to lie to Congress is a federal crime," Nadler said. "The [House Judiciary] Committee's job is to get to the bottom of it, and we will do that work."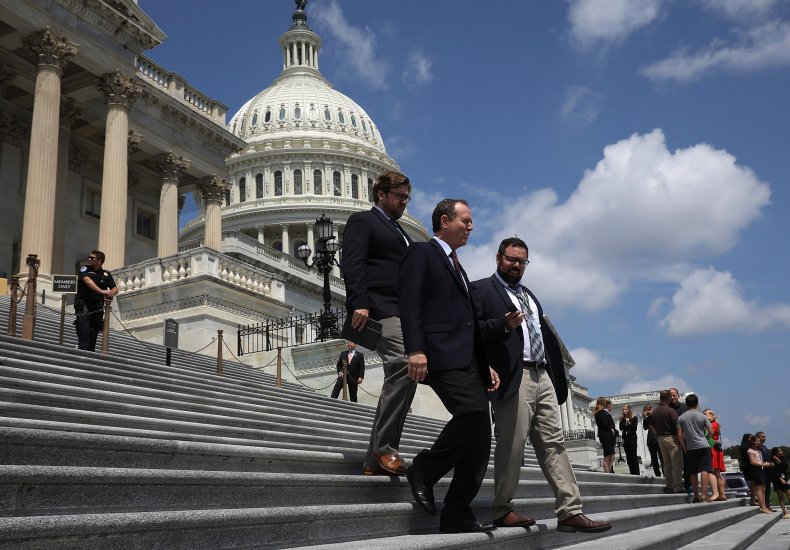 Cohen has pleaded guilty and been sentenced, in part, for lying in a written statement to the House and Senate Intelligence Committees in 2017 "out of loyalty" to Trump and his "political messaging" regarding negotiations between then-candidate Trump and Russia over the Trump Tower project.
The BuzzFeed report alleges Trump, as president, "personally instructed" Cohen to lie and say negotiations concluded months earlier than they did, according to two federal law enforcement officials involved in an investigation of the matter. The report also alleges Trump told Cohen to "make it happen" in reference to establishing a face-to-face meeting with Russian President Vladimir Putin in Russia during the campaign to discuss the project. As has been reported, the trip never materialized.
Almost 24 hours after the story published, the special counsel's office took the unusual step of issuing a statement addressing the report.
"BuzzFeed's description of specific statements to the Special Counsel's Office, and characterization of documents and testimony obtained by this office, regarding Michael Cohen's Congressional testimony are not accurate," spokesman for the special counsel's office Peter Carr told Buzzfeed News.
Buzzfeed Editor-in-Chief Ben Smith then issued his own statement that the outlet stood by its reporting and urged the special counsel's office to make clear what elements of the story it was disputing.
Democrats were swift to react to the news with some saying, in addition to legal experts, that the revelations amounted to collusion and obstruction of justice.
Democratic Congressman Joaquin Castro, a member of the House Intelligence Committee, went so far as to say that if the reporting is true, the president "must resign or be impeached."
Congressman Eric Swalwell, a Democrat also on the intelligence committee who has reportedly been mulling a run for president, told Newsweek immediately following the report that he viewed Trump's alleged actions "as powerful collusion evidence against the president."
"It's a consciousness of guilt," he continued. "You'd only tell a subordinate to lie if the truth confirmed the underlying allegation."
As of Friday morning, the president's only response to the report was via Twitter, in which he said Cohen was "lying to reduce his jail time!"
Cohen, once considered Trump's personal "fixer," was sentenced to three years in prison for campaign finance violations, tax evasion and lying to Congress after admitting guilt. He's set to testify before Congress on February 7 to provide "a full and credible account of the events which have transpired." Cohen will report to prison on March 6.
Update 01/18/19, 8:55 p.m. ET: This story was updated to include statements from the special counsel's office and Buzzfeed News.