Trump Shouted at National Security Adviser Mike Flynn Over Missed Putin Call: U.K. Aide
President Donald Trump shouted at his former national security adviser Michael Flynn during a lunch with a U.K delegation after finding out he had missed a phone call with Vladimir Putin. That's according to a former top British government aide who attended the event.
Nick Timothy, a former joint Downing Street chief of staff under former British Prime Minister Theresa May, told the What You Were Thinking podcast that during a government visit to Washington in 2017 he found it "fairly extraordinary" to meet Trump in the Oval Office.
However he outlined how in the office, U.S. officials conducted some "pretty strange" conversations on geopolitics, including about the Asia-Pacific region, during which former Trump adviser Steve Bannon was asked for his opinion.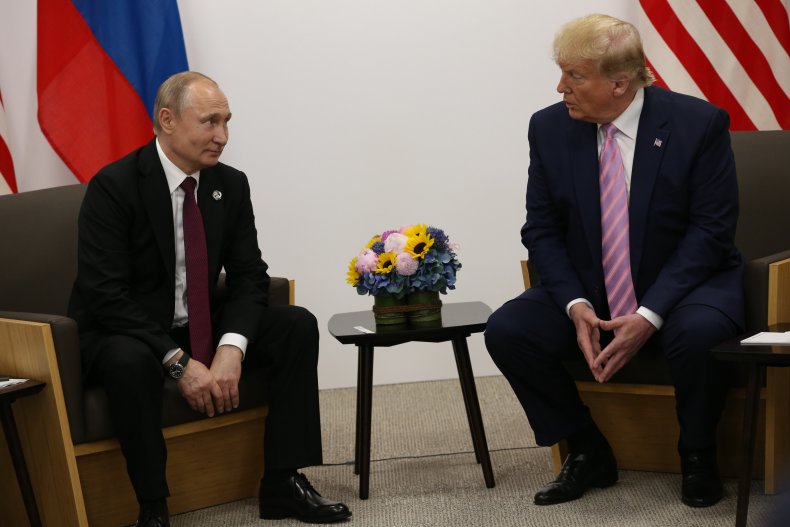 "I remember him [Trump] looking up and saying 'Do you want to add anything?' Timothy said, first believing that the president was addressing Flynn.
"It turned out that he was looking at Steve Bannon," who then started "giving this account of the politics of the Pacific in a way that you felt like a quite intelligent person who had read a couple of books would talk about it, rather than a deep expert," Timothy told podcast host Laura Round.
He added that regarding the threat of China: "They were talking about the desirability of whether Japan should be allowed its own military again."
Timothy said that later, during an official lunch with more advisers, someone had "mentioned in passing that Vladimir Putin had asked for a call with [Trump], and right in front us he absolutely shouted down Mike Flynn.
"Like really shouted. This was at a formal dinner with butlers and fancy crockery—and he was properly shouting at him down the table."
Timothy said the president yelled at Flynn: "If Putin wants a call with me you just put him through."
"The whole thing was a very strange experience and not especially reassuring about the state of [Trump's] mind, or the stability of decision-making in the White House," Timothy added. Newsweek has contacted the White House for comment.
Timothy was Downing Street's chief of staff from 2016 until the 2017 British election. Bannon was the White House's chief strategist during the first seven months of Trump's term. He was charged last week with funneling money from a campaign aimed at building the U.S.-Mexico border wall.
Flynn admitted in 2017 to lying to the Federal Bureau of Investigation about contact with the Russian ambassador to Washington during the investigation into claims of Moscow interference in the 2016 election.