Donald Trump Mimics Joe Biden to Laughing Arizona Rally Crowd
Former President Donald Trump mimicked President Joe Biden during a rally in Arizona on Saturday, criticizing his successor's handling of the COVID-19 pandemic.
At the rally, in Florence—Trump's first rally of 2022—the Republican leader briefly performed an impression of the president.
During a wide ranging speech, Trump listed issues including the southern border and inflation. He also returned to unfounded claims that the 2020 presidential election suffered from mass voter fraud and other irregularities, and he took aim at infectious diseases expert Dr. Anthony Fauci.
At one point, the ex-president told rallygoers: "We all knew that Joe Biden would be not so good but few could have imagined that he would be such a disaster for this country, what they've done."
Trump mentioned inflation, gas prices and recent issues in the supply chain before turning to COVID-19.
"There are four times more COVID cases, remember - " he said and then appeared to mimic Biden's voice, saying: "I'm gonna get rid of COVID."
Trump appeared to be referring to cases heading into the Labor Day weekend in September, 2021 were four times higher than the same time in 2020
Trump began moving his fist in a way that seemed to mimic the president's gestures.
"I'm gonna get rid of COVID," he said in a mock Biden voice.
A clip of Trump's speech, including the mimic, has been viewed more than 50,000 times since it was shared on Twitter by conservative news site, Newsmax.
Biden claimed "we've gained the upper hand" over COVID and "together we're beating the virus" during an independence day celebration at the White House on July 4, 2021.
At that time, COVID cases, hospitalizations and deaths were falling as millions of Americans got their vaccine shots. Since then Delta and then Omicron variants have caused an uptick in the U.S. case count.
Trump's impression won approval from the crowd, with many rallygoers heard briefly laughing in response.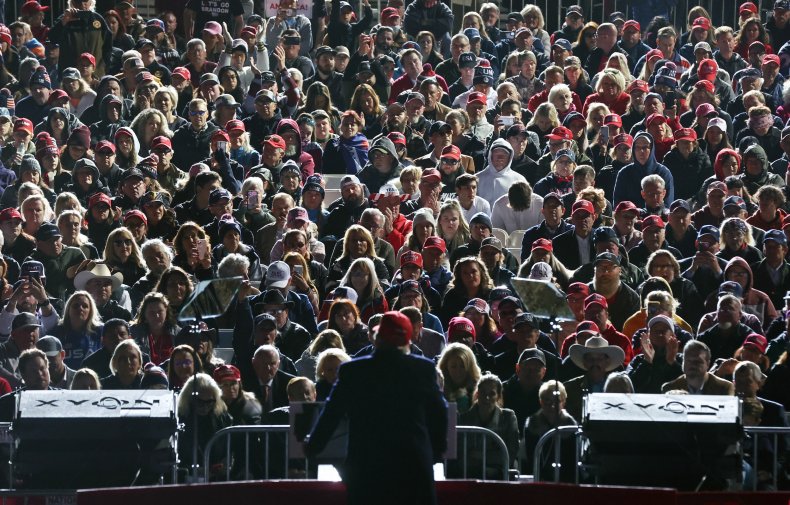 Trump also appeared to criticize Fauci, director of the the National Institute of Allergy and Infectious Diseases (NIAID), who has recently had high profile clashes with two Republican senators.
"Biden's made him the person. He's like the king. Fauci's the king," the former president said, leading to some chants of "lock him up" from the crowd.
"Lock her up" was a popular chant at Trump's 2016 presidential campaign rallies, when it was directed at former Secretary of State Hillary Clinton, whom Trump defeated to win the White House that year.
Though Trump did not use his first rally of 2022 to confirm whether or not he would seek another term as president in 2024, he did reiterate unfounded claims that the last presidential election was "rigged" against him.
"I love Arizona. We had a tremendous victory in Arizona that was taken away and I just want to wish everybody a happy New Year. We're going to have, I think, a great year," Trump said.
Biden won the state of Arizona in 2020 and three subsequent audits confirmed his win there, including a highly controversial audit by the firm Cyber Ninjas that enjoyed support from Trump and some of his allies.