Donald Trump Mocked Over Palin Alliance by Ex-GOP Strategist: 'Tedious'
A former Republican strategist has mocked the current political alliance between former Alaska Governor Sarah Palin and former President Donald Trump.
Steve Schmidt, a senior adviser to the late Senator John McCain's 2008 presidential campaign, told The Guardian that Trump's backing of Palin was "tedious."
Palin was McCain's running mate that year and she's now seeking election to Alaska's single seat in the U.S. House of Representatives, where Trump has endorsed her.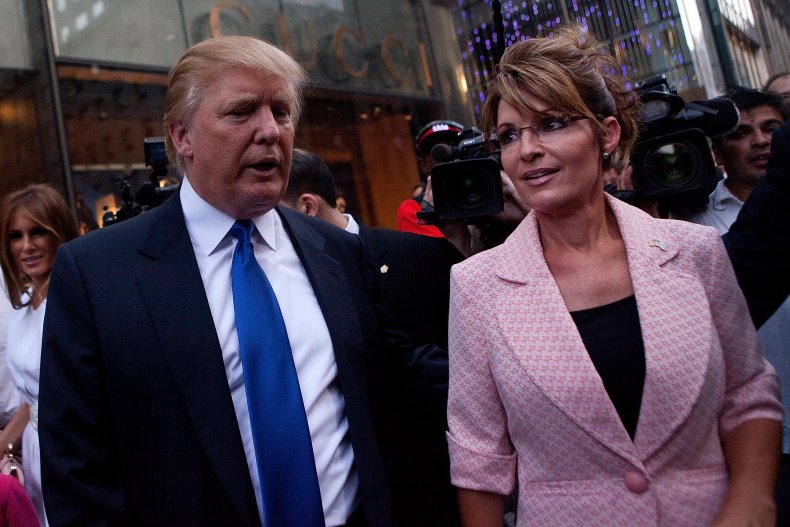 "It's a rather tedious affair at this point," Schmidt told The Guardian in an article published on Saturday.
"The fulminations of two deranged people are newsworthy only in the sense that there's an open question around whether citizens of a democratic republic are potentially apathetic enough to allow such people a return to political power when their previous associations with it ended in such profound disgrace," he said.
Trump is holding a rally in Anchorage on Saturday in support of Palin and Republican Governor Mike Dunleavy, who is seeking re-election.
The former president will also be using the event to promote U.S. Senate candidate Kelly Tshibaka, who is challenging incumbent Republican Senator Lisa Murkowski.
Trump has taken aim at Murkowski, calling her a "failed candidate" and pledging to campaign against her. The senator voted to impeach the then-president following the events of January 6, 2021, and also congratulated President Joe Biden on his election victory.
Tshibaka, by contrast, has raised questions about the legitimacy of the 2020 presidential election, while Trump has repeatedly made unfounded claims of voter fraud and other irregularities.
Schmidt was responsible for the day-to-day operations of the McCain campaign and was the first to suggest Palin as the late senator's running mate, though he later offered strong public criticism of Palin.
Schmidt has also been a strong critic of Trump and left the Republican Party in 2018, citing the administration's controversial policy of separating migrant families who had crossed into the U.S. from Mexico.
Palin served as governor of Alaska from 2006 to 2009 before resigning. She has not held public office since.
She is now seeking to fill the seat left vacant by the death of Republican Representative Don Young in March. She will compete in a special election on August 16 to fill the vacant seat, but there will also be the regularly scheduled general election on November 8.
A non-partisan primary will also take place on August 16 with the top four candidates making it onto the ballot for the election in November. This is a new system in Alaska that will also see ranked-choice voting in the general election.