Trumpism and GOP Abortion Rights Campaign Face Off in Alaska Primary
The U.S. Senate primary in Alaska is pitting a candidate endorsed by former President Donald Trump against an incumbent Republican who is making an effort to protect abortion rights following the Supreme Court's recent landmark decision to overturn Roe v. Wade.
Republican Senator Lisa Murkowski is seeking re-election but she is facing a challenge from Trump-backed Kelly Tshibaka, a former commissioner of the Alaska Department of Administration.
While Murkowski has criticized the Supreme Court's decision to overturn the 1973 abortion rights ruling Roe v. Wade and 1992's Planned Parenthood v. Casey, Tshibaka has called the decisions "a massive victory" and has previously described herself as "unapologetically pro-life."
Murkowski has urged Congress to act on abortion rights following the Supreme Court's decision. The two also disagree strongly about Trump, with Murkowski voting to convict Trump during his second impeachment.
A Nonpartisan Primary
Alaska is holding a nonpartisan primary on August 16 which will see the top four vote-getters, regardless of party affiliation, advance to the general election ballot in November. In November's election, Alaska voters will use a ranked-choice system.
The system means that both Murkowski and Tshibaka are likely to advance to the general election along with two other candidates, setting up a clash between former President Trump's choice and the incumbent senator.
It is very likely the general election will come down to a contest between Murkowski and Tshibaka.
The nonpartisan Cook Political Report rates the race solidly Republican, which means Murkowski and Tshibaka are the candidates to beat. There are other Republicans in the race, but they do not have Trump's endorsement or Murkowski's advantages as an incumbent.
Views on Roe v. Wade
The clash between Tshibaka and Murkowski has taken on a new dimension following the Supreme Court's decision in Dobbs v. Jackson Women's Health Organization, which overturned Roe and Casey late last week.
Murkowski issued a statement on Friday reaffirming her support for abortion rights and calling for Congress to take action to guarantee rights established under Roe.
"In the wake of this ruling, it is up to Congress to respond," Murkowski said.
"I introduced legislation in February to protect women's reproductive rights as provided in Roe, and I am continuing to work with a broader group to restore women's freedom to control their own health decisions wherever they live. Legislation to accomplish that must be a priority," the senator said.
Tshibaka took a different view, tweeting: "The Supreme Court's ruling represents a massive VICTORY for millions of pre-born Americans to come, who will now be able to exercise their God-given rights to life, liberty, and the pursuit of happiness."
Video of Tshibaka calling for the federal criminalization of in-mail abortion and birth control pills resurfaced online in April. In the video, Tshibaka said she would have to think the idea through.
Abortion remains legal in Alaska following the Dobbs decision, a poll by The Anchorage Daily News in 2017 found that 63.5 percent of Alaskans supported Roe v. Wade.
The Pew Research Center found in 2019 that 63 percent of adults in Alaska believed that abortion should be legal in all or most cases.
Trump's Role
Trump has previously said he will campaign against Murkowski, calling her a "failed candidate" in a statement issued in March, 2021.
"She represents her state badly and her country even worse. I do not know where other people will be next year, but I know where I will be - in Alaska campaigning against a disloyal and very bad senator," the former president said.
Like Trump, Tshibaka has raised questions about the outcome of the 2020 presidential election, including suggesting that dead people may have voted, while Murkowski congratulated President Joe Biden on his victory.
Murkowski also voted to convict Trump during his second impeachment trial in 2021 following the events of the Capitol riot on January 6.
Trump endorsed Tshibaka in June 2021 and his endorsement could be of great value in Alaska, which has long been a deep red state. The former president has been weighing into GOP primary races across the country, with mixed success.
The Alaska Republican Party has also backed Tshibaka and recent polls have shown a mixed picture.
An Alaska Survey Research poll conducted from April 16 to 21 showed Murkowski leading Tshibaka by 55 percent to 45 percent, while a Cygnal poll from March 14 to 16 showed Tshibaka leading with 51 percent to Murkowski's 49 percent.
It remains to be seen how big of an impact abortion rights will have on the Alaska Senate race or the 2022 midterms more broadly and if Trump's endorsement will be enough to help Tshibaka defeat a serving senator.
Newsweek has reached out to the Murkowski and Tshibaka campaigns for comment.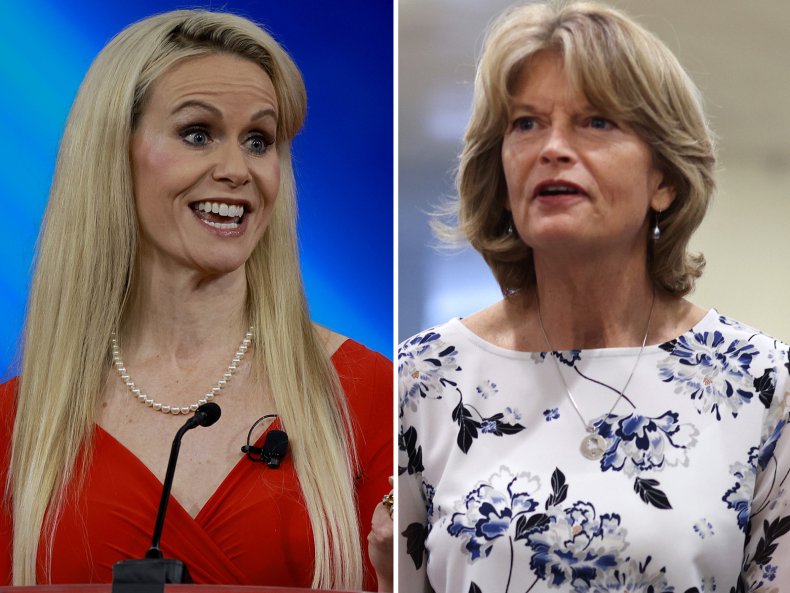 Update 6/28/22, 10:30 a.m. ET: This headline was updated to provide wider context.