SCOTUS Ruling Could Push Independents to Vote Democrat in Midterms
The Supreme Court's decision to overturn Roe v. Wade has given the Democratic Party a boost ahead of November's midterm elections, energizing its base while potentially drawing in independent voters who oppose Friday's ruling.
A new NPR/PBS NewsHour/Marist poll found that a majority of independents said they oppose the court's decision, while 41 percent support the rollback on abortion rights. Six percent are unsure where they stand.
Abortion, which had been established as a constitutional right until Friday, is a particularly personal issue for independents, 75 percent of whom said they or someone they know has had an abortion, compared to Democrats at 70 percent and Republicans at 55.
While the Supreme Court decision was a huge win for conservatives, the ruling has also come during a midterm campaign during which nearly everything has been going according to plan for the GOP.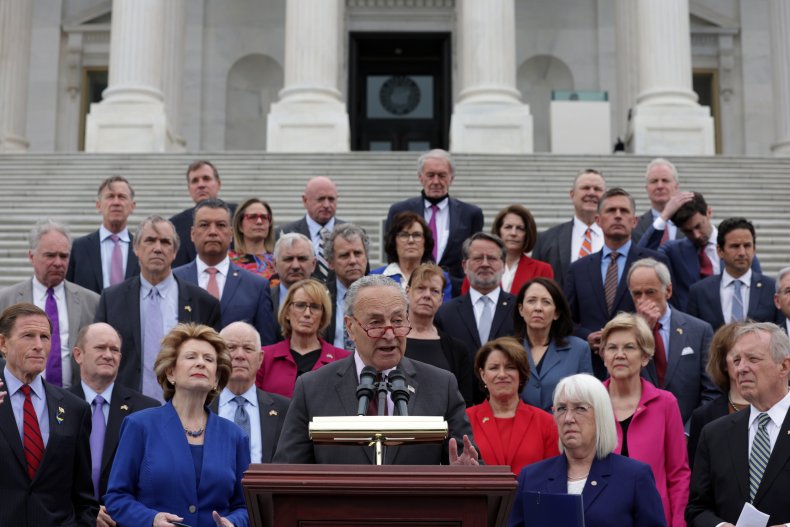 Because Americans continue to grapple with soaring inflation and rising prices, Republicans are still favored to take back the House and Senate. But the blow to nationwide abortion rights has mobilized Democrats.
Nearly 80 percent of Democrats said Friday's decision makes them more likely to vote in November—24 points higher than Republicans.
There is also greater support for candidates who would support a federal law that would restore the right to abortion, with 51 percent of voters saying they would definitely vote for such a candidate, while only 36 percent would definitely vote against a candidate with that stance.
The poll found that Democrats also widened their advantage over Republicans, with 48 percent of voters saying they're more likely to vote for a Democratic candidate in the fall and 41 percent saying they'd be more likely to cast their ballot for a Republican candidate. In April, Republicans led with 47 percent to the Democrats' 44 percent.
Although the majority of respondents opposed the court's decision, with 45 percent saying they strongly oppose it, the second-biggest split—apart from political affiliation—was by education, with nearly 7 in 10 college graduates opposing the ruling while non-college graduates were split on support and opposition to the decision.
Among whites with college degrees, two-thirds said they opposed the ruling, suggesting a threat to the GOP, which had been projected to win back those voters this election cycle.
The recent political shift from Democrats to Republicans had been most pronounced among "well-educated swing voters who turned against Trump's Republican Party in recent years appear to be swinging back," according to the Associated Press, which analyzed voter registration data.
Monday's poll surveyed 941 respondents and had a margin of error of +/-4.9 percentage points.