Republicans Fear Abortion Ruling Will 'Bail the Dems Out' in 2024, Midterms
Though the GOP is celebrating the U.S. Supreme Court ruling that overturned the nearly 50-year-old landmark decision Roe v. Wade that guaranteed abortion-rights for women across the country, some Republicans are concerned that it will affect them during the upcoming midterms and the 2024 presidential election.
Some Republican strategists noted that the Court's decision shouldn't have been made during a midterm election year when current multiple aspects were already working in favor of the GOP such as record-high inflation, Politico reported Saturday.
"This is not a conversation we want to have. We want to have a conversation about the economy. We want to have a conversation about Joe Biden, about pretty much anything else besides Roe...This is a losing issue for Republicans," GOP strategist John Thomas told the news outlet.
Echoing Thomas' remarks was Dave Portnoy, who is the founder of Barstool Sports, who tweeted Friday: "I honestly think the Republicans [were] gonna win the White House in a landslide cause of how pathetic the Biden administration is. But I do think this will bail the Dems out. It sucks for everybody."
The remark comes after the Supreme Court on Friday repealed Roe v. Wade, a 1973 landmark ruling that gave women the federal right to have abortions. The decision sparked protests across the country as some states immediately enacted their so-called "trigger laws" to ban women from having the procedure.
Thirteen states have trigger laws that instantly make abortion illegal or restricted because of pre-1973 bans that are on their books. Missouri and South Dakota have quickly moved to enact their trigger laws following the overturn of Roe.
The Court's decision comes nearly a month after Politico obtained a leaked draft opinion that showed that the majority of justices supported the end of Roe v. Wade.
Some Republicans branded the overturning of the ruling as a "victory," including Senate Minority Leader Mitch McConnell, Texas Representative Ronny Jackson, and Mississippi Attorney General Lynn Fitch.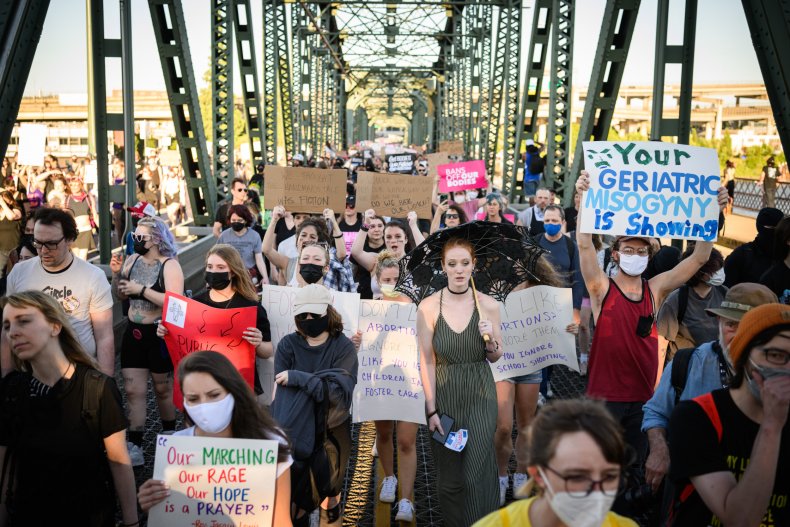 Still, some Republicans believe that the Supreme Court's decision will backfire against their party, including former President Donald Trump, who privately told his advisers that overturning Roe is "bad for Republicans" as it could potentially impact some key voters such as suburban women, The New York Times reported Friday.
Jason Roe, the former executive director of the state Republican Party in Michigan, said he is "nervous" about the political implications of the Court's decision, according to Politico, because "the opportunities we should have with suburban women become more complicated when that issue is on the table, and I think it puts us on defense."
One Trump adviser said that the former president is "convinced it won't help him in the future," referring to abortion, according to The Washington Post on Friday, and that it is better if other issues became the primary focus in the wake of the midterms and the 2024 election.
Overturning Roe Could Work for Democrats
However, the Court's ruling might work in the Democrats' favor, according to a former GOP congressman, who preferred to be anonymous.
"The only thing [Democrats] have got going for them is the Roe thing, which is what, 40 years of settled law that will be changed that will cause some societal consternation," the congressman told Politico. "And can they turn that into some turnout? I think the answer is probably 'Yes.'"
"Maybe instead of losing 45 seats, they lose 30," he added. "There will be a few seats that Republicans would have won without [the abortion rights decision], and they may not win them now."
Meanwhile, a Republican operative familiar with polling in state and federal races, who also spoke with Politico on the condition of anonymity, noted that overturning Roe impacts swing voters who lean Republican.
"It takes a sizeable bloc of voters who were leaning [Republican], and it gives them reason to vote Democrat," he said. "And they haven't had any reason to vote Democrat in quite a while."
Political commentator S.E. Cupp told CNN on Saturday that politically she "can't imagine a better voter turnout engine than this ruling for Democrats" in the midterms.
"And you can make the argument that the Republicans' legislative victories and the Supreme Court victory by a conservative court are regressive, they're taking us backwards. Whether you like them or not, you can't deny the fact that they're going backwards...They're taking us back to a different time when these weren't rights," she said, adding: "It really does feel anachronistic with where the country is, and so I think that's a good message for Democrats."
Newsweek reached out to political scientist at Georgetown University Hans Noel, the spokesperson for Republican political strategist Sarah Longwell, and Republican political strategist Danny Diaz for comment.
Update 6/25/22, 5:48 p.m. ET: This story has been updated to include comments from political commentator S.E. Cupp.