Who Is Lynn Fitch? The Woman Who Helped Take Down Roe v. Wade
Mississippi Attorney General Lynn Fitch may not be recognized as a national figure, but her role in her state's abortion restrictions could have sweeping effects on women across the United States following the Supreme Court's overturning of Roe v. Wade.
On Friday, the conservative-leaning Supreme Court, in a 6-3 vote, ruled in favor of Fitch and Mississippi in the abortion case Dobbs v. Jackson Women's Health Organization. The decision was in response to a lower court ruling that struck down as unconstitutional Mississippi's ban on abortion after 15 weeks after pregnancy.
Justices Samuel Alito, Clarence Thomas, Neil Gorsuch, Brett Kavanaugh and Amy Coney Barrett ruled that Mississippi's law was constitutional and should be allowed to go into effect. Justices Stephen Breyer, Sonia Sotomayor and Elena Kagan dissented. Chief Justice John Roberts wrote separately, saying he would have upheld the Mississippi law but would not have gone the extra step of overturning Roe.
In that majority draft opinion, Alito wrote, "Roe was egregiously wrong from the start. Its reasoning was exceptionally weak, and the decision has had damaging consequences. And far from bringing about a national settlement of the abortion issue, Roe and Casey have enflamed debate and deepened division. It is time to heed the Constitution and return the issue of abortion to the people's elected representatives."
In their dissent, the liberal justices wrote, "With sorrow—for this Court, but more, for the many millions of American women who have today lost a fundamental constitutional protection—we dissent."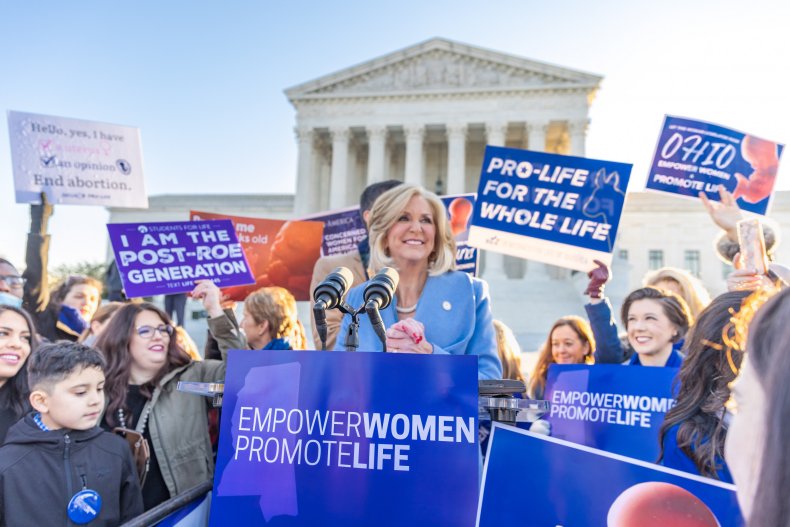 Fitch, the first female attorney general of Mississippi, called the Court's decision "a new era in American history."
"Roe v. Wade is finally behind us," she tweeted. "Now, our work to empower women truly begins."
In a longer statement, Fitch said the Court "has let loose its hold on abortion policymaking and given it back to the people." The focus now is to promote fairness in child support laws and improve foster care and adoption, she added.
"Today marks a new era in American history—and a great day for the American people," Fitch said. "Roe v. Wade is now behind us, consigned to the list of infamous cases that collapsed under the weight of their errors. This decision is a victory not only for women and children, but for the Court itself. I commend the Court for restoring constitutional principle and returning this important issue to the American people."
Fitch has continually advocated for an "empower women, promote life" platform. Last December, she said she wanted to usher in "a new chapter in American history, leaving behind the false premise that abortion levels the playing field for women."
In an interview last year with the Eternal Word Television Network's (EWTN) managing editor, Catherine Hadro, Fitch said those who say the Mississippi law is unconstitutional are "inherently wrong." She added that the issue is about "states' rights" and "states' interests" being recognized.
"It's extremely exciting, it is truly a chosen case by God.... We saw our brief as the motion to set [that] into place," Fitch told Hadro last September in an interview on EWTN's Pro-Life Weekly program ahead of oral arguments on December 1, 2021, before the Supreme Court. "[We] had that honest conversation about those cases [Roe v. Wade, Planned Parenthood v. Casey] and why they should be overturned."
Fitch had remained relatively quiet on the Mississippi abortion case. Earlier this week, she applauded the Court's decision to strike down a New York state law that had existed for over a century, calling it a "victory" for gun owners and the Second Amendment. On Thursday, New York's gun-carrying restrictions were reversed by the Supreme Court.
Mississippi Today reported after the December 1 oral arguments that Fitch contracted law and public relations firms and paid $558,000 to defend Mississippi's abortion law. That included $450,000 to Washington, D.C.-based law firm Schaerr Jaffe; $60,000 to a Birmingham-based public relations consultant; and $48,000 to an Alexandria, Virginia-based public relations consultant.
Both PR consultants were reportedly paid to "provide assistance in developing messaging, drafting written and graphic materials, and working with reporters and others." The PR contracts were scheduled to expire this month, while the law firm contract concludes in February 2023.
With Friday's Supreme Court decision, abortion-rights advocates fear that women's access to abortion is in peril now more than ever. Concerns had increased since May, when a leaked draft of the majority's opinion revealed that the Court's conservatives were ready to reverse nearly five decades of legalized abortion.
On December 1, the Center for Reproductive Rights argued for nearly two hours before the justices, presenting a juxtaposition of views held by Fitch and abortion-rights supporters.
The center told the Court that the "extremely narrow circumstances that would justify overriding decades of precedent" and a reversal of Roe would, in its view, negatively affect future generations while reducing women's bodily autonomy.
"Mississippi's ban on abortion two months before viability is flatly unconstitutional under decades of precedent," argued Julie Rikelman, senior litigation director for the center. "For a state to take control of a woman's body and demand that she go through pregnancy and childbirth, with all the physical risks and life-altering consequences that brings, is a fundamental deprivation of her liberty."
Nancy Northup, president and CEO of the Center for Reproductive Rights, said in a statement Friday after the decision, "The Court's opinion delivers a wrecking ball to the constitutional right to abortion, destroying the protections of Roe v. Wade and utterly disregarding the one in four women in America who make the decision to end a pregnancy.
"While public support for access to abortion is at an all-time high, the Court has hit a new low by taking away—for the first time ever—a constitutionally guaranteed personal liberty," Northup added.
On May 2, when the leaked draft opinion obtained by Politico went public, Fitch's only comment was: "We will let the Supreme Court speak for itself and wait for the Court's official opinion."
Aside from her anti-abortion position, Fitch previously wrote an op-ed in The Clarion-Ledger about the various challenges facing Mississippi mothers. She mentioned single mothers or those in abusive relationships; helping to push Mississippi to become the final state in the nation to close a 27 percent pay gap between men and women; and addressing issues in foster care and adoption.
Before becoming Mississippi's first female attorney general, Fitch served as the state's treasurer for eight years following a runoff primary victory in 2011. She later defeated her Democratic challenger by about 20 percent, eventually holding her position for eight years before running for attorney general.
Following the 2020 presidential election, Fitch joined other attorneys general and states in the federal lawsuit Texas v. Pennsylvania to try to overturn President Joe Biden's victory over Donald Trump.
Fitch has a bachelor's degree in business administration and earned a Juris Doctor degree from the University of Mississippi. She began her legal career at 23 as a special assistant attorney general at the Mississippi Attorney General's Office before becoming a bond lawyer in private practice. She eventually accrued over 35 years of private and public law experience.
She was on this year's Time 100 list, where she was described as "leading the final charge" against Roe.
"As her state's top lawyer, she argued that the Supreme Court should overturn Roe because it was 'egregiously wrong,' and because societal advances mean women no longer needed abortions," Time wrote.