Lisa Murkowski's Chances of Beating Trump-Backed Rival, According to Polls
GOP Senator Lisa Murkowski aims to maintain her Senate seat in November's midterm as she faces off against an opponent endorsed by former President Donald Trump.
Murkowski, widely viewed as a centrist Republican, drew Trump's ire after she voted for his conviction, along with six other GOP senators, in a Senate impeachment trial after he was charged with inciting his supporters to attack the U.S. Capitol on January 6, 2021. In June of last year, the former president officially backed Kelly Tshibaka in her bid to unseat the Alaska senator. Last November, the Alaskan senator confirmed she'd seek another six-year term.
Despite Trump's endorsement of Tshibaka, recent polls suggest that Murkowski is still well positioned to hold on to her seat. However, Alaska is also implementing a new nonpartisan ranked-choice primary system, as well as ranked-choice general election ballots this year—making final results less easy to predict with some accuracy. Analysts have speculated that the new system could benefit Murkowski.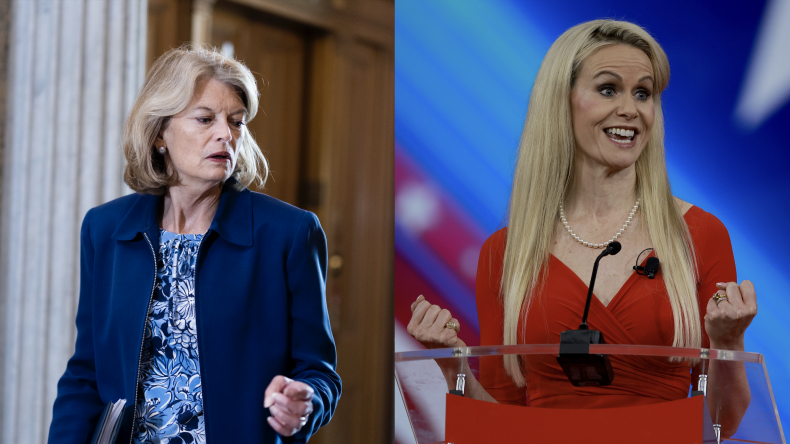 Polling conducted from April 16 to 21 by Alaska Survey Research showed Murkowski leading Tshibaka by double digits (10 points) among likely voters in Alaska. That survey showed the incumbent with the support of 55 percent of likely voters, compared with just 45 percent who backed Tshibaka. The survey questioned 1,208 respondents and had a margin of error of plus or minus 2.9 percentage points.
A previous poll, carried out from March 14 to 16, boded better for Tshibaka. The Trump-backed challenger was narrowly ahead of Murkowski by 2 points in that survey by Cygnal, which was commissioned by Tshibaka's campaign. The GOP senator received about 49 percent of the vote, as opposed to her rival's approximately 51 percent. Five hundred Alaskans were surveyed.
While the most recent Alaska Survey Research poll showed that Murkowski was well positioned compared with Tshibaka, the survey also demonstrated a notable decline from a previous one conducted last October. That autumn poll of 969 registered voters put the incumbent 20 points ahead of her opponent. Murkowski had the backing of 60 percent of voters, compared with just 40 percent for Tshibaka.
Under Alaska's new ranked-choice system, whether Murkowski or Tshibaka is the most popular candidate among Republicans will have less of an impact. The nonpartisan primary system the state is implementing allows the top four candidates, regardless of party affiliation, to advance to the general election. Website FiveThirtyEight assesses that Alaska has a 14.6-point partisan lean in favor of Republicans, however, meaning that conservative voters are expected to be the dominant force in November's general election.
At the same time, Murkowski does not have to worry about being defeated in a GOP primary. She just has to make it into the top four in the nonpartisan primary on August 16 in order to appear on November's ballot. The new system also allows for voters' second, third and fourth choices of candidates to potentially receive their backing if no contender wins more than 50 percent in the first round of counting.
The Alaska Division of Elections website explains, "The last place candidate from each race in Round 1 is eliminated and their supporters' 2nd choice selection is allocated to the remaining candidates on the ballot. This vote redistribution process continues until one candidate reaches over 50 percent of the votes or until two candidates remain and the candidate with the most votes wins. In each round of counting, each voter gets one vote."
Analysts have said this system could benefit Murkowski, as she may receive the backing of independents and moderate Democrats. While these voters may not list her as their first choice, they may mark the GOP senator as their second or third pick. Depending on how much support each candidate receives in the first round, she could come out on top in a second or third round of counting.
Notably, Murkowski has previously demonstrated her ability to buck the odds and win in her state. In 2010, she won reelection as a write-in candidate after she lost in the state's GOP primary. At the time, she was the first senator in more than five decades to win as a write-in candidate.